Pence Casts Tie-Breaking Vote Against Planned Parenthood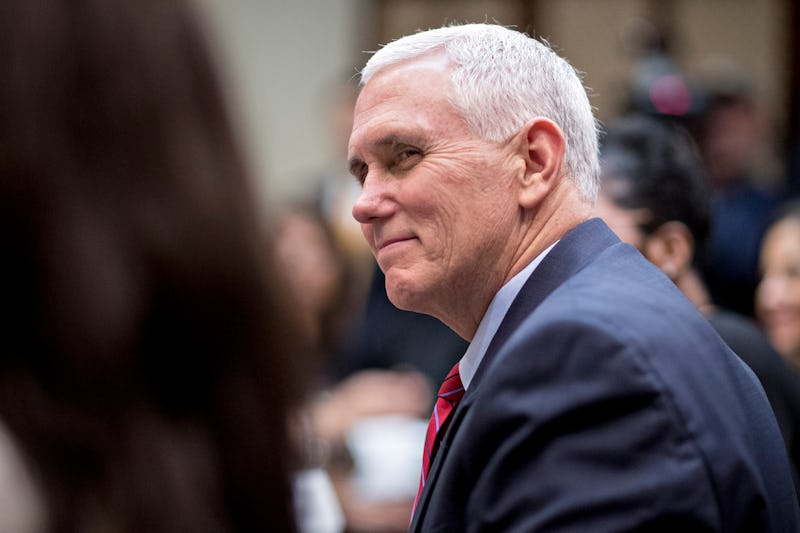 Pool/Getty Images News/Getty Images
Vice President Mike Pence appears to have had a rather contradictory to-do list this week. On Wednesday, he spoke at the White House's Women's Empowerment Panel, promising those present that the Trump administration was "going to work tirelessly to empower women to be able to climb the ladder of opportunity." On Thursday, however, he joined Senate Republicans in their latest attempt to roll back funding for women's health care. Pence cast the tie-breaking vote in favor of advancing legislation that would enable states to withhold Title X funds from Planned Parenthood, one of the nation's leading affordable health care providers.
Although Republicans hold a 52-48 majority in the Senate, they were unable to advance H.J. Res 43, a measure aimed at rolling back an Obama-era provision that prohibits states from withholding Title X family planning funds from Planned Parenthood past a procedural vote Thursday due to opposition from GOP Sens. Susan Collins and Lisa Murkowski. Both women have long opposed any effort to defund the health care provider of federal money.
Enter Vice President Pence.
With the Senate in deadlock, a smiling Pence issued the tie-breaking vote in favor of advancing the measure 51-50. Pence's vote essentially opens the door for the Senate to use the Congressional Review Act to overturn an Obama-era regulation banning states from withholding Title X family planning funds – which the Hyde Amendment already bars from being used to fund abortion services – from Planned Parenthood or other health care providers that list abortion as a service they offer. Under current law, Title X money can be used for services such as contraception and STD screenings and treatments, but not for abortion.
Planned Parenthood immediately called Pence out for his vote. "Mike Pence went from yesterday's forum on empowering women to today leading a group of male politicians in a vote to take away access to birth control and cancer screenings," Planned Parenthood Action Fund Executive Vice President Dawn Laguens said in a statement. "Four million people depend on the Title X family planning program, and this move by DC politicians would endanger their health care. This would take away birth control access for a woman who wants to plan her family and her future."
Other opponents of H.J. Res 43 have denounced the measure as Republicans' latest attempt to attack Planned Parenthood and undercut women's health care. Democratic Sen. Patty Murray said Republicans who voted to move forward with legislation aimed at rolling back Title X funding for Planned Parenthood should be "ashamed" of their votes. "Put simply, rolling back Title X today, will put at risk women's lives," she said in a tweet posted to Twitter. Speaking on the Senate floor Thursday, Sen. Murray argued federal funding for health care providers should not be based on the providers' ideology.
Republicans, however, have said they're looking to uphold states' rights not wage war on Planned Parenthood. "[The Obama-era regulation] substituted Washington's judgement for the needs of real people," political blog the Hill reported Senate Majority Leader Mitch McConnell said ahead of the vote. "This regulation is an unnecessary restriction on states that know their residents a lot better than the federal government."
Should H.J. Res 43 be passed by the Senate later today it will head to President Donald Trump's desk as it has already cleared the House.