Arnold Might Be Planning A Return To Politics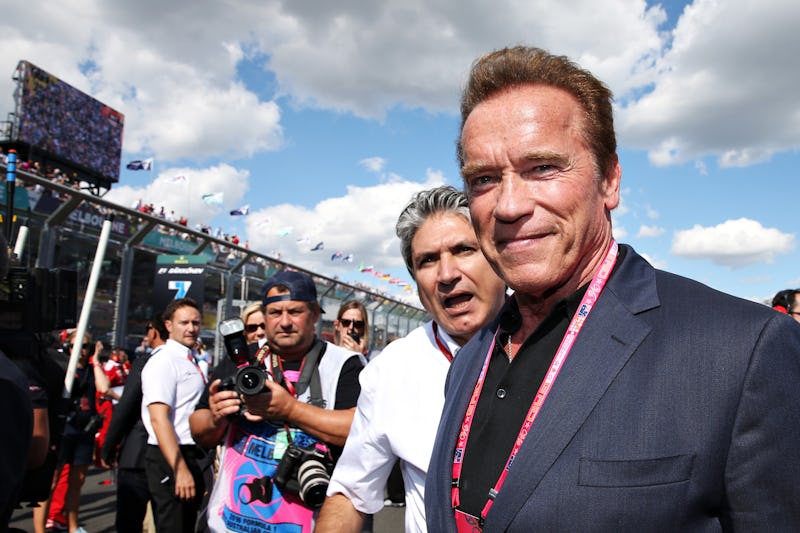 Mark Thompson/Getty Images Sport/Getty Images
Less than a week after announcing his departure from NBC's Celebrity Apprentice, it sounds like a certain former California governor might have a second act in store. According to Politico, Republican insiders in the Golden State believe Arnold Schwarzenegger is considering a run for U.S. Senate, potentially challenging 25-year Democratic senator Dianne Feinstein in 2018.
The report suggests that buzz within the California GOP has been growing around the potential of Schwarzenegger returning to politics, in no small part because the former governor has engaged in such public clashes with President Donald Trump, although not always on political matters. Since taking office in January, Trump has more than once derided Schwarzenegger on Twitter over his job hosting Celebrity Apprentice. Most notably, Trump attacked Schwarzenegger for leaving his old show less than an hour after he claimed he was the victim of a Watergate-style illegal wiretap by former President Barack Obama ― not exactly an eyes on the prize mentality, in other words.
This is supposedly central to the buzz surrounding Schwarzenegger. A run for Senate "would give Arnold the stage to jam Trump for the next 16 months," a GOP official reportedly told Politico. In other words, whether or not Schwarzenegger defeated Feinstein, he'd have an opportunity to be a durable thorn in Trump's side.
Of course, there are some reasons to view this news skeptically. First and foremost, Schwarzenegger hasn't made any public comment suggesting he wants to return to politics ― to the contrary, the 69-year-old resumed his career as an actor and a celebrity pitchman after leaving Sacramento in 2011, and has not signaled any interest in returning to politics since. He also left public life in the midst of a major personal scandal, separating from his wife, Maria Shriver, after it was revealed he'd secretly fathered a child years earlier during an affair.
And, more to the point, the idea of running for Senate just to antagonize a sitting president is a strange one indeed. Of course, it's not impossible that he could defeat Feinstein, who will be 85 by the time 2018 rolls around. But it's worth noting that he's not some Trump-style celebrity-turned-politico anymore, like he was when he first ran in California's recall election back in 2003.
To the contrary, although he somewhat blazed the trail for candidates like Trump (in more ways than one), Schwarzenegger now has two terms worth of political baggage to his name, and by the time he left office, he was by no means popular. His last approval rating as governor clocked in at a dismal 23 percent, and he left the state $23 billion in the red, a situation the current Democratic governor, the highly popular Jerry Brown, successfully turned around. When you consider his inglorious exit from California politics, on top of the fact that he's not a new or daring name anymore, and the fact that the Democratic Party is the state's dominant political force, it all seems unlikely in the extreme.
But hey, who knows? The thing about politics in the Trump era is that you can never again say, "Well, that clearly won't happen." Even if it's the exception to the rule, 2016 gave everyone a vivid illustration of just how wild things can get under the right circumstances, and maybe Schwarzenegger believes he can once again catch some lightning in a bottle.