Senator Kirsten Gillibrand's Advice For Young Women Is So Simple, But Also Totally Badass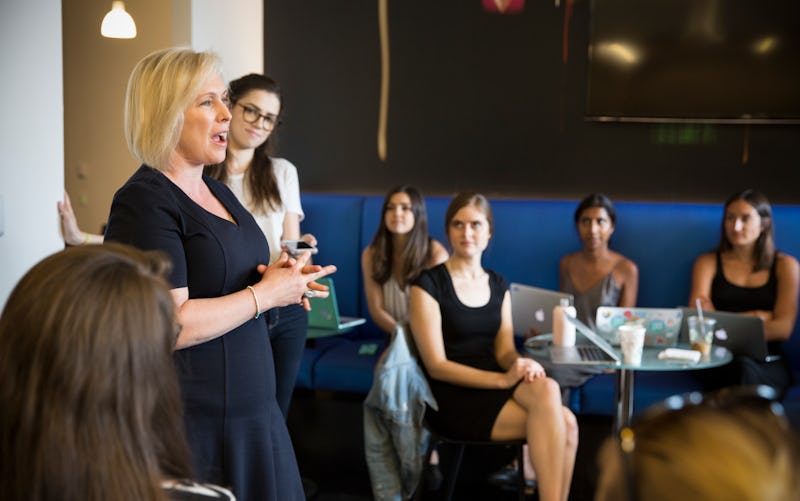 Joanie Tobin / Bustle
Democratic New York Sen. Kirsten Gillibrand has been a trailblazer for progressive causes during her eight years in the Senate. Between advocating on behalf of sexual assault victims in the military and on college campuses, fighting for abortion rights, and pushing to keep guns out of the hands of criminals, Gillibrand took time out of her hectic schedule to visit Bustle and discuss how women can best take action and stand up for the causes that matter to them.
Gillibrand describes today's political climate as ripe for change — people feel attacked, they feel their country is at risk — and now, more than ever, she believes it's crucial for people to actively work for the matters they are passionate about. For her, the Women's March was an especially critical moment: folks across the country united in protest to make their voices heard loud and clear. Gillibrand describes her participation in the march as the most important — and inspiring — moment of her political life.
"Own your ambition: your voice really matters."
"You could march for Black Lives Matter, you could march for LGBTQ equality, you could march for clean air, clean water, you could march for reproductive freedom, it didn't matter — you just march for the thing you were upset or so worried about and it's changing the landscape of our democracy."
Intersectionality, and the way it manifests in demonstrations like the Women's March are "democratizing democracy," Gillibrand says. "It's allowing all of us to own not only our ambition, but to own our voice, own this country, and fight for it."
Gillibrand emphasizes the importance of using your voice regarding President Trump's attacks on women's health, free speech, and freedom of religion, as well as issues related to balance of power and attacks against the judicial branch. Making a commitment to being heard, she says, is "the only thing that will defeat Trump."
She wants everyone to keep making phone calls, writing letters, and posting online to make a point to your senators and representatives. "Just literally amplify your voice in any way that you like," she says. "Whether you like social media, or whether you prefer a traditional letter to the editor or if you just want to show up at town hall — all of it's working, and it's pushing senators."
"Just literally amplify your voice in any way that you like."
It's not just pushing them, though. "It's also giving encouragement to those who really don't like this bill to say I'm going to stand up for my constituents and fight against these terrible ideas. And so, it's up to us," Gillibrand adds.
When asked what advice she would give to young women who may be interested in entering the seemingly daunting world of politics, Gillibrand is quick to respond: "Don't be afraid," she says. "Own your ambition: your voice really matters. If you don't do it, the person who does might not care about the thing you care about so you have to fight for it."
"Own your ambition," she emphasizes again. "Don't be afraid."
In today's heightened political climate, that message of fearlessness couldn't ring truer.