Senator Martha McSally Revealed That She Was Raped While Serving In The Air Force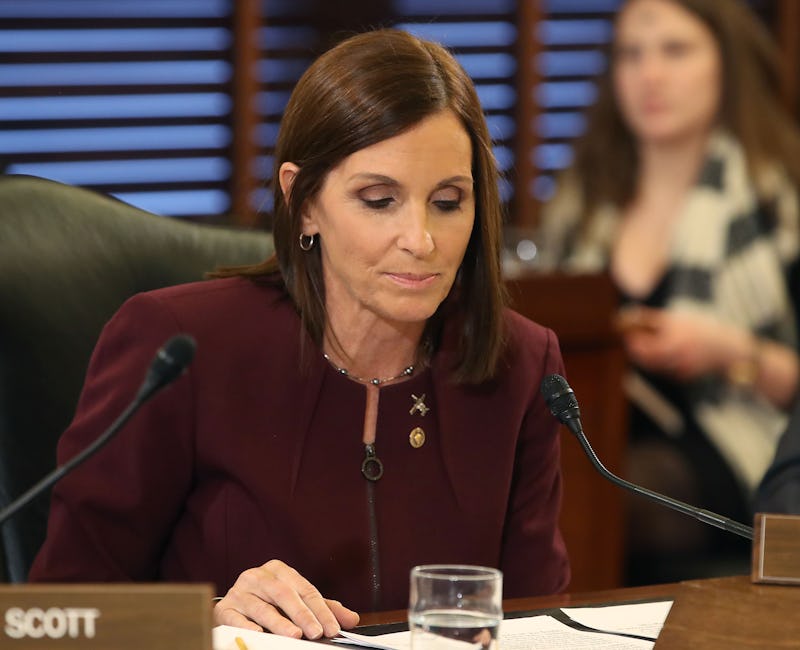 Mark Wilson/Getty Images News/Getty Images
At a congressional hearing on Wednesday, Republican Sen. Martha McSally said she was raped by a superior officer while serving in the U.S. Air Force. McSally, who served from 1988 until 2010 and was the first female fighter pilot to fly in combat, said that she didn't report the assault at the time because she "didn't trust the system."
"I didn't report being sexually assaulted," McSally said at a Senate Armed Services Committee hearing on sexual assault. "Like so many women and men, I didn't trust the system at the time. I blamed myself. I was ashamed and confused. I thought I was strong but felt powerless. The perpetrators abused their position of power in profound ways. In one case, I was preyed upon and raped by a superior officer." Bustle has reached out to McSally's office and the Air Force for comment.
In 2018, McSally alleged that she had been sexually abused by a high school coach when she was 17. This is the first time she's revealed that she was sexually assaulted while serving in the military, however.
"I stayed silent for many years, but later in my career, as the military grappled with the scandals, and their wholly inadequate responses, I felt the need to let some people know I too was a survivor," McSally said. "I was horrified at how my attempt to share generally my experiences was handled. I almost separated from the Air Force at 18 years of service over my despair. Like many victims, I felt like the system was raping me all over again."
An Air Force spokesperson addressed McSally's disclosure in a statement to ABC News, saying they are "deeply sorry."
"The criminal actions reported today by Senator McSally violate every part of what it means to be an Airman," the spokesperson said. "We are appalled and deeply sorry for what Senator McSally experienced and we stand behind her and all victims of sexual assault. We are steadfast in our commitment to eliminate this reprehensible behavior and breach of trust in our ranks."
A former member of the House of Representatives, McSally ran for the Senate in 2018 but lost to Democrat Kyrsten Sinema. After the election, however, Arizona Gov. Doug Ducey appointed McSally to the state's other Senate seat, which was formerly held by the late Sen. John McCain. McSally will serve in McCain's former seat until the 2020 general election.
The Pentagon releases a report every year on sexual abuse in the military. Its most recent report found that in 2017, the number of sexual assault claims in the armed forces rose by 9.7 percent from the year before, jumping from 6,172 in 2016 to 6,769. This included all allegations of sexual assault involving a service member, regardless of whether they were an alleged victim or alleged perpetrator. The agency's next report on sexual assault is expected later in the spring.
"Every sexual assault in the military is a failure to protect the men and women who have entrusted us with their lives," Navy Rear Adm. Ann M. Burkhardt, the director of the Defense Department's Sexual Assault Prevention and Response Office told reporters at the time. "We will not rest until we eliminate this crime from our ranks."