Senators Are Divided On Warren Being Silenced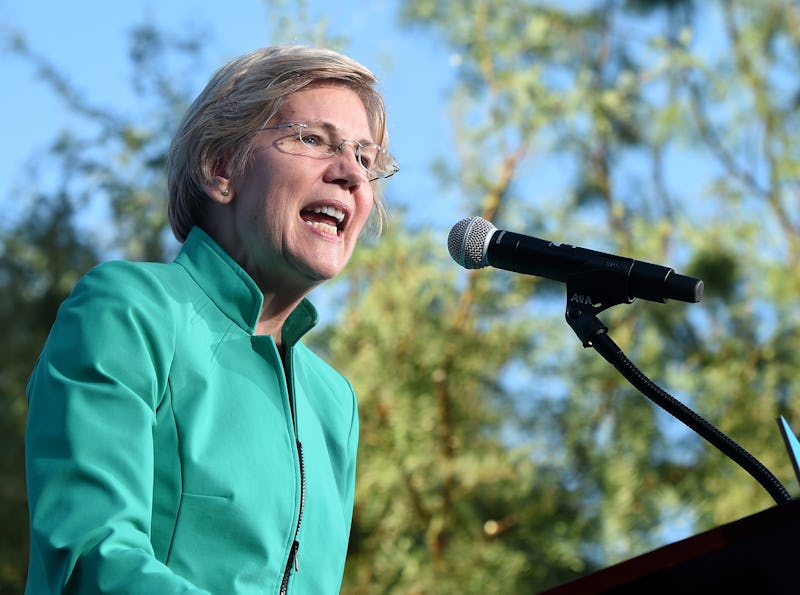 Ethan Miller/Getty Images News/Getty Images
On the day of Alabama Sen. Jeff Sessions' confirmation vote for attorney general, much of the attention was diverted to what Senate Majority Leader Mitch McConnell did the night before. Citing an arcane and rarely used Senate rule, McConnell prevented Massachusetts Sen. Elizabeth Warren from finishing reading a 1986 letter from Coretta Scott King, the late widow of Dr. Martin Luther King, opposing Sessions' bid for a federal judgeship. And now, many senators are reacting to McConnell's silencing of Warren, with the takes breaking down upon predictably partisan lines.
After being shut down by Senate Rule 19, Warren took her leave of the Senate floor and spoke to MSNBC's Rachel Maddow about the incident. It was there that she read the letter aloud outside the chamber to get her point across. King's letter strongly condemned and opposed Sessions on the grounds of his views on civil rights and voting rights ― points his progressive critics have been hammering throughout the confirmation process. Needless to say, the entire affair has added more fuel to fire fire of the current political moment. Here are some reactions from senators on both sides of the aisle.
Mitch McConnell
Of course, there's the man himself. McConnell's explanation for why he silenced Warren ― and effectively silenced King posthumously ― has already become an underscored slogan for progressive women less than 24 hours after he said it.
She was warned. She was given an explanation. Nevertheless, she persisted.
Kamala Harris
In a speech, Sen. Kamala Harris said, "The gains that our country has made are not permanent and it is incumbent upon our attorney general to fight for the civil rights of all people. No one said it better than Coretta Scott King, 'Freedom is never really won. You earn it and win it in every generation.' And if Senator Sessions won't, it is incumbent upon the rest of us to persist."
The first-term California senator also took to Twitter to condemn Warren's treatment, calling on people to retweet her message if they believed it was wrong for her remarks to be silenced. She's also been a vocal critic of the Sessions nomination, and tweeted in support of Black Lives Matter using the hashtag #ShePersisted.
Bernie Sanders
Sanders, one of the most popular and passionate members of the Senate, wasn't able to respond to the Warren incident immediately, as he was engaged in a CNN debate with Ted Cruz on Tuesday night. The next day, however, he also read the letter aloud as a show of solidarity, and furthermore called it "incomprehensible" that King's words be barred, according to USA Today.
This is the United States of America. People expect a vigorous debate on the important issues facing this country. The idea that a letter, a statement by Coretta Scott King could not be spoken about on the floor of the U.S. Senate, is incomprehensible.
Chuck Schumer
According to USA Today, Schumer called the move a "bad direction for the Senate," and accused McConnell and the Republican of employing "selective enforcement" against Warren. Which, considering the Democratic senators who went unchallenged in reading the letter the next day, seems pretty inarguable.
My friend from Massachusetts was following the letter and spirit of debate. It was the most selective enforcement of a rarely-used (rule) to silence her.
Maggie Hassan
In a statement sent to Bustle, New Hampshire Sen. Maggie Hassan said, "It is completely unacceptable and inappropriate that Senator Warren was stopped from reading a letter by Coretta Scott King on the Senate floor. Senator Sessions's record demonstrates a lack of commitment to upholding the constitutionally protected rights of millions of Americans, and the American people deserve to hear a full debate on the facts of his record."
Orrin Hatch
Hatch, the longest-serving member of the Senate, characterized Warren's comments as "quite the exhibition" to Fox News, a turn of phrase that certainly doesn't shy away from condescension. He also maintained that the Democrats "hate Trump" and "won't be of any assistance" to his presidency.
We've never had quite the exhibition that we had last night. ... They hate Trump — and I think that's a fair word because you ought to hear them behind the scenes. And they're not going to be of any assistance to this president.
Tammy Duckworth
Illinois Sen. Tammy Duckworth retweeted a tweet about McConnell from Chicago Tribune columnist Heidi Stevens, and pointed to the fact that persistence is what got her to where she is today.
John Cornyn
According to USA Today, Cornyn blasted the Democratic opposition to Trump's cabinet nominees, accusing the party of trying to fire up its "dysfunctional base," and insisting such resistance is futile because "they know we're going to be successful."
The fact that they've drug this out and made it impossible for the Department of Justice, an important part of our national security team, to remain without a leader is completely inexcusable. The last thing I would say is they know how this story ends. They know we're going to be successful. So stunts like staying up all night and making speeches, I'm not sure who they're trying to impress other than their dysfunctional base.
Tom Udall
Udall hit back against the Senate Republicans by doing exactly what Warren did ― he read aloud from King's letter opposing Sessions. And interestingly enough, he was not stopped under Rule 19.
Steve Daines
Daines was serving as president of the Senate when McConnell invoked Rule 19, and it was his judgment that ultimately forced Warren to stop talking. As Fox News reported, Daines insisted that Warren's words were inappropriate ― although again, at the time she was silenced, she was quoting the late wife of America's most famous civil rights icon.
I didn't go in looking for a fight ... Words like 'shameful,' 'disgrace,' these are words here that should not be used to describe a fellow senator.
Mazie Hirono
Hawaii Sen. Mazie Hirono posted several tweets regarding Warren being hushed on the Senate floor, a few regarding how she believes that how McConnell silenced her should be called a "gag rule," and several retweets uplifting other women's voices on the situation.
Rest assured, you'll be seeing people tweeting with the hashtag #ShePersisted for a very long time, on top of wherever else that almost pitch-perfect rallying cry finds itself. In other words, the inevitable wave of T-shirts cannot be far behind.