Trump Hinted That Drug Dealers In The U.S. Should Get The Death Penalty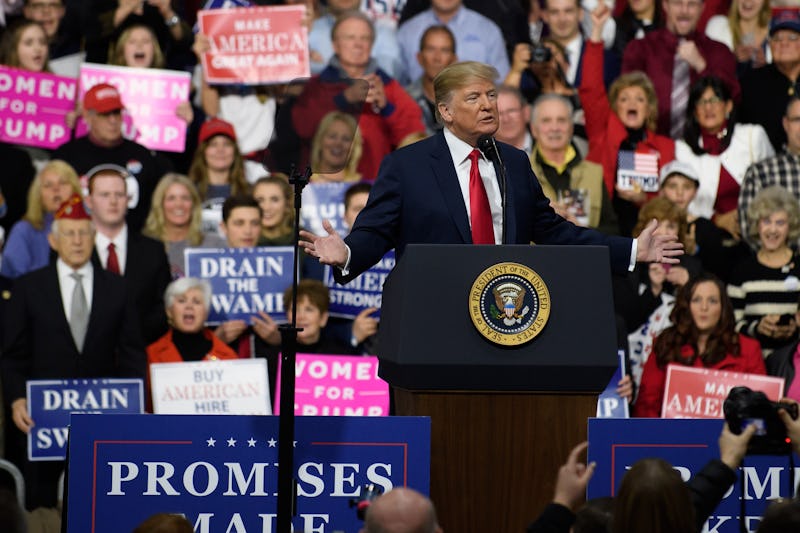 Jeff Swensen/Getty Images News/Getty Images
During a campaign rally for Republican congressional candidate Rick Saccone in Pennsylvania on Saturday, Donald Trump said he'd consider sentencing drug dealers in America to the death penalty or life in prison. He suggested modeling U.S. laws after countries like Singapore and China, which have a "zero-tolerance policy" for drugs. Trump added he wasn't sure if the United States was "ready for it."
"A drug dealer will kill 2,000, 3,000, 5,000 people during the course of his or her life... and go to jail for 30 days," Trump told the crowd gathered in an airplane hangar in Moon Township. "They catch a drug dealer, they don't even put him in jail. Think about it, if you kill one person you get the death penalty or life in prison."
In Pennsylvania, trafficking heroin is considered a felony, punishable by up to 15 years in federal prison. There's also mandatory minimum sentences that guarantee offenders spend some time behind bars. However, the president wants to push for harsher laws, like those in China, Singapore, and even the Philippines, which is currently experiencing a brutal "war on drugs."
Trump went on to compare America's opioid crisis to China's opium epidemic centuries ago. He said that law enforcement in the United States doesn't "do anything" when a person is caught trafficking drugs, and the offender might spend "a year" in jail. "And then you wonder why we have a problem," he said. "That's why we have a problem, folks."
The president praised China for its "zero-tolerance policy," recalling a meeting he had with the country's president, Xi Jinping — whom he recently admired for abolishing presidential terms in order to rule indefinitely — during which the leader said he attributed their lack of a drug problem to "the death penalty." People in the audience laughed after Trump said this. "I don't know if the United States is ready for it, they frankly should be ready for it," he said. "At a minimum you have to give long, tough sentences."
He then told a story about a meeting he had with Singapore's then-president, Tony Tan — who Trump said "doesn't play games" — and he also advocated using the death penalty to punish drug dealers. "'If we catch a drug dealer, death penalty,'" Trump imitated the president as saying. The audience cheered.
In the past, the president praised Filipino President Rodrigo Duterte, whose war on drugs has resulted in the deaths of thousands. The Human Rights Watch estimated that the death toll could be higher than 12,000, including many innocent people. Duterte has referred to children and innocent civilians' deaths in the drug war as "collateral damage."
During a phone call between the two leaders last year, Trump commended Duerte on how he's handled the drug crisis in the Philippines. "I just wanted to congratulate you because I am hearing of the unbelievable job on the drug problem," Trump said, according to the New York Times. "Many countries have the problem, we have a problem, but what a great job you are doing and I just wanted to call and tell you that."
Saturday's rally wasn't the first time Trump has discussed executing drug dealers as a way to deal with the opioid crisis. At a speech he made at the White House Opioids Summit, he also suggested implementing a zero-tolerance policy. "Some countries have a very, very tough penalty — the ultimate penalty," he said. "And, by the way, they have much less of a drug problem than we do."
By reiterating these sentiments over the weekend, it sounds like Trump is seriously considering implementing the death penalty for drug dealers in the United States. "I think it's a discussion we have to start thinking about," he said. "I don't know if we're ready. I don't know if this country's ready for it."