Sephora Is Launching A Clean Beauty Category Because Sometimes Labels Are Hard To Decode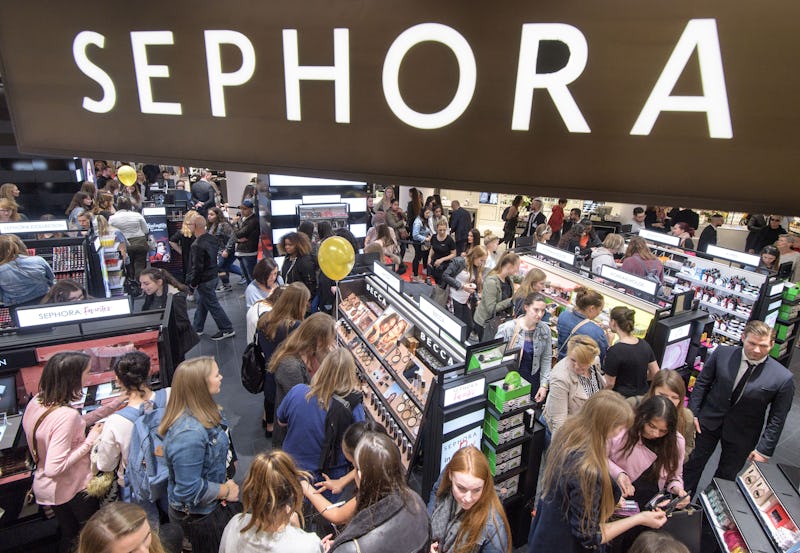 Thomas Lohnes/Getty Images Entertainment/Getty Images
Although there are over 300 brands sold in and on Sephora, you've likely never heard any beauty enthusiast not want to shop there. The brand has an incredible way of organizing products, so you can find exactly what you need — plus a little extra. Well, it's about to get even easier to find what you're looking for.
As Allure originally reported, Sephora is reportedly launching a "Clean at Sephora" section, which will highlight clean beauty products. That means that all products free of certain questionable and unwanted ingredients far beyond parabens, sulfates, and phthalates will all be on one place, according to the publication.
The change will reportedly go into effect on June 1 and happen in-store and online. This is more than just a section or the store and website though. Each product will get a green seal with a checkmark and leaf on it along with the words "clean at Sephora." Because sometimes reading labels is hard, but the label leaves all the guesswork out.
"Sephora continues to demystify beauty choices for clients, helping them find the right products for them, based on their lifestyle needs," Artemis Patrick, chief merchandising officer for Sephora, tells Allure. "Many of them are looking to shop brands and products that are 'free of' and Sephora is responding to help them do that, easily and conveniently in-store, online, and on mobile."
As Teen Vogue points out, this is not the first time that Sephora has gone out of its way to make ingredients a little bit easier to navigate. Under each product on the website, Sephora currently has a "what it is formulated WITHOUT" section. The section highlights ingredients like sulfates, parabens, and phthalates.
The "Clean at Sephora" initiative takes that one step further by doing the same thing in-stores as well. Plus there will be a visual that shoppers can easily identify.
"Through research and insights, Sephora uncovered that more than 60% of women read beauty product labels prior to purchase, and that 54% claim it's important for their skincare products to have a POV on clean," Sephora's Chief Marketing Officer Artemis Patrick said via release. "The customer — like many of us — is still unclear as to what words like 'clean,' 'natural,' 'wellness,' etc. really mean. This is why we sought out to bring a definition to their clients, if it's of interest to them and a factor in their product selection."
Clean beauty is nothing new. There are tons of brands already available on the Sephora website that follow the guidelines of the new "Clean at Sephora" initiative. With allergies of all kinds rising faster than ever, this is more than just about trendy skincare. It's about taking the guesswork out of what you're buying and not having to wait for an allergic reaction to see if the product is okay to use.
According to Allure, there are already 50 brands and 2,000 product pages that will be marked. The products will include makeup, skincare, and fragrances. The publication reports that makeup will not contain the sulfates SLS and SLES, parabens, formaldehydes and formaldehyde-releasing agents, phthalates, mineral oil, retinylpalmitate, oxybenzone, coal tar, hydroquinone, triclosan, and triclocarban.
On top of that, fragrances will not include PTFE/PFOA, styrene, polyacrylamide/acrylamide, acetaldehyde, acetonitrile, methylene chloride, benzalkonium chloride, toluene, resorcinol, acetone, butoxyethanol, ethylenediaminetetraacetic acid, methyl cellosolve, methylisothiazolinone/methylchloroisothiazolinone, mercury and mercury compounds (thimerosal), bisphenol A (BPA), and animal fats, oils, and musks. Allure reports that all products will have have less than one percent of synthetic fragrances and no undisclosed fragrances.
Fingers crossed that this will make a ripple effect among the beauty community. The more transparent brands are with customers, the more people will feel comfortable buying. After all, isn't that what beauty is ultimately about?