Here's Exactly When You Can Shop Sephora's Black Friday Sale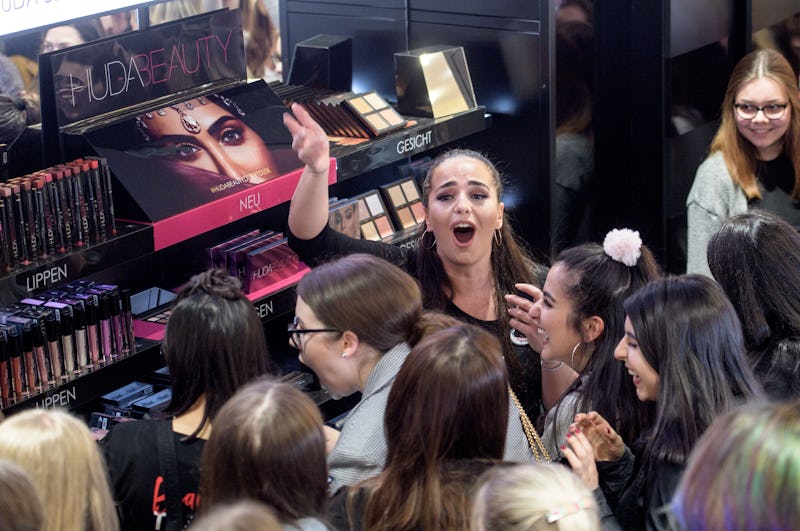 Thomas Lohnes/Getty Images Entertainment/Getty Images
Black Friday falls on Nov. 23 this year. It's just two days away so you still have plenty of time to strategize. There are tons of beauty sales happening — ultimately, game planning is essential. Sephora's Black Friday 2018 hours equals information of utmost importance when navigating the best discounts while checking beauty-loving names off your shopping list. That includes your own name, too.
Bustle reached out to Sephora reps for its official Black Friday hours and we called several New York metro area Sephoras and spoke to associates. We learned that the retailer's hours vary from location to location.
Sephora in Garden State Plaza in Paramus, New Jersey opens at 6 p.m. on Thanksgiving. The store will remain open till 11 p.m. The location's Black Friday hours start at 7 a.m. and go through 11 p.m. The Fifth Avenue Sephora in the Chelsea neighborhood in NYC opens at 10 a.m. on Thanksgiving and will remain so until 7 p.m. Black Friday hours are 9 a.m. to 9 p.m., per the associate we spoke to. The Times Square Sephora is open from 9 in the morning until midnight on Turkey Day, while Black Friday is regular business hours, per the person we spoke to.
You may have barely digested your turkey (or Tofurkey), stuffing, and pumpkin pie. But you can still get your early shopping outta the way for a few hours. Because who doesn't love head starts in life and in makeup?
So, yeah. It appears that each Sephora store, including the hubs inside of JC Penney, have different operating hours. Therefore, your very best bet is to ask an associate next time you pop into Sephora before Black Friday. Or take a minute out of your day, like RN, and call Sephora to find out the official hours for your local outpost.
Knowing is half the battle and knowledge is power, especially when you are entering the shopping battlegrounds. There are loads of products to shop and many that are bound to sell out. Therefore, having a well thought out course of action is paramount.
You can also peruse the Sephora site and app to make a list of items you want to grab, along with back up choices. That's pretty much the long and short of Sephora Black Friday pre-gaming.
It's good to have a variety of shopping options — is that "shoptions?" — if you prefer not to deal with mobs of shoppers and intense crowds. You can plop on the couch and shop digitally. If you absolutely love the hustle and bustle of holiday spending and the accompanying carols and cheer, as well as testing products IRL by swatching them on the back of your hands or on your actual lips and lids, then you can shop IRL. Sephora has extensive and expanded hours to assist you with this task.
Bring on Black Friday at Sephora. Your makeup and skin care-loving besties will be so stoked that you planned ahead and shopped efficiently when tearing open their gifts this holiday season. Remember, that grabbing some products for yourself during the holiday shopping season is totally acceptable. Self-gifting is self-care, too.