You Can Now Swatch Every Palette At Sephora Without Leaving Your Couch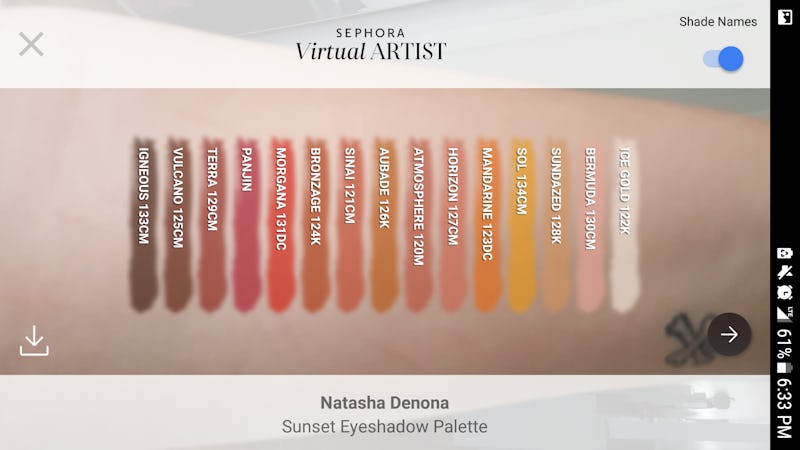 via Katie Dupere
Every makeup lover knows the importance of a swatch test. A palette might look and smell beautiful, but until you get it on your skin, you just don't know if you should buy. Well, now you can do the coveted swatch test from your own couch. Sephora's new Swatch Me app feature allows you to virtually swatch almost every single eyeshadow palette on your own skin. Online shopping just got better than ever before.
If you haven't been keeping track of Sephora's changes recently, allow me to fill you in. First came the tragic (and false) rumor that Sephora was getting rid of their rewards system — debunked! Then came their Beauty Insider Update that basically turned your favorite shopping site into a social media platform — genius!
Now, the makeup store is rolling out a feature that lets you swatch palettes on your own arm online. Pinch yourself because this is not a dream. Sephora has already launched Swatch Me on the Android app through Sephora's Virtual Artist platform, but iPhone users will have to wait until Aug. 28 to play around, according to Teen Vogue.
To use the feature, simply go to the eyeshadow option of the Sephora Virtual Artist tool and swipe up on a shadow. The swatch option appears to the left of the camera screen. One Bustle editor used the feature to virtually swatch palettes she actual owns. Though she said the colors weren't true to life, she added that they do give a good idea of general tone.
Of course, you still won't know the pigmentation or blendability of these shadows. But this is still a pretty cool feature.
"First, we saw our Sephora color consultants swatching palettes on their clients to see effect and color on their own skin tone, and then when we launched Ratings and Reviews, [swatches] was the first thing [shoppers] were sharing," Bridget Dolan, vice president of innovation at Sephora, told Teen Vogue.
"We thought, 'How can we make this available to everyone, in a fun and mess-free way?' Our answer: By harnessing the power of augmented reality, and partnering with our brands to catalog each shade."
On top of that exciting news, the brand also created an eyeliner try-on feature to go with Swatch Me.
The second feature allows users to try on different different colors and styles. You'll also get access to a handful of tutorials as well. Here's a look at the eyeliner try-on in action:
Bottom line: your perfect winged liner just got even easier. Who knew online shopping could get even more fun?