Serbia Appoints Its First Openly Gay Female Prime Minister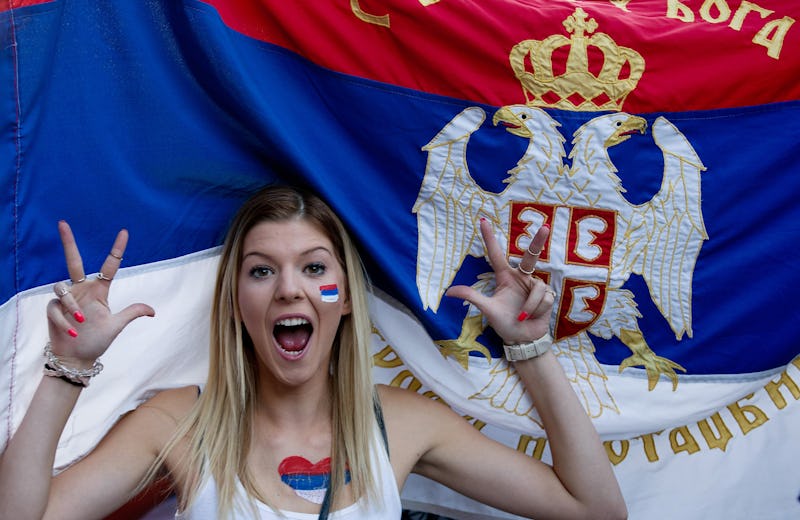 Gonzalo Arroyo Moreno/Getty Images Sport/Getty Images
Next week Ana Brnabić is set to smash through not one, but two glass ceilings should parliament approve her appointment as Serbia's first openly gay female prime minister. Serbian President Aleksandar Vučić nominated Brnabić for the position Thursday in what many have deemed not only an unprecedented move but one that is also particularly noteworthy, given Serbia's reputation for homophobia.
"If elected in parliament, I will run the government with dedication and responsibility and I will do my job honestly and with love," The Washington Post reported Brnabić told Serbian state news agency Tanjug. Her main focus as PM, Brnabić said, would be addressing the issues that are "bigger and more important than all of us individually."
Although Brnabić's appointment as prime minister comes 23 years after Serbia first decriminalized homosexuality, homophobic attitudes continue to remain fairly widespread throughout the country. As an example, The Atlantic reports the Serbian Medical Society only stopped officially classifying homosexuality as an illness in 2008. However, while progress is happening at a snail's pace, LGBT+ advocacy groups say it does appear to be happening.
The LGBTI Equal Rights Association for Western Balkans and Turkey (ERA) reports that public surveys conducted in Serbia on the subject of homosexuality over the course of the last decade show that while the "general public maintains negative attitudes towards LGBTI people," those perceptions change year by year.
A public survey conducted in March 2008, for example, reportedly showed 70 percent of respondents viewed homosexuality as "a sickness," with only 11 percent holding positive views about LGBTQ+ individuals. An overwhelming majority of respondents said they were opposed to public expressions of homosexuality and the LGBTQ+ identity, including gay pride parades.
Four years later, research from the Commissioner for Protection of Equality reported the percentage of Serbs who viewed homosexuality to be an illness in 2012 had fallen to 48 percent. Yet while public opinion may be changing, discrimination reportedly remains a significant problem for much of Serbia's LGBTQ+ community.
A 2015 poll conducted by National Democratic Institute reportedly showed 51 percent of LGBTI individuals in Serbia had reported being personally discriminated against as a result of their sexual orientation or gender identity. That same poll also found 48 percent of Serbs would want to help their child "find a cure" if they identified as homosexual.
According to The Washington Post, 14 percent of Serbs said they believed "violence and beatings are legitimate ways to respond to homosexuality" in a 2010 survey.
But some worry Brnabić's appointment as prime minister – which must first be approved by the nation's parliament – will serve as more of a band-aid fix than a serious push toward combating Serbia's deeply-entrenched homophobia. And indeed, Brnabić has previously sought to avoid being identified by her sexual orientation. "Hopefully this will blow over in three or four days, and then I won't be known as the gay minister," Brnabić reportedly told the Associated Press in 2016 following her appointment to minister of Public Administration and Local Self-Government of Serbia.
Politics and the rate of progress aside, Brnabić's appointment as prime minister is undoubtedly a historic moment for Serbia.