Serena Williams Calls Out Racially Charged Comment About Her Unborn Baby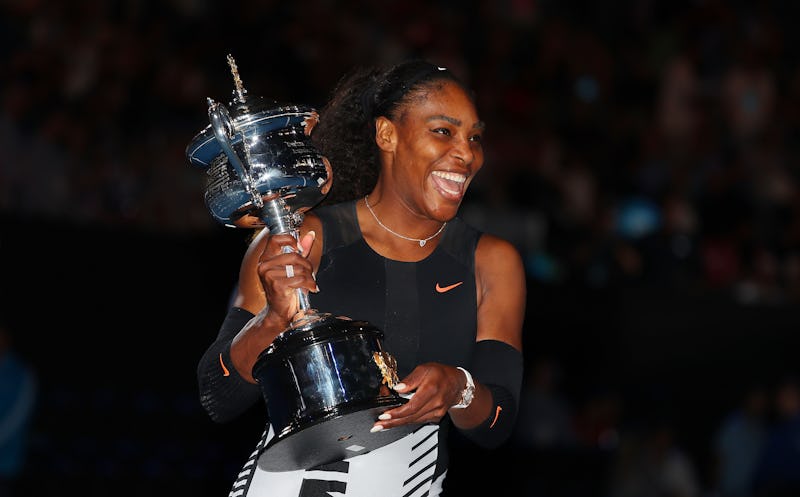 Scott Barbour/Getty Images Sport/Getty Images
Tennis champion and mom-to-be Serena Williams responded to racist comments about her unborn baby that a former tennis star allegedly made last week. Ilie Nastase, a Romanian former tennis star who won two Grand Slam titles in the 1970s and still coaches professionally, reportedly made the comment about Williams baby during a press conference following a Fed Cup tournament last week. "Let's see what color it has. Chocolate with milk?" he allegedly said, referencing the baby's mixed race. According to the Daily Mirror, Nastase did not make the comment directly to reporters, but it was still allegedly audible in the room.
Williams, who is expecting a child with her fiancé Alexis Ohanian in the fall, said that despite the disappointing comment, it won't stop her from "pouring light, love, and positivity into everything" that she does.
"It disappoints me to know we live in a society where people like Ilie Nastase can make such racist comments towards myself and [my] unborn child," Williams wrote on Instagram Monday. "I have said it once and I'll say it again, this world has come so far but yet we have so much further to go. Yes, we have broken down so many barriers — however there are a plethora more to go. This or anything else will not stop me from pouring love, light and positivity into everything that I do. I will continue to take a lead and stand for what's right."
Williams also said that she will fully support the investigation into Nastase's comments by the International Tennis Federation (ITF).
Nastase has gotten in trouble for comments he's made in the past. He was already facing the potential for punitive action from the ITF over offensive and harassing comments he made toward the British tennis team at the same tournament. Additionally, he had baselessly accused Williams of doping last month, citing her physique.
On Monday, Nastase responded to Williams' Instagram post in a way that indicated he was unsure of why his comment received backlash. "I want to know, what word I used is racist?" Nastase wondered during a telephone interview with the Associated Press on Monday. Nastase also said he considers Williams a friend.
Williams' Instagram note was a graceful and eloquent response, but as a woman who has encountered racially charged criticisms and comments throughout her entire career, it was also a remarkable display of tenacity. As she takes on the role of a mother, Williams' values will undoubtedly have an even larger significance down the line.