You'll Want To Print Out Serena Williams' Letter About Body Confidence & Pin It On Your Wall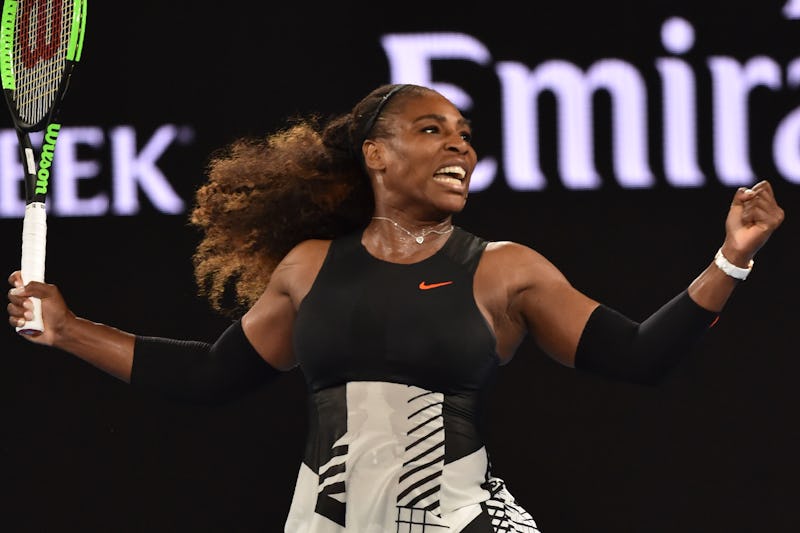 PAUL CROCK/AFP/Getty Images
When you think of powerful athletes in sports, Serena Williams is no doubt one of the first names that comes to mind. Everyone is used seeing her longstanding dominance on the tennis court make headlines, but now that Serena Williams has shared an open letter about her daughter that she wrote to her own mother, fans are getting a chance to see more of her inner thoughts.
Williams has already won 39 Grand Slam titles, held the spot as the number one women's tennis player in the world for a total of 319 weeks, and is now tackling her next project — being a mom. The tennis star gave birth in early September to baby girl, Alexis Olympia, and her new bundle of joy prompted her to pen an emotional tribute to her own mother in which she opens up about body confidence, being a role model, and what it truly means to be strong.
In the open letter posted on Reddit, Williams speaks to her mom about all of the challenges she has had to face in her groundbreaking career and how her mom's poise throughout everything is something she hopes to master herself and pass along to her own daughter. In the letter, Williams remarks about some of the amazing similarities that her newborn daughter already shares with her:
"I was looking at my daughter (OMG, yes, I have a daughter) and she has my arms and legs! My exact same strong, muscular, powerful, sensational arms and body."
The strong arms and legs that Williams speaks about have been a subject of scrutiny since she came onto the tennis scene. She has been the subject of constant body shaming over the years and in the open letter she is firing back at her critics.
"I've been called man because I appeared outwardly strong. It has been said that I use drugs (No, I have always had far too much integrity to behave dishonestly in order to gain an advantage). It has been said I don't belong in Women's sports — that I belong in Men's — because I look stronger than many other women do. (No, I just work hard and I was born with this badass body and proud of it.)"
Williams has had to deal with this constant scrutiny since she was 15 years old, which is enough to drive anyone crazy. She praised her mother for her class throughout it all and wonders how she "did not go off on every single reporter, person, announcer and quite frankly, hater, who was too ignorant to understand the power of a black woman." Later on in the letter, Williams gushed about how she hopes to emulate how "meek and strong" her mother is.
"I'm proud we were able to show them what some women look like. We don't all look the same," Williams said. "We are curvy, strong, muscular, tall, small, just to name a few, and all the same: we are women and proud!"
In an August 2015 interview with Good Morning America, Williams also spoke about not letting body shamers get her down and embracing who she is:
"I love that I'm a full woman and I am strong, and I'm powerful, and I'm beautiful at the same time, and there's nothing wrong like that. It's so important to look at the positives, if I get caught up looking at the negative it can really bring you down."
As a woman, it's disheartening that we can have one of the world's greatest athletes who is strong, successful, accomplished, and beautiful, still get critiqued for the way she looks, but Williams has made it clear that she is strong enough to support herself and still empower other women.
"I don't have time to be brought down, I've got too many things to do," Williams told Good Morning America. "I have Grand Slams to win, I have people to inspire, and that's what I'm here for."
Williams is an example of a real, powerful woman, who is working to inspire others, all while trying to be the best person that she can be for herself and her daughter. Her open letter to her mom displays both the strong and more vulnerable sides of Williams. In the letter, she shows that no matter how successful you are, people will still try to bring you down, but emphasizes how important it is to never stop working hard and being proud of who you are.