Serena Williams Revealed Her Entire Royal Wedding Outfit On Instagram & Wait Until You See Her Hat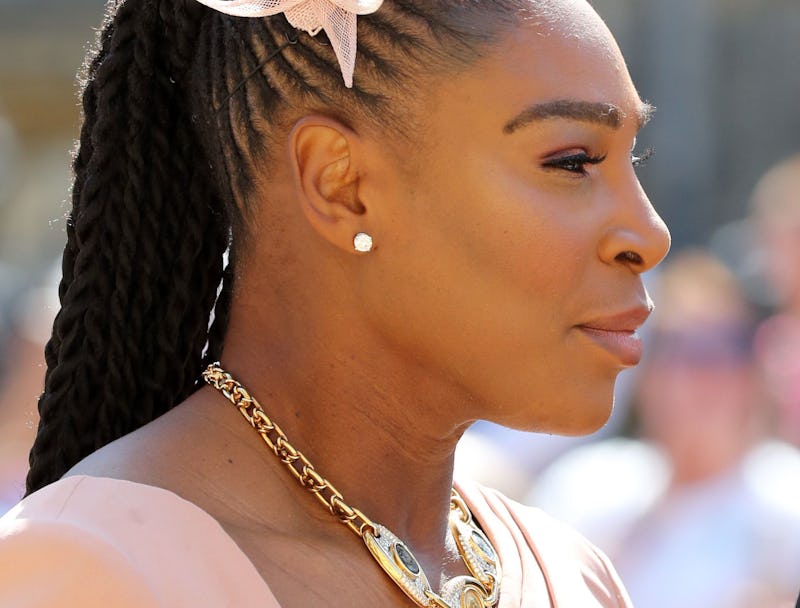 WPA Pool/Getty Images Entertainment/Getty Images
A lot of thought goes into getting ready for a wedding, but a little extra goes into the royal wedding. Serena Williams got ready for the royal wedding on Instagram, so you can see every single step. From face masks to choosing the perfect accessories, this routine probably doesn't look that much different than yours in the morning. Besides, you know, going to a royal event.
The excitement around the royal wedding is real, and Williams knows it. She took to Instagram to announce that she would be getting ready on live-stream the morning of the big day. Although she didn't show a step-by-step guide to her May 19 look, she did show the final look, and oh my goodness her hat is good.
According to her Instagram Stories photo, Williams wore a pink fascinator that looked more like a sculpture than a hat. But, hey, that's what today is all about. She paired her hat with a Versace sleeved pink dress of the same color and a chunky necklace and one shoulder exposed. The asymmetrical design is the perfect way to show a little skin, but still keep it daytime formal.
"So my friend's getting married today, and I'm up super early, well, for me," she says on her Instagram Story. "I've known her for so many years, and I'm so happy for her."
As far as how she got ready, it's so relatable. According to her posts, she woke up early, did a face mask and did her hair and makeup. Well, she had a team of expert do her makeup, but, after all, it is the royal wedding. Like mentioned before, she didn't tell her followers all of the products that she used to get ready for the big day. She did share the all-gold sheet mask and glam squad putting on some concealer though.
Williams isn't the only one of her family that is heading to the wedding, either. Her royal wedding pose includes her husband Alexis Ohanian and her daughter Alexis Olympia Ohanian Jr. Yes, she is bringing her baby to the wedding, people. She did not mention if baby Alexis will be accompanying the family into the venue, but she did make the leap over the pond with the family.
Her husband will be walking into the event with her though. He was also shown on her Instagram Stories videos wearing what Williams referred to as "high-waisted" pants. They are checkered and have suspenders attached, but that's what the dress code is — a morning coat with a more casual look.
Williams did share one part of her beauty routine more specifically though. According to her Instagram Stories, she tamed her eyebrows a little bit more for the event. She didn't do it because anyone told her to though. She did it because she wants to.
"For those of you out there, I'm definitely shaping my brows today, but not for you. Just because I want to," Williams said on her social media. "Haters."
It's no secret that she's excited for the big day, but all the prep for the big day proves it. According to USA Today, Williams and Meghan Markle met at 2010 at Super Bowl XLIV in Miami and have been friends ever since. The two have given kind words to each other in interviews.
"Her personality just shines," Serena said about Markle to Vanity Fair. "I told her, 'You've got to be who you are, Meghan. You can't hide.'"
Williams didn't give an up-close look at her fascinator or give any details on who made her outfit, but it is sure to be an incredible day if nothing else style wise.