Serena Williams' Husband & Daughter Welcomed Her Back To Tennis With 4 Actual Billboards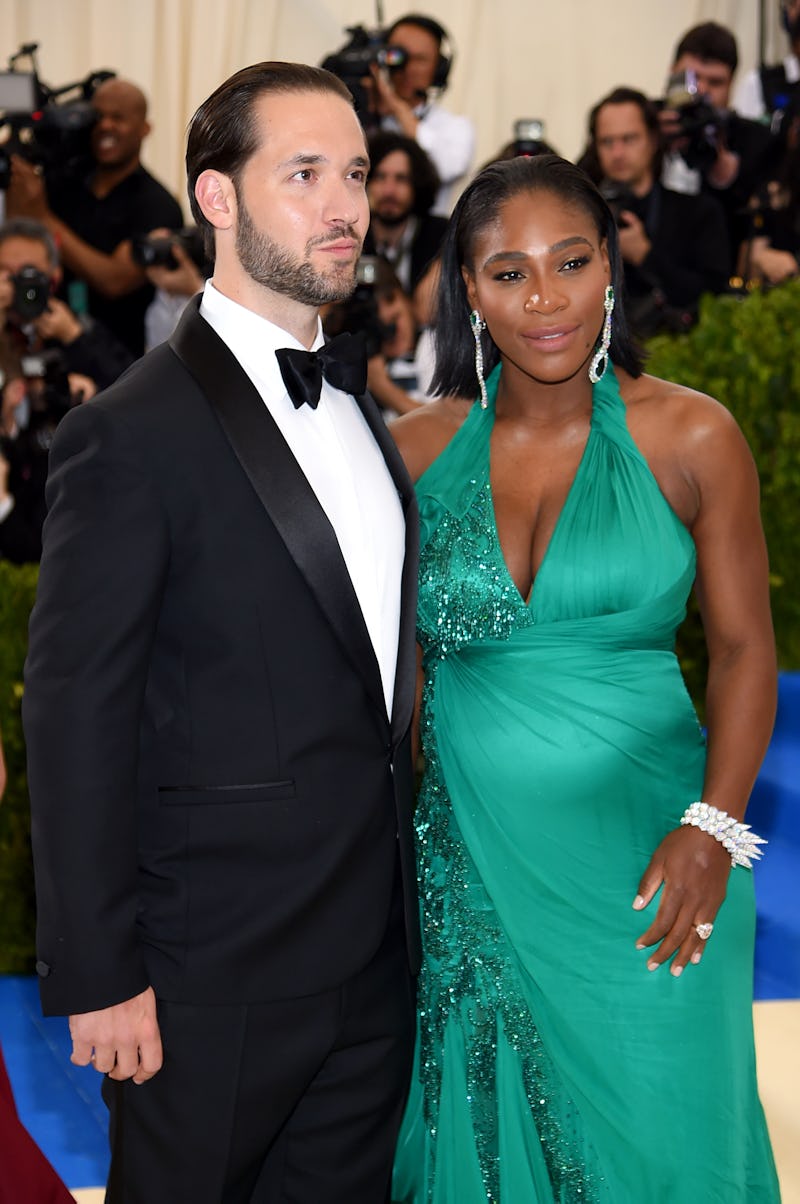 Dimitrios Kambouris/Getty Images Entertainment/Getty Images
This is what true love looks like. Alexis Ohanian surprised Serena Williams with four billboards featuring Williams and their daughter, Alexis Olympia Ohanian Jr. This is the Reddit co-founder's way to welcome the tennis champion back to her sport after taking a break for her pregnancy. To be clear, Williams competed at the 2018 Fed Cup in February, but she played doubles with her sister and fellow tennis pro, Venus Williams. The March BNP Paribas Open in Indian Wells, California, will be her first solo tournament since giving birth.
"These just went up on alongside I-10 into Palm Springs," Ohanian's Instagram caption for photos of the billboards reads. "@olympiaohanian & I wanted to welcome her back to tennis. Designed them myself, with some help from Jr. #GMOAT". The hashtag obviously stands for, "Greatest Momma of all Time". According to E! News, the I-10 into Palm Springs will probably be the route Williams takes one her way to the BNP Paribas Open.
As you can see below, the series of billboards starts off with a close-up image of Alexis Jr. and the word "greatest". Next, there is a picture of Serena holding her baby girl and the word "momma". Then, there is another adorable photo of Alexis Jr. with the words "of all time". Finally, Ohanian's message comes full circle with a different image of Williams and her daughter and the words: "Serena Williams G.M.O.A.T. -Alexis Jr. + Sr."
Seriously, how sweet is that? According to E! News, Williams commented on her husband's Instagram of the billboards and wrote: "Literally am crying. This is so sweet. I love you." Ohanian just set the bar really high in gift giving. Plus, he's showing exactly how much he adores and supports his wife and her career.
On more than one occasion, Williams has been referred to as "the G.O.A.T.", aka the greatest of all time. After all, the 36-year-old is a 23 time grand slam title holder. In January 2017, she won the Australian Open for the seventh time making her the "most prolific grand slam winner of the open era", per The Guardian. And now that she is a mom, Ohanian can't help himself but to praise her as an amazing mother by calling her the "G.M.O.A.T."
Ohanian's gift is truly the best — and pretty much everyone thinks so, too. Here are a few of the many reactions his billboards are receiving on Twitter.
This Person Just Wants One Billboard
Seriously, one is good enough.
This Person Now Believes In Love
Ditto.
Everyone Deserves This Kind Of Love
Maybe there's an Alexis clone out there somewhere?
Replicating Their Love Is Impossible
He does really love her.
What Every Relationship Should Look Like
They deserve a round of applause.
How They Will Forever Be Remembered
Their love is like no other.
And Ohanian isn't just a great husband because of the billboards. Have you ever heard how he talks about his wife? In Williams' August 2017 Vanity Fair cover story, Ohanian opened up about her and how she made him feel before they were even engaged or found out they were having a baby. He said, "I felt like a door had been opened to a person who made me want to be my best self ... I find myself just wanting to be better by simply being around her because of the standard she holds."
He probably deserves at least one billboard celebrating his greatness — and for how hard he loves Williams.