Serena Williams' 'Vanity Fair' Cover Is All About Stregth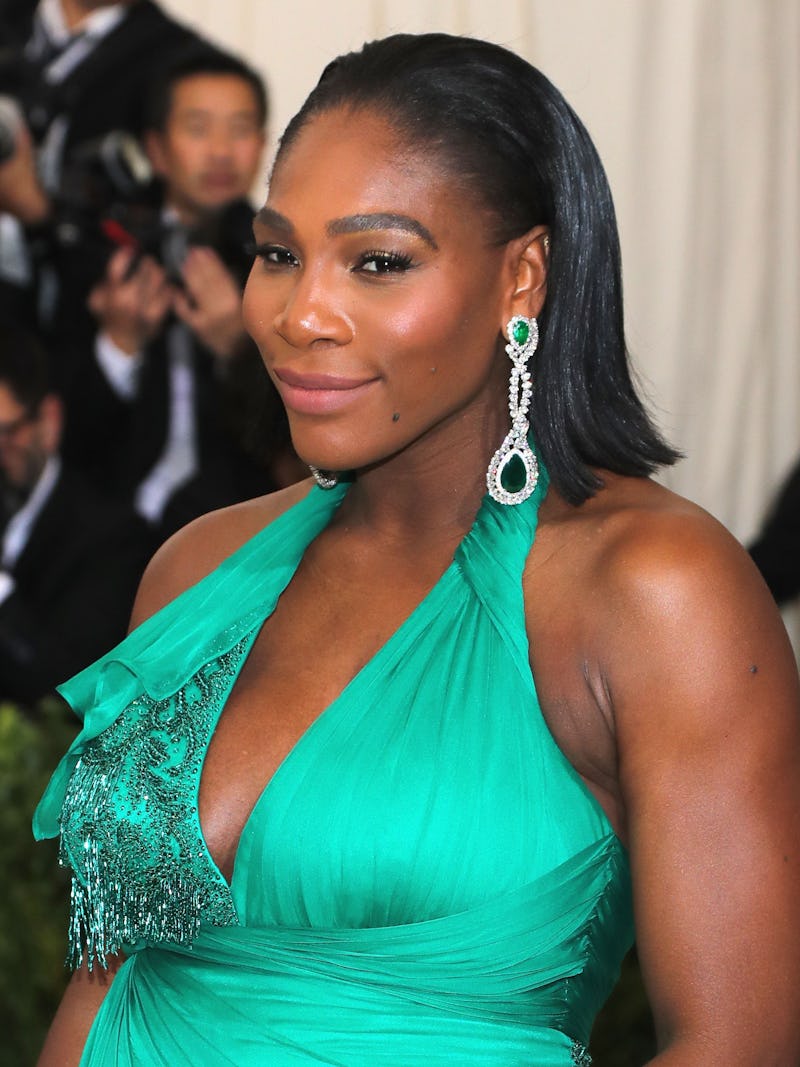 Neilson Barnard/Getty Images Entertainment/Getty Images
She is arguably the greatest athlete in history, but professional tennis superstar Serena Williams covers Vanity Fair in a different light than the one the public is used to seeing her in — as a glowing (and naked) mother-to-be. The tennis star's show-stopping beauty is effortlessly captured by famed photographer Annie Leibovitz, but Williams also managed to make a greater statement with her naked, pregnant body: Women can do it all.
With her hands covering her breasts and her long, black tresses blanketing her back, the 35-year-old makes her athletic physique and her baby bump the focal point of the portrait. Even Williams' posture is worth noting as she isn't cradling her bump but rather supporting her back for her stomach to protrude even further.
She is an unstoppably strong and focused athlete yet her gaze is now proudly also looking forward to her future as a mother and a wife. Williams' Vanity Fair article retells her love story with fiancé Alexis Ohanian and their collective shock about her pregnancy. Yet the 23-time grand slam winner also eloquently shuts down skeptics who assume she will forgo her tennis career and fade into motherhood by saying, "I don't think my story is over yet." Although Williams is entering a new chapter in her life, she is by no means less capable of succeeding in her sport because she's having a child.
As exalted as she is for her skills, Williams frequently also falls victim to unfounded criticism. Fellow pro tennis player John McEnroe told NPR's Weekend Edition that the woman who won the Australian Open while pregnant would rank around 700 if she played against men. While Williams told McEnroe off by asking him to "keep me out of your statements that are not factually based," herVanity Fair photoshoot speaks a thousand more words.
Her Vanity Fair cover symbolizes that being a woman and being pregnant are not a hinderance. Both are experiences that should be celebrated and admired. She has proven she can win trophies and carry a child at the same time, which prior to her January win, was an unconscionable feat. Williams embodies athletic excellence, poise, and fearlessness. She can be at the top of her game and be a mother — just like any woman.
Pregnancy is perhaps the best representation of a woman's vitality. Women can create and bring life into the world. Yet many tend to expect motherhood to slow down a woman's career or for it to be the entire basis for a woman's importance.
Yet, by showing her body stripped down — her muscles hardly flexed but unmissable and her growing bump unveiled — Williams stands as the embodiment of strength. Her cover is an example to women that they can be powerful, hardworking, loved, and confident through any phase of life.
Her fans wont see her making grand slams for the next couple of months. However, watching Williams go through pregnancy in the public eye — carrying herself with the same elegance, determination, and charisma that she brings to the tennis court — is just as awe-inspiring.