Serena Williams Was Fined $17,000 For Code Violations In The US Open Final — REPORT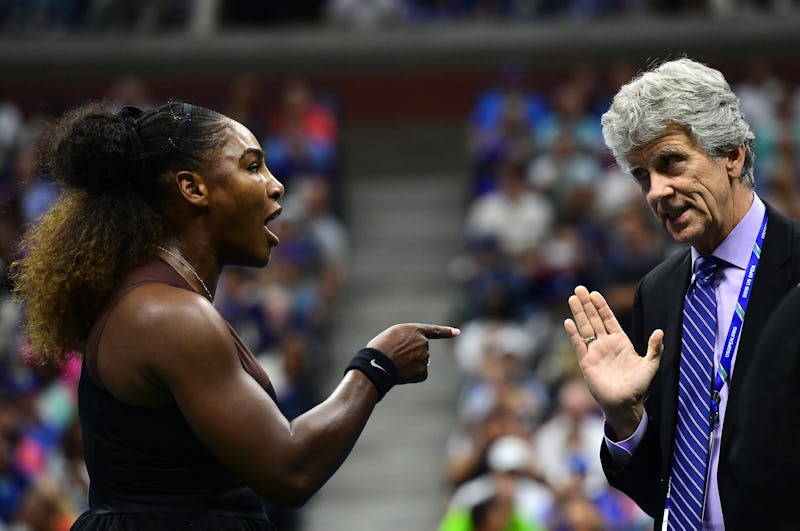 Sarah Stier/Getty Images Sport/Getty Images
Talk about adding insult to injury. Serena Williams has been fined for code violations she received Saturday during her U.S. Open final against Naomi Osaka, the Associated Press has reported. Williams, who has expressed frustration about the violations and accused the umpire of refereeing with a sexist double standard, will have $17,000 docked from her prize money.
The tournament referee's office has taken three separate fines out of the $1.85 million in prize money Williams won as runner up in the U.S. Open women's final, according to the Associated Press. Williams was docked $4,000 for a violation related to a coaching warning, $3,000 for a violation issued after she broke her racket, and $10,000 for "verbal abuse" of chair umpire Carlos Ramos. When Bustle requested comment from Ramos, a spokesperson for the International Tennis Federation wrote in an email statement that chair umpires "don't comment on their matches."
Williams confronted Ramos on the court Saturday during her match against Osaka, accusing him of policing her more harshly than he would have a male player. Ramos issued the first of three code violations against Williams early in her second set against Osaka, alleging that she was receiving help from her coach in the stands. Williams denied the claim and demanded Ramos apologize, telling him, "I don't cheat to win, I'd rather lose."
Later, Ramos hit Williams with a second code violation, this time for racket abuse, when she broke her racket in frustration on the court. Ramos also awarded Osaka a penalty point, giving her a 5-3 lead over Williams, according to The New York Times. This spurred Williams to call Ramos a "thief," at which point he issued a third code violation against her along with a game penalty.
In a statement, U.S. Open officials acknowledged that "even though her coach has admitted to coaching, Williams has made it clear that she did not receive any coaching." But despite Williams claim of not having received coaching, U.S. Open officials said the 23-time Grand Slam champion was issued a code violation "in accordance with the rules."
The penalty point and game penalty levied against Williams were also required by the rules, the statement said. "The chair umpire's decision was final and not reviewable by the Tournament Referee or the Grand Slam Supervisor, who were called to the court at that time," U.S. Open's statement said of the third code violation and game penalty.
But Saturday wasn't the first time Williams has been fined for confronting an official on the court. In 2009, the Associated Press reported that Williams was fined $82,500 and placed on a two-year "probationary period" after she approached a line judge at the U.S. Open in what the tournament's director called "a threatening manner." According to the Associated Press, Williams brandished her racket, cursed, and pointed her finger at the judge.
Despite her confrontation with Ramos and the fines levied against her, United States Tennis Association (USTA) President and Chairperson of the Board Katrina Adams praised Williams' post-match conduct in a statement released Saturday. "She is an inspiration to me, personally, and a credit to our sport, win or lose," Adams said. "I know that she was frustrated about the way the match played out, but the way she stepped up after the final and gave full credit to Naomi for a match well-played speaks volumes about who she is."