This Seth Rogen Story About His Awkward Encounter Will Paul Ryan Will Make You Cringe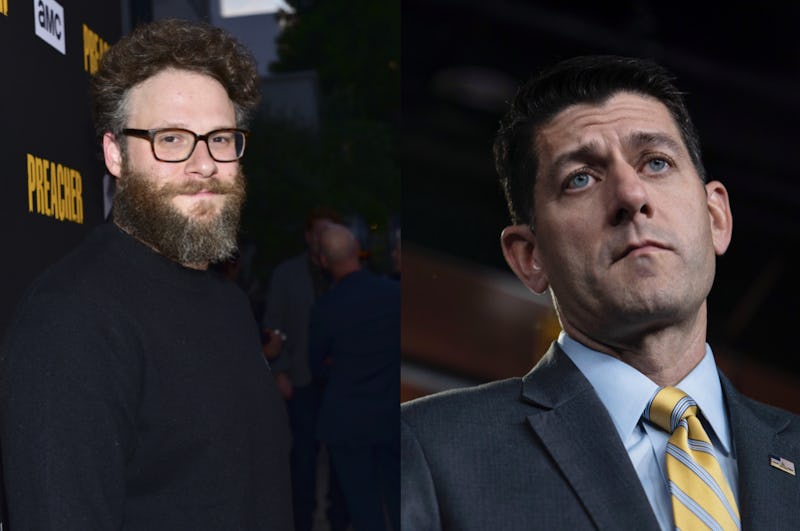 Rodin Eckenroth/Getty Images Entertainment; Toya Sarno Jordan/Getty Images News/Getty Images
Sometimes celebrities just aren't in the mood to snap a selfie with you. Other times, you just happen to be Paul Ryan. Seth Rogen said he refused a photo with Ryan on the grounds that the House speaker is, well, Ryan. The Canadian-born comedic actor revealed his awkward encounter with the House speaker on Friday during an appearance on The Late Show with Stephen Colbert.
Rogen told late-night host Stephen Colbert he'd run into Ryan earlier this month when he spoke about Alzheimer's at a Park City, Utah, summit organized by former Republican presidential candidate Mitt Romney. Although the summit is known to attract a number of top Republicans, Rogen said he viewed it as "a good chance to reach across the aisle."
"Almost all of the attendees were Republican people," Rogen said. "I'm OK with that, but I didn't know how I would react, honestly, to every situation." And it seems that Rogen, who has previously spoken out against the Trump administration, did have at least one awkward encounter at the summit. "I was put into a bit of a pickle," Rogen said in reference to meeting Ryan.
While at the summit, Rogen said he was approached by two teenage boys who asked to take a photo with him.
"And then they said, 'Our dad wants to meet you,' and I turned around and Paul Ryan was walking towards me," Rogen told Colbert. "My whole body, puckered, as it were. I tensed up, and I didn't know what to do."
Rogen said Ryan came right up to him, "grabbed" his hand, and asked if he could have a picture with the actor. "I look over and his kids are standing right there, expectantly," Rogen went on. "And I said, 'No way, man!'"
But the pair's meeting only continued to get more awkward for the House speaker. "I couldn't stop," Rogen confided to Colbert. "I said, 'Furthermore, I hate what you're doing to the country at this moment and I count the days until you no longer have one iota of the power that you currently have.'"
Unfortunately for both Ryan and Rogen, the House speaker's sons witnessed the entire encounter. "I look over and his kids are still standing right there and I feel very conflicted about this at this moment," Rogen said. "It's not their fault but, at the same time, they should probably learn that if they like a movie or song, the person who made that probably doesn't like their dad that much, unless they're watching Roseanne reruns or something like that."
While Rogen had nothing nice to say about Ryan himself, he had only compliments for his children. "His kids seem lovely," the actor said.
On Saturday, after the hosts of Fox and Friends Weekend criticized him for refusing a photo with Ryan, Rogen hit back in a tweet. "Oh man. Now my TL is gonna be filled with virtue signaling snowflakes who are offended by my free speech," Rogen wrote.
Earlier in the interview with Colbert, the Canadian-born actor criticized President Trump's policy of detaining migrant children and separating families at the border. "This week Trump made prisons for kids, and Canada legalized recreational marijuana," Rogen said.
It wasn't the first time he'd spoken out against Trump. In 2017, Rogen capitalized on the fact that Donald Trump Jr. followed him on Twitter by tweeting to the president's son. "Please ask your dad to resign before he destroys the planet," Rogen tweeted at Trump Jr. "Thanks dude."
Concerned that Twitter's 140-character limit wouldn't do justice to the topic, Rogen also sent the president's son a direct message. "Hey man! It's Seth," the message began. "Your father is trying to discredit our media, collude with Russia, and destroy the environment. It would be super cool of you to be like, 'yo, dad, why don't you stop all this and go back to being just a guy on TV.'"
Rogen is reportedly still waiting for a response.
But overall, Rogen said Friday that he has no regrets about his encounter with Ryan. "I'm glad I didn't take a picture with Paul Ryan," the actor concluded.