9 Signs It's Time To Establish Boundaries With Your Mom, According To Experts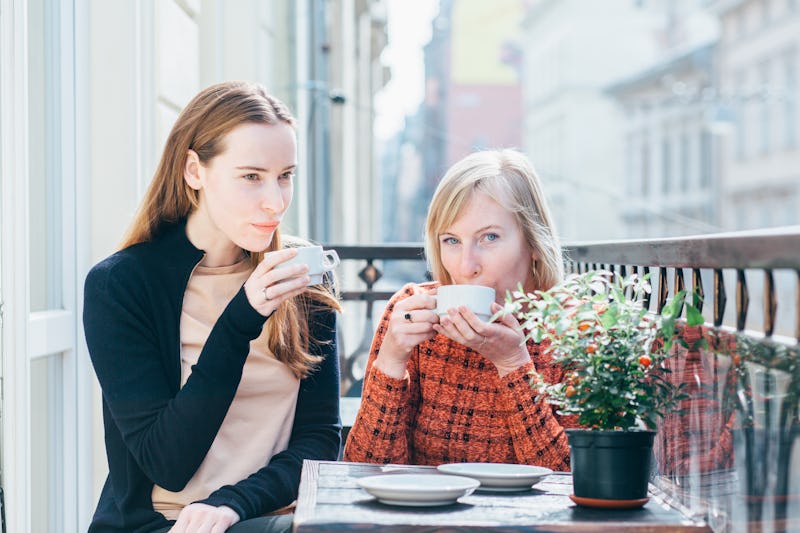 Iryna Inshyna/Shutterstock
Whether you talk to your mom all the time or you have a more distant relationship, it might be hard to figure out what a healthy relationship with her should look like as an adult. Setting boundaries with your mom might be something you need to do if you're experiencing certain problems in the relationship, according to experts.
One major sign that you do have a quality, balanced relationship with your mom is if you both feel responsible for maintaining a healthy relationship, Vanessa Watson-Hill, LCSW, a therapist specializing in caregiving and parent issues and owner of Living In The Second Half, tells Bustle. "An adult child should not be the sole person carrying the emotional weight of maintaining a healthy relationship," she says. But if your mom seems to genuinely care about regularly working to improve your connection and make sure that it's mutually beneficial, that's a great sign.
If things aren't as balanced as you'd like, you might need to start setting boundaries by limiting the time you spend together, replacing her negative talk with positive talk, and speaking up when the way she's acting or speaking is bothering you, Watson-Hill says. It can also be helpful to build a support system of trusted people in your life who can help you manage your relationship with your mom.
Here are some signs that you need to set boundaries with your mom, according to experts.