Seven States Are Standing Up To The EPA Over A Pesticide Linked To Brain Damage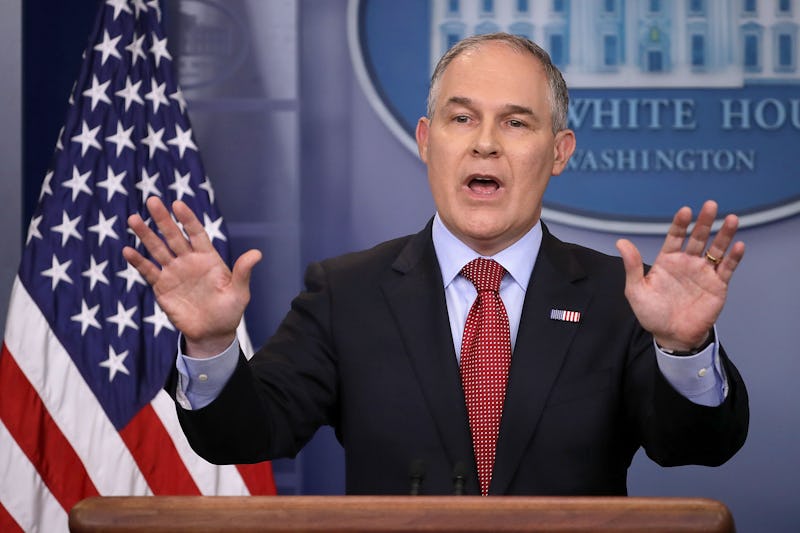 Chip Somodevilla/Getty Images News/Getty Images
The head of the Environmental Protection Agency, Scott Pruitt, has expressed skepticism about climate change. And under his watch, the federal agency is already generating controversy over another environmental concern: Seven states are challenging the EPA for its decision not to ban the pesticide chlorpyrifos, which studies have linked to serious health issues, including harm to the nervous system and brains of young children.
Led by New York State Attorney General Eric Schneiderman, the states filed an administrative challenge against the EPA on Monday, claiming that the federal agency's refusal to pay attention to the scientific studies that link the controversial pesticide to brain damage could devastate the lives of farm workers and their children. If the challenge is not successful, the case could result in a lawsuit.
In a press release, Schneiderman criticized the Trump Administration for failing to consider the saftey of Americans.
The EPA's first job is ensuring the health and safety of New Yorkers and all Americans — especially our children. Yet the Trump administration is jeopardizing our children's health by allowing continued exposure to this toxic pesticide at levels it has not found to be safe. If the Trump Administration won't follow the law — and put our children's well-being first — we will fight back.
California, Maine, Maryland, Massachusetts, Washington and Vermont were also involved in the challenge, all of which are major agricultural hubs. They are basing their legal filings on the Food Quality Protection Act of 1996, a law that requires the EPA to protect infants and children from harmful pesticides used in food and crop production.
Chlorpyrifos is frequently used to kill insects and garden pests on many crops, including some that are for human consumption. In 2015, under the Obama administration, the EPA proposed a ban on the use of chlorpyrifos on fruit and vegetable crops after multiple studies found that the chemical can be linked to brain damage, especially in minors and infants. In March, Pruitt's EPA decided against the proposed ban, stating that "the science addressing neurodevelopmental effects remains unresolved."
"By reversing the previous administration's steps to ban one of the most widely used pesticides in the world, we are returning to using sound science in decision-making — rather than predetermined results," Pruitt said.
The seven attorneys general are also supported in their challenge by some major environmental advocacy groups, including Earthjustice, the Pesticide Action Network, and the Natural Resources Defense Council.