Seven Actions You Can Take To Stop Trumpcare In June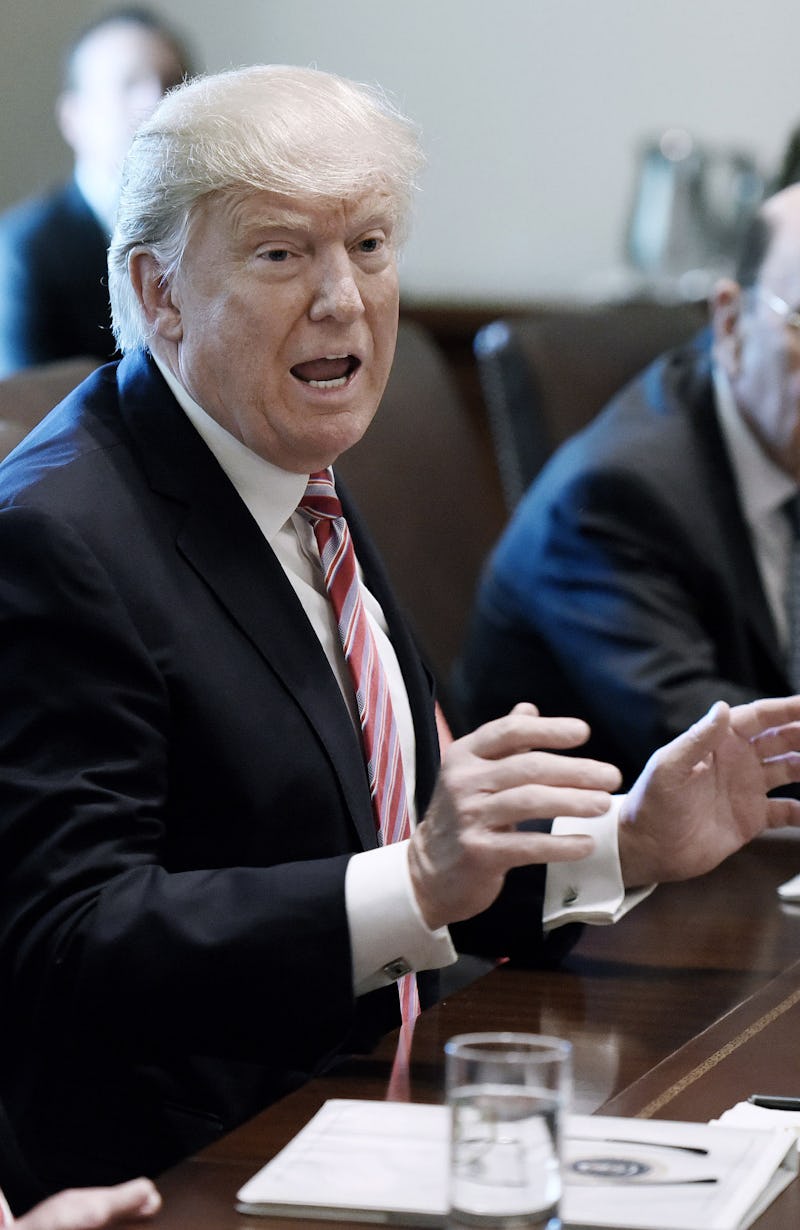 Pool/Getty Images News/Getty Images
If you're one of the millions across the United States worried about the Republican plan to repeal and replace Obamacare, there are several actions you can take to defeat Trumpcare in June. Why June? Well, because it seems that GOP senators have been taking advantage of the American public's focus on former FBI director James Comey's testimony against President Trump to stealthily work behind closed doors and draft a healthcare bill with the intention of voting on it in the final week of the month.
To recap: Early last month, House Republicans passed the American Health Care Act. This was soon followed by reports that the bill had been effectively "killed" in the Senate after numerous GOP senators suggested that rather than voting on the AHCA, they would draft their own bill and proceed to vote on that one. That plan evidently changed, however. In an op-ed for The Washington Post, Andy Slavitt, former acting director of Centers for Medicare and Medicaid Services, argued that Senate Majority Leader Mitch McConnell is launching a strategy to take down the ACA using the tools of "sabotage, speed, and secrecy."
Last Wednesday, McConnell invoked Rule XIV, a measure that speeds up a bill's vote by allowing it to skip the process of being referred to and reviewed by the Senate committee and instead places it directly on the Senate Calendar of Business. His goal is to hold a vote by July 4, before Congress goes on recess and any hearings can be held to discuss the damaging impact the bill may have. "Knowing the coverage loss will be significant, McConnell plans to vote within only days, or possibly even hours, of the release of the CBO score," wrote Slavitt in the aforementioned op-ed. "Moving fast leaves opponents, and the public, with no time to catch up to the details."
"Republicans consider the Comey thing an OPPORTUNITY to quietly pass a bill ruining your healthcare," Democratic Sen. Brian Schatz of Hawaii tweeted on Thursday. On Monday, he posted a more alarming message: "I'm being told to expect that there will be a GOP healthcare bill on the floor NEXT WEEK. We can kill this thing but it will take everyone."
So what can you do? The leaders of of Indivisible, one of the leading movements taking on Trump's policies through grassroots activism, have put together a helpful strategy guide to take down the GOP's healthcare plan this month. Along with their suggestions, here are 7 actions you can take.
1. Spread The News On Social Media
Since GOP legislators have not only taken advantage of the country's focus on other news, but have also carried out their actions with as much secrecy as they could manage, the number of people who are aware of their June plans is nowhere near as high as it should be. Bringing the Republican attempt to fast-track a vote on this bill to your followers on every social media platform is a quick and easy way to help mobilize others.
2. Share Indivisible's Trumpcare Ten List
In order to pass, 50 out of 52 Republican senators need to vote in favor of Trumpcare. Fortunately, with more than three showing some degree of reluctance to throw their support behind it, the possibility of the bill failing to get the necessary votes is very real. Sharing Indivisible's list of the ten GOP senate members most likely to vote against this health plan is a useful action to take, especially if you or people you know happen to reside in these legislators' states.
3. Call & Email Your Senator
One of the most effective ways to get your message across to your legislators is to call them. When a lawmaker's office is flooded with the urgent calls of constituents making the same demand, the staffers who spend hours listening to voter after voter inevitably end up informing the public official they work for of just how much pressure the constituency is putting on them to demand they take a specific action. Check out facts on the effects Trumpcare would have on your state and incorporate them into the conversation. If you've never called a legislator before and feel lost as to how they usually go, there are endless resources online providing tips and sample scripts to guide you.
4. Write Letters To The Editor
Legislators closely follow media coverage of their work. As the Stop Trumpcare guide on Indivisible says:
Every morning, Representatives and Senators start their day reading "press clips" — a collection of news stories that mention either the lawmaker or an issue they are following. Every Member, every day.
Make a list of local newspapers you can write to, look up the submission guidelines for letters to the editor, and write one mentioning your senator by name.
For maximum impact, you can organize or attend "a letters to the editor party," where attendees who feel the same way about stopping this bill get together to each write their own letters.
5. Organize Or Attend A Sit-In Or Protest
Find a progressive group near you and check to see if are planning a protest or sit-in for your senator and attend if you are able. If there are no upcoming protests near you, either reach out to one of your nearby groups to suggest putting together a demonstration or round up as many friends and colleagues as you can to carry out your own protest.
6. If Your Senator Is A Democrat, Don't Take A Break
Democrats are likely to all vote against Trumpcare, but that doesn't mean you shouldn't still contact yours if he or she happens to already oppose it. Beyond refusing to cast their vote in favor of the bill, Democrats can take other actions to put pressure on Republicans, such as demanding a senate hearing for the GOP proposal and putting a stop to Senate proceedings until their opponents agree to a transparent process.
7. If Your Senator Is A Republican, Make It Clear That A Vote For Trumpcare Is A Loss Of Voters
Trumpcare is a deeply unpopular bill, as poll after poll has found. A May poll by Quinnipiac University found that only 17 percent of U.S. voters had a favorable opinion of Trumpcare, while 56 percent outright disapproved; 26 percent were "undecided." Among Republicans who took the poll, not even half were in favor of the proposed legislature. Another poll by the Kaiser Family Foundation found that only 31 percent of Americans held "favorable" or "somewhat favorable" opinions about the GOP health plan.
Even if Republican senators manage to push the bill forward to President Trump's desk by voting before the general public is aware of what the law entails, there's no doubt that a measure under which, according to the Congressional Budget office, an estimated 23 million people would lose health coverage would lead to intense backlash and loss of support among the voters who keep them in office.
The clock is ticking, so get to work.