Sexual Assault Cases In Canada Highlight A Disturbing Definition Of Consent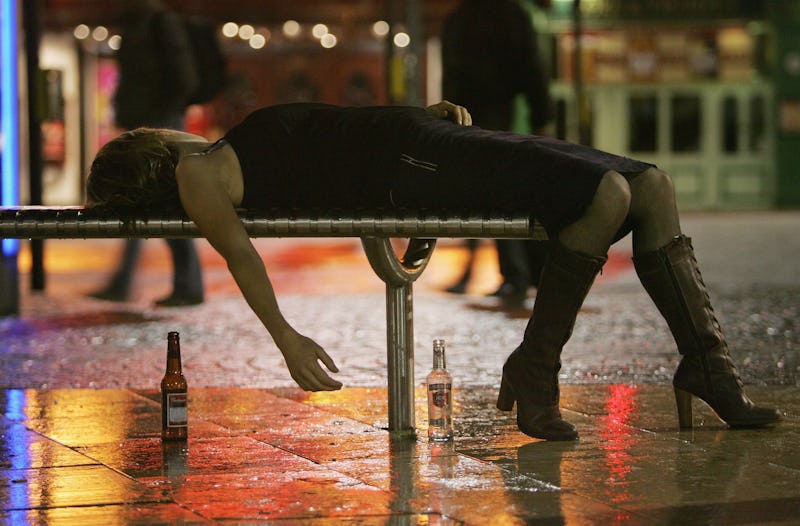 Matt Cardy/Getty Images News/Getty Images
Should consent given while heavily intoxicated legally be considered valid consent? That's the question currently up for debate in Canada, where a series of recent sexual assault cases have hinged largely upon the argument that a drunken consent is still a valid consent.
Earlier this week, a defense lawyer representing one of three Toronto police officers accused of sexually assaulting a female parking enforcement officer in a hotel room argued "a drunken consent is still a valid consent." All three men pleaded not guilty, arguing that the encounter was consensual. According to The Star, defense attorney Alan Gold argued the plaintiff's alcohol-induced memory loss meant she could not provide evidence beyond a reasonable doubt as to whether she'd consented to the sexual activity or not.
The case, along with two other recent cases in which the defendants were acquitted of sexually assaulting inebriated women earlier this year, has renewed debate over how Canadian law approaches alcohol and consent.
In late February, a Newfoundland police officer was found not guilty of sexually assaulting a woman he'd admitted to driving home and having sex with while on duty after the woman testified she'd been so drunk she couldn't remember having consented.
Then in March, a judge presiding over a case involving a taxi driver who was found by police with his pants down and a drunk and unconscious woman half naked in his cab offered a similar argument when he acquitted the man. Judge Gregory Lenehan ruled the woman, who said she had no memory of the event, had failed to prove she did not consent to engaging in sexual activity.
"A lack of memory does not equate to a lack of consent," The Toronto Sun reported Lenehan said when announcing his ruling. "Clearly, a drunk can consent."
Canadian law defines consent as the "voluntary agreement of the complainant to engage in the sexual activity in question." And while it does not explicitly mention alcohol or intoxication, the law does note that consent is not legally considered obtained "where the complainant is incapable of consenting to the activity." Moreover, the law also states the complainant can revoke their consent at any time with either words or conduct. Yet several sexual assault cases have ended in rulings that defined a potential drunken consent, even an extremely intoxicated consent, as a valid consent.
According to some legal experts, it all comes down to how the rule of consent is interpreted and applied in court along with the fact intoxication is not considered to automatically invalidate any prior consent given. "Unfortunately you do see case after case in which triers of fact conclude that there isn't sufficient evidence to demonstrate lack of consent because of complainant's lack of memory," Elaine Craig, an associate professor at the Schulich School of Law in Halifax told Vice News.
While many argue alcohol-induced memory loss, blackouts, or unconsciousness might make someone incapable of giving informed and voluntary consent, defense attorneys often portray them as evidence the accuser's account of events in unreliable as defense attorney Gold did during arguments in the case involving three Toronto police officers. "Alcohol-induced imprudent decision-making, memory loss, loss of inhibition and self-control, that does not amount to proof by the Crown of a crime," Gold said in court Monday.
The judge presiding over the sexual assault case against the three police officers is not expected to issue a ruling until August. But cases such as these have brought forth urgent debate over how Canadian courts determine when someone has the capacity to consent and when they don't.