Every Single U.S. Representative Will Now Have To Take Sexual Harassment Training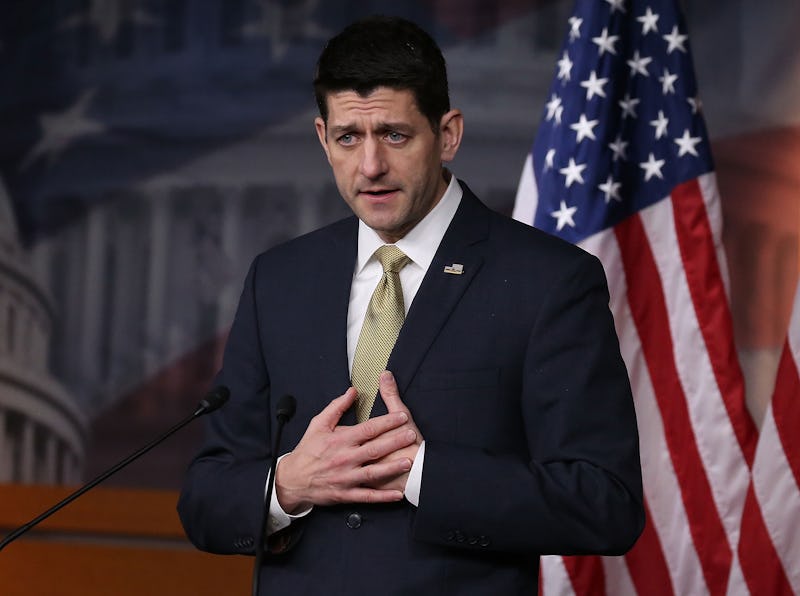 Mark Wilson/Getty Images News/Getty Images
As Americans grapple with a nationwide discussion on sexual misconduct in the workplace, government agencies, too, will make an effort to address allegations of sexual harassment in their own ranks. On Tuesday House Speaker Paul Ryan announced mandatory sexual harassment training for every member of the House of Representatives. "Our goal is not only to raise awareness, but also make abundantly clear that harassment in any form has no place in this institution," Ryan stated.
Ryan's announcement arrives a short week after lawmakers introduced a piece of legislation demanding sexual harassment training for members of the House as well as for staffers. One of the main sponsors of the legislation, Minnesota Sen. Amy Klobuchar, was particularly concerned by how prevalent sexual harassment has become.
Sexual and workplace harassment is a widespread problem that affects too many women and men in too many places, professions, and industries. Everyone deserves to feel safe and comfortable at work, and the passage of this official Senate policy is an important measure to ensure that's the case in these halls.
And shortly before the announcement was made, California Representative Jackie Speier accused two unnamed Congress members of sexual harassment during a hearing on how to prevent it.
In fact, there are two members of Congress, Republican and Democrat, who serve right now who have been subject to review, or not been subject to review, that have engaged in sexual harassment.
The bipartisan legislation was uncontested and received support from both Democrats and Republicans. Approved by Senate Majority and Minority Leaders Mitch McConnell and Chuck Schumer respectively, the legislation will also tackle discrimination based on race, disability, age, or faith, among other things. Training will take effect the day the legislation is approved and will cover a course of 60 days, according to Klobuchar. The bill requires every member of the Senate to submit certified proof of the completed course.
Government officials aren't the only ones that have recently mandated sexual harassment training in their ranks. In the corporate domain of American life, some states already require that private companies carry out sexual harassment courses. At this moment, the states of Connecticut, California, and Maine demand that private workplaces teach their employees about sexual harassment through videos, surveys, and formal introductions to laws on harassment.
But it seems as though these training courses focus mostly on the cost of a lawsuit or damage to one's reputation instead of the lasting impact sexual harassment has on the victim. So far, it's unclear exactly what the House of Representatives' sexual harassment training will look like.
As you might imagine, there are conflicting opinions on the efficacy of these types of sexual harassment training programs. While there may be some who believe the training works, a significant amount of research suggests that training processes should be updated so that there's less focus on liability and more focus on the misconduct itself. To improve the process of shedding light on sexual abuse in the workplace and decrease its prevalence, the U.S. Equal Employment Opportunity Commission (EEOC) announced that it would introduce a two-fold program to help make professional environments less hostile. "Leading for Respect" and "Respect in the Workplace" are the EEOC's two programs. The former program is meant for management, while the latter is intended for employees.
The announcement came a year after the EEOC's team carried out a study on the apparent inefficiency of sexual harassment trainings in 2016. The EEOC's study showed that workplaces would do better if they taught employees and managers that sexual harassment isn't always overt. Instead, it's oftentimes rather insidious and banal. Teaching employees to identify and address those common occurrences, according to the researchers, will help to empower women in the workplace. Perhaps such a nuanced philosophy and practice could help staffers and members on Capitol Hill combat sexual harassment, too.