Sexual Orientation & Gender Identity Were Erased From Equal Employment Policy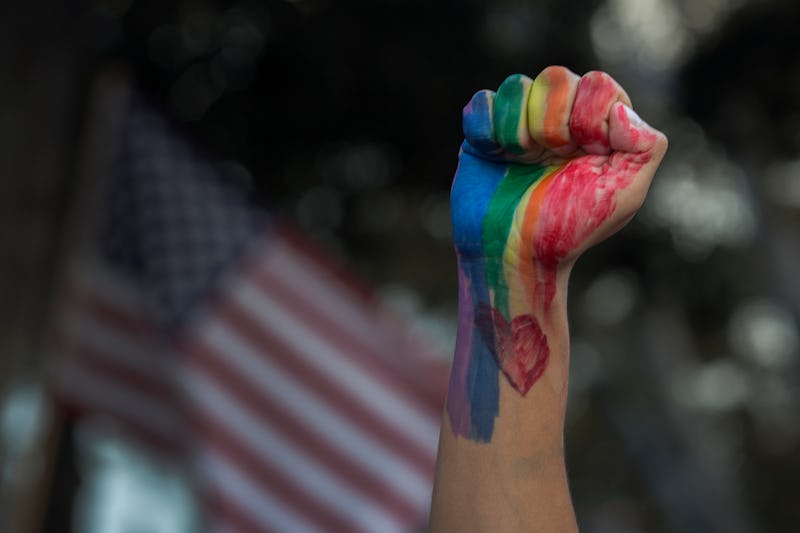 David McNew/Getty Images News/Getty Images
In a move that has angered LGBTQ+ advocacy groups, the Commerce Department cut language prohibiting discrimination based on sexual orientation or gender identity from the first equal employment opportunity statement issued by the department under the Trump administration, BuzzFeed reported. After its story was published, a spokesperson for the department told BuzzFeed the policy would be reissued to address concerns, stating, "The Department's EEO policy statement was never intended to change the policy or exclude any protected categories."
It's unclear if the omission reflected a formal change in policy regarding LGBTQ+ protections at the Commerce Department, but the 2017 Secretarial Policy Statement on Equal Employment Opportunity reads, "The Department of Commerce does not tolerate behavior, harassment, discrimination or prejudice based on race, color, religion, sex, national origin, age, or disability." The report, signed by Secretary of Commerce Wilbur Ross, adds, "We will also provide reasonable accommodations for applicants and employees with disabilities."
In contrast, the equal employment opportunity statements issued by the department under the Obama administration in 2010, in 2014, and in 2016 all explicitly include sexual orientation and gender identity among the list of classes protected from discrimination:
The Department of Commerce does not tolerate discrimination based on race, color, religion, sex (including sexual harassment and pregnancy discrimination), sexual orientation, gender identity, national origin, age (40 years of age and over), genetic information, or disability (physical or mental), including the provision of reasonable accommodations for qualified applicants and employees with disabilities or genetic information.
While the Commerce Department's language change was certainly disconcerting, it doesn't remove federal protections for LGBTQ+ employees. The official website for the Equal Employment Opportunity Commission clearly states the "EEOC interprets and enforces Title VII's prohibition of sex discrimination as forbidding any employment discrimination based on gender identity or sexual orientation." The EEOC is also careful to emphasize that "these protections apply regardless of any contrary state or local laws."
A spokesperson for the Commerce Department doubled down on that Thursday, telling BuzzFeed after publication, "The Department of Commerce policy remains that we do not discriminate on the basis of transgender status and sexual orientation. Department employees will continue to enjoy the fullest extent of the protections of all the non-discrimination laws."
Even so, the move has LGBTQ+ advocates on alert. "It sends the message that the federal government doesn't believe in civil rights laws," National Center for Transgender Equality Executive Director Mara Keisling told BuzzFeed about the change of language in the Commerce Department's statement. "Trans employees are still absolutely covered by sex discrimination laws and sex is listed there. So even if the Trump administration doesn't want to enforce federal civil rights laws we're not going to let them get away with that." She called the statement "bad management" and "careless bad government."
The timing of the Commerce Department's statement — June is Pride Month — made the move feel even more like a slap in the face to the LGBTQ+ community.