Shake Shack Is Introducing A New Chicken Sandwich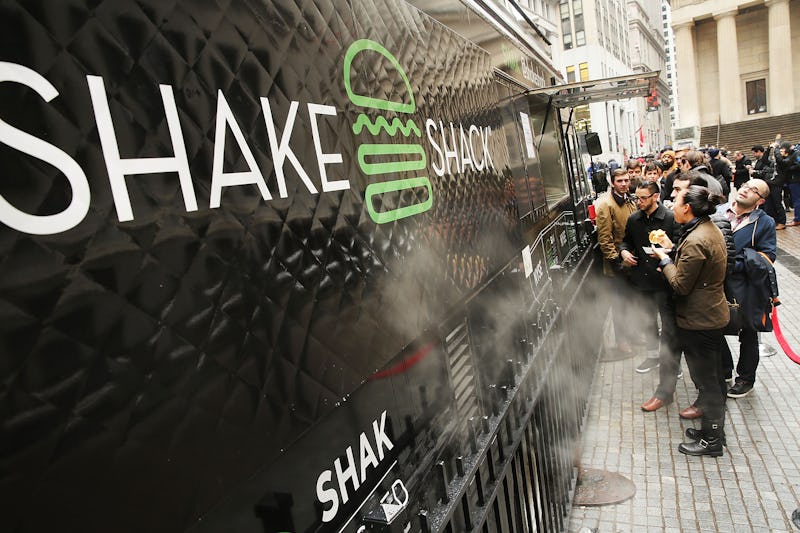 Spencer Platt/Getty Images News/Getty Images
If you're bored with burgers and shakes, Shake Shack is stirring things up this summer with its new Hot Chick'n. That's right — Shake Shack has a hot chicken sandwich, which will make its debut Aug. 1 in six stores across the United States. The spicy sandwich is a "crispy chicken breast dusted with a guajillo and cayenne pepper blend, and topped with slaw and pickles," according to Daniela Galarza of Eater. And, while it's not yet available to the public, one lucky reporter from The Street previewed the sandwich recently on National Fried Chicken Day, and wrote about her experience as a Hot Chick'n sampler.
"The signature Shake Shack bread was consistently Good with a capital 'G' because it's bread and carbs are life. It was also a potato roll, truly hard to screw up," Sarah Solomon wrote on The Street. "They didn't skimp on the meat, and the overall spiciness of the chicken piqued my interest without sending me stumbling for water. The coleslaw and pickles were a nice touch. I enjoy copious amounts of both on any given occasion, but they complemented the spiciness of the fried chicken, dulling the heat and adding texture."
Hungry yet? Marshall Bright for Refinery 29 reported that the Hot Chick'n is a nod to Shake Shack's Chick'n Shack sandwiches that debuted last year. And, it promises to be just as delicious.
"We've been playing around with a spicy version of our Chick'n Shack for some time now, and we couldn't be more thrilled to finally share our newest creation with our Shack fans!" Shake Shack Culinary Director Mark Rosati said in a press release, Refinery 29 reported.
Because all good things are fleeting, the Shake Shack Hot Chick'n sandwich is only available for a limited time, but tech savvy fans can get an early taste. Refinery 29 reported that you can order the Hot Chick'n on the app starting July 28.
Not too shabby for a restaurant that began as a hot dog cart in Madison Square Park in New York City.