We Really Need To Talk About Shangela's Mariah Carey Lip Sync On 'Drag Race'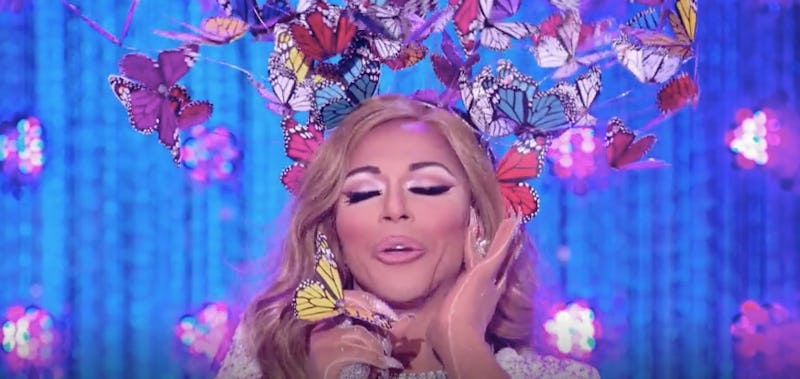 VH1
Week 2 of RuPaul's Drag Race All Stars 3 came with a tribute to Ru. The lip sync challenge had each queen playing an iconic diva from Celine Dion to Diana Ross. However, even before the judges' decision, it was clear who would make it out on top. Shangela's Mariah Carey lip sync on RuPaul's Drag Race was everything. It may even signal a shift in the tide of this competition.
In Week 1, Shangela performed a lip sync version of her own song in the talent show. While she certainly gave a great performance, the judges critiqued her outfit. Her response? "Consider it burnt." This signaled a change in attitude and a resurgence of her confidence, which was out in full force during the second episode.
In the Feb. 1 episode, even before the group began rehearsal for the performance, she was already channeling Carey. She came in fashionably late, with shades and a fur-collared cape and basically stayed in character from the moment she was assigned her diva (Mariah Carey, obvs). When it came time for the performance itself, there was almost more comedy than lip syncing. Playing a laissez-faire Carey, she was carried around by backup dancers while the other contestants fanned her. Dressed in all-white, with a crown of bouncy butterflies, her performance was one of the most extravagant takes of any of the divas. And, Carey deserves no less.
Throughout the practice though, her behavior caused a bit of conflict with some of the other queens. This was especially true with Milk, who was very frustrated with her attitude. But, although her demeanor grated on the other contestants at times, Todrick Hall, the choreographer and one of this week's judges, admired it. After the performance, he addressed praised her for staying in character, even if she did go too hard at times. "I loved the fact that you owned the role and elevated the movements I gave you," he said.
Of course, Shangela wasn't the only queen portraying a diva. Each queen portrayed a singer running the gamut from pop to country and everything in between. All of the performances were choreographed to a song appropriately titled: "Divas Live." BenDeLaCreme and BeBe Zahara Benet earned the other top spots; Ben with her rapping rendition of Julie Andrews, and BeBe with her minimalist approach to Diana Ross. Staying safe were Milk's Celine Dion, Aja's Amy Winehouse, and Trixie Mattel's Dolly Parton. Rounding out the bottom were Chi Chi Devayne's Patti LaBelle, Kennedy Davenport's Janet Jackson, and Thorgy Thor's Stevie Nicks.
Ultimately it was Shangela who walked away with Week 2's $10,000 tip and the win, but not everyone was so happy with the way the competition worked out. Thorgy was frustrated with her assigned diva from the beginning, complaining that Nicks was too hard to do. She argued that divas like Diana Ross could more easily get someone in a winning position and that, no matter what she did with someone like Nicks, she wouldn't have won. Her criticisms couldn't save her from the chop though, and Thorgy was confirmed to be the second queen to be eliminated from the competition after Shangela gave her the boot.
Thorgy drama aside, in the end, even with a stunning runway walk from inside what looked to be a Zorb, Shangela's breakout moment this week was certainly transforming into Carey. Now with a week's win under her belt, it looks like BenDeLaCreme may have some competition to watch out for. Honestly, after that performance (which you can watch again here), even Carey may need to watch out for Shangela...
If you enjoyed "Divas Live" and want to listen to it again, it's available via Spotify and iTunes.