Shay Mitchell's New Horror Movie May Actually Make You *Less* Afraid To Be Alone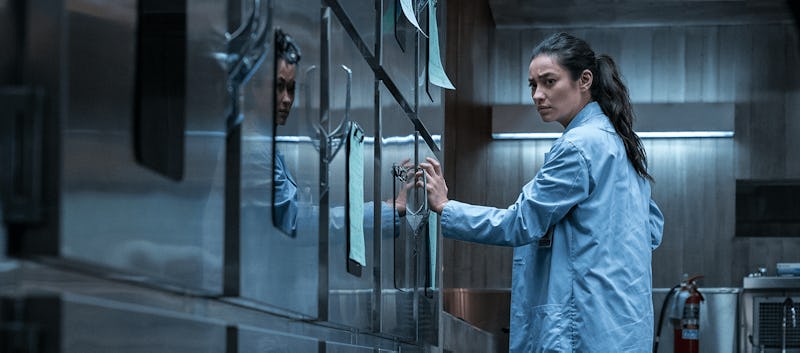 Screen Gems
Shay Mitchell is sitting across from me in a morgue, but she's not fazed. After all, her new horror film The Possession of Hannah Grace takes place in a hospital morgue, where her character Megan works after hours...alone. Spoilers ahead. Creepy, for sure, but when we chat at the Mountain View Mortuary in Altadena, California, Mitchell emphasizes that Megan in The Possession of Hannah Grace saves herself from actual and personal demons — and that's the best part of the movie for her.
In the film, which hits theaters on Nov. 30, Mitchell's Megan faces off with the titular Hannah Grace character (Kirby Johnson), who is indeed possessed as the title indicates. But Megan isn't waiting for someone else to save the day — she is willing to save it herself.
"In the past horror movies, it's always the guy swooping in to save the girl from the monster, and in this one, she didn't need saving," Mitchell tells Bustle during the film's press day. "She was good on her own, so she actually waved goodbye to the dude in it, and was like, 'I can take care of this myself.' And I love that."
Aside from defeating a possessed corpse, Mitchell's character learns how to take charge of her own life. Megan is an ex-cop who continues to experience PTSD after an attack on her former partner on the job. In addition, she's a recovering addict trying to pick up the pieces of her life — and taking the job at the morgue is Megan's first step.
To prepare for the role, Mitchell visited a few morgues and went on a drive-along with the Boston police. "That was intense on its own," she says. "Just to really put myself in that cop situation that Megan is in. Along with that, the character dealt with a lot of anxiety and PTSD, and so I have two friends who also deal with similar things, and just having some conversations with them, really gave me the perspective of going into it."
But even with preparation, Mitchell's The Possession of Hannah Grace role provided her with one unique challenge: acting solo in many scenes in the morgue. The solitude is an unsettling, but effective, element in the film. "There's a lot of pressure that comes from not being in an ensemble cast," she says. "It's something that I was so used to, obviously, for all the years that I was on Pretty Little Liars. So, it was new, but I embrace those situations, where I'm put in an environment that I haven't been in before."
And one of Mitchell's scenes even spooked the actor a bit. "It is a little creepy sometimes, especially when you're in one of those bathrooms where they are all dark, and the lights don't come on until your motion is sensed," she says. "It's a little eerie for me even to this day to go and use public bathrooms now, after that scene."
Eerie, but not impossible — spoken like a true horror movie heroine.