Shay Mitchell's 'You' Character Is So Different From Her 'Pretty Little Liars' Role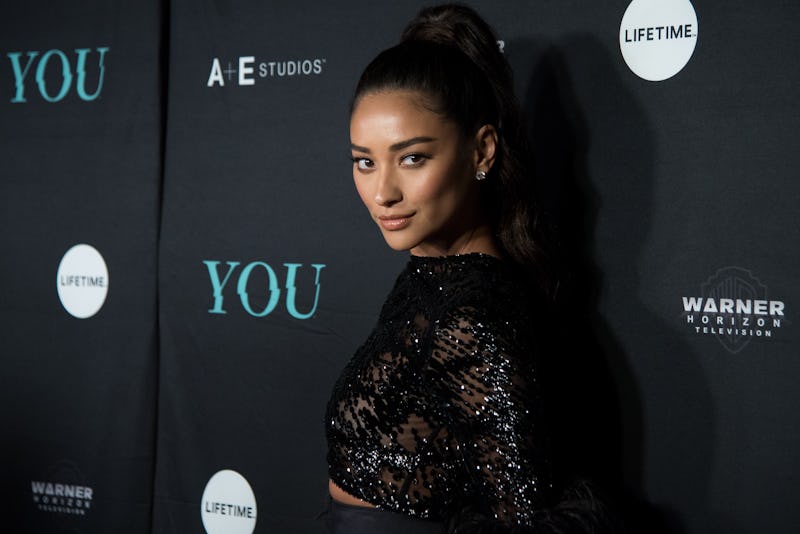 Mike Pont/Getty Images Entertainment/Getty Images
Shay Mitchell might be returning to a television world full of cyber stalkers and social media stresses, but Mitchell's character in Lifetime's You is so different from the Pretty Little Liars role that made her a household name, she told Entertainment Weekly. For her role in the upcoming Lifetime thriller You, Mitchell is trading in Emily Fields' girl-next-door charm and collection of bomber jackets for social media stardom and sky-high heels.
"It was fun to go from playing nice, sweet Emily Fields for seven years to [a character that is] the complete 180 in every way," Mitchell told EW in a Q&A all about her character, socialite Peach (Yep, that's really her name). "Peach was just this fun, juicy character. To some, she could just be considered as a bitch, but I saw many different layers to her."
The show, which is based on the 2014 novel by Caroline Kepnes, follows Joe Goldberg (Penn Badgley), a bookstore owner who falls in love with and becomes obsessed with grad student Beck (Elizabeth Lail). He starts stalking her around the city. Mitchell's Peach is Beck's best friend, a very wealthy queen bee who doesn't trust Joe, and is out to protect her BFF at all costs.
According to Mitchell's EW interview, it's that deep female friendship that makes Peach so exciting to play:
"I think [Peach's] upbringing was very lonely. She was offered a lot of materialistic things but as far as love from parents and family, do I think she had that? No. I think it's made her cold as a person and I think that's why her love for Beck is so strong, because Beck is the complete opposite of what Peach is. .... She wants to be around Beck as much as possible."
In July, Mitchell told Us Weekly that Peaches is actually more like another PLL character: Allison. She said:
"I think Peach is closer to the Allison in PLL than Emily. She says what she thinks without thinking too much about it and doesn't really care what other people think. She has a lot of insecurities on her own, which I feel sort of bleed out in how she acts and handles certain situations. But yeah, she just could not be more different than Emily – in wardrobe, head to toe – everything."
Another major departure from Mitchell's Pretty Little Liars past? The way You tackles social media and cyber stalking, which the actor says is much more true-to-life than the Liars' over-the-top adventures running from "A" and their revenge plots.
"Some of the things that happened in PLL were way out there, and I love that. But I also like the realism that takes place in You and I think the viewers will appreciate that," Mitchell admitted. "The interesting thing about this story is that it's not just about a stalker, because you question some things [that people share on the Internet]."
To see how much, exactly, Mitchell has departed from Emily Fields, fans can catch the premiere of You on Sunday, Sep. 9 when it first airs at 10 p.m. ET on Lifetime.