Shia LaBeouf's Fans Support Him With "#FreeShia"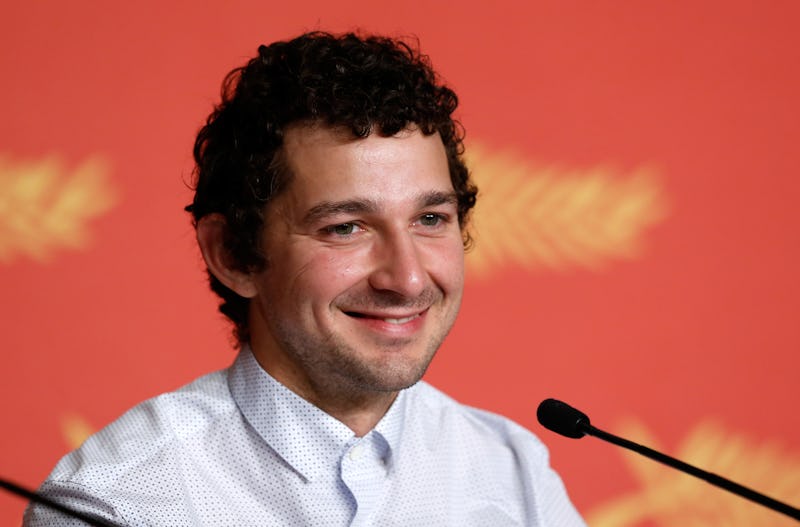 Pool/Getty Images Entertainment/Getty Images
Shia LaBeouf, your fans have your back. On Thursday, Jan. 26, the former Even Stevens star was arrested outside the Museum of the Moving Image in New York after allegedly grabbing and pushing a man. The arrest took place while LaBeouf was participating in his livestream art installation, He Will Not Divide Us. This particular situation has garnered a lot of attention on social media, and it looks like many of LaBeouf's fans are supporting him after his arrest. Update: The NYPD tells Bustle in a statement, that includes the details previously reported as given by police to publications below, that "This dispute was NOT pro Trump versus anti Trump. All congregants there were anti Trump."
Earlier: Bustle has reached out to a rep and attorney for LaBeouf, but has not yet received a response.
A New York Police Department spokesman said (via Variety) that LaBeouf allegedly grabbed at a 25-year-old man's scarf "causing a scratch to the man's face." The American Honey actor then allegedly pushed the man, resulting in the man falling to the ground. According to Variety, police said the alleged victim did not ask for medical treatment and remained on the scene. LaBeouf was arrested on suspicion of misdemeanor assault and harassment. Per The New York Daily News, LaBeouf has been released.
Starting with Trump's inauguration last Friday, LaBeouf has been outside Queens' Museum of the Moving Image chanting, alongside his supporters, "He will not divide us" into a camera that shows the livestream online. And following his arrest, many who continue to have the actor's back. His supporters showed just that by creating the trending Twitter topic "#FreeShia" on Thursday morning.
As you can see below, even Jaden Smith is showing LaBeouf love. Smith has also attended the He Will Not Divide Us protests alongside LaBeouf, so it's not shocking to see him tweeting, "#FreeShia."
Like Smith, some of LaBeouf's other fans are standing up for him on Twitter, especially since, according to a video shared on an unofficial Twitter page about He Will Not Divide Us, a man (who may or may not be the alleged victim) says to LaBeouf, "Hitler did nothing wrong." Then, you can see LaBeouf react by shoving the man away, who then asks the actor, "Hey, why did you attack me?" A tweet from the account reads, "Shia LaBeouf just got arrested on livestream after an [sic] allegedly attacking Neo-Nazis."
In a later video shared by other protestors supporting LaBeouf's cause (via The Guardian), people can be heard saying, "Shia took a hit for us. There were all these Nazis here, he came out and tried to protect us."
There are many who believe that, if the incident went down as some claim, LaBeouf did nothing wrong as a Jewish man who looked to be standing up for himself.
That's just the short list of tweets and support being sent LaBeouf's way.