Shiva & Mohamed's Relationship Defies Stereotypes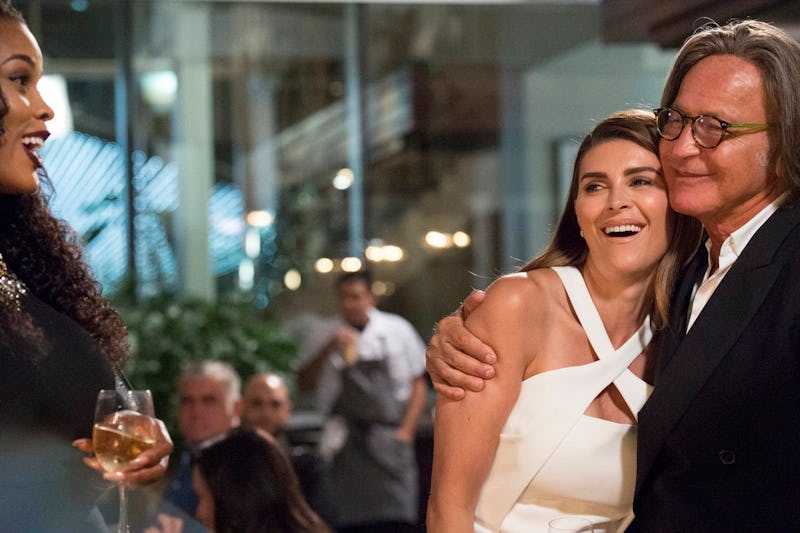 Nicole Weingart/E! Entertainment
There are a lot of stereotypes out there about couples with huge age differences, and some of them aren't positive. But it seems like one of the stars of E!'s new reality series Second Wives Club, Shiva Safai, aims to change that. Shiva is engaged to be married to Mohamed Hadid, who you may be familiar with because of his famous family members, including daughters Gigi and Bella Hadid. You'll get an intimate glimpse into Shiva & Mohamed's relationship when the show premieres on May 4.
Of course, any newly engaged couple are probably still in a love haze. But even so, Shiva seems totally prepared to bare her relationship to the entire world via her new show. The two are apparently perfectly matched. Shiva told E! in an interview, "I don't feel the age difference at all. I'm an old soul, and he's young at heart."
Second Wives Club is, as you might guess, is about women who are married to men who have been married before. But the same way that all of Bravo's Housewives don't necessarily fit their titular description, so too is Second Wives Club more of a guideline than a strict rule. For example, Mohamed has been married twice already and has five children. And Shiva's been married once already herself — so both members of the couple are coming into their soon-to-be marriage with history. Shiva actually credits her relationship with Mohamed as helping her begin to move on from her divorce. "He brought back the sparkle I was missing in my eyes and he really, really put the broken pieces back together," she tells E! in the same interview.
Here are a few other things to know about this couple beside their considerable but apparently irrelevant age difference:
They've Been Together For A While
This relationship isn't an impulsive fling. Shiva and Mohamed have been together for four years and engaged for two, according to Bravo's The Daily Dish. After both having unsuccessful relationships, looks like they're taking this one a little bit slow.
They Live Together In Luxury
Mohamed is known for his work in the real estate business, so it's no surprise he has a beautiful home. But it looks like Shiva lives with him, and the two have been able to mesh their personal preferences into one super-luxe home.
Shiva Knows Mohamed's Kids
Shiva does not have any children of her own, but she's definitely comfortable playing the role of future stepmom and supporting Mohamed's children. Shiva even had a little insider info for E! about Gigi & Zayn Malik's relationship. "He's a great guy and she's a very smart girl and she's amazing. They have a great relationship," she said.
They're Not Awkward Around Their Exes
Yolanda Hadid can hang out with anyone, even her ex-husband and his new girlfriend. This onetime couple has mastered the art of co-parenting without being in a relationship, that's for sure.
They Fell In Love Right Away
Shiva told the The Daily Dish in the same interview that the couple had a pretty instantaneous connection. After a chance meeting while out to lunch in Los Angeles, they began dating. "It was almost love at first sight, I want to say, and it was that instant attraction. And we exchanged phone numbers and the rest is history," Shiva said.
There May Be A Little Wedding Anxiety
Even though Mohamed and Shiva aren't rushing down the aisle, it looks like one of the major issues they'll face during Second Wives Club is wedding planning. Or, more specifically, that Shiva is ready to get married while her fiance is currently dragging his feet.
Even though this couple is doing well, they aren't perfect — and they're ready to share their flaws and their happiness with E!'s audience.