Why Shonda Rhimes Wants To Replace The Word 'Diversity,' According To Kerry Washington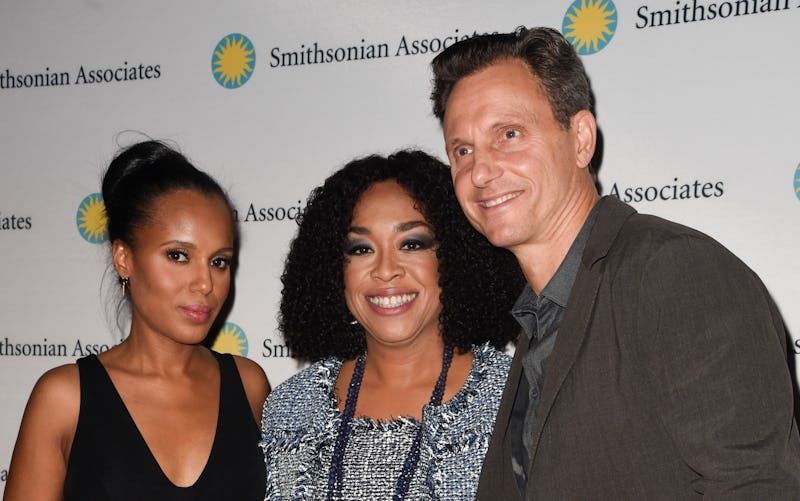 Kris Connor/Getty Images Entertainment/Getty Images
One look at any of the three Shonda Rhimes-penned dramas on ABC's TGIT lineup, and you'd assume that the 47-year-old TV powerhouse praises diversity. But, according to Kerry Washington, Shonda Rhimes isn't a big fan of the word "diversity" — and the reasoning behind it actually pretty brilliant. The Scandal star sat on a panel at Vulture Festival L.A. on Saturday and explained to the crowd why Rhimes sees things so much differently.
"Shonda really does not love the word 'diversity,'" she said. "She talks about abandoning the word 'diversity' and replacing it with 'normalizing.'" According to Washington, Rhimes' replacement has more to do with not writing characters as tokens or stereotypes. "When you're the only woman in the room, or the only person over 40, or the only LGBTQ person, you don't get to enter into conversations about what that looks like. But when we normalize that combination, then we get to explore what difference means and how it feels and how it lives in the world," Washington said.
She went on:
"You look up at this stage, and what this cast is made up of is a ton of people who society would say belong to minority or disenfranchised group, whether it's because of their age, or sexual orientation, or race, or gender, or all of the above. There's two straight white guys on this stage — and that community feels disenfranchised right now. When you have a lot of people who identify as 'other' put together in situations, you're avoiding the idea of being 'the only one in the room.' When you're the only 'other' in the room — you don't get to enter conversations on how that looks like because your job as the only 'other' in the room is to conform. But when you normalize the population you get to explore what difference means and how it feels in the world because 'other' becomes normal."
Rhimes has long been considered someone who has pioneered writing more roles for women of color on television. A typical Thursday night spent watching three of her ABC hit series' will see dozens of men and women of color taking on the roles some of the most powerful and badass characters you can imagine, including Washington's Olivia Pope. When Scandal premiered in 2012, Washington became the first black woman to lead a network primetime drama since Diahann Carroll starred in Julia in 1968 and Teresa Graves starred in Get Christy Love in 1974, according to The Huffington Post.
But, according to Rhimes, there's a difference between diversifying television and normalizing it, which she's been explaining it for years. "Women, people of color, LGBTQ people equal way more than 50 percent of the population. Which means it ain't out of the ordinary. I am making the world of television look NORMAL," she said while accepting the Diversity Award at the 2014 Directors Guild of America Awards, according to The Wrap. "The goal is that everyone should get to turn on the TV and see someone who looks like them and loves like them. And just as important, everyone should turn on the TV and see someone who doesn't look like them and love like them. Because, perhaps then, they will learn from them."
Rhimes also explained her contempt for the word once while accepting the Ally for Equality award at the 2015 Human Rights Campaign Gala. She discussed in her speech why her method of storytelling goes a bit far beyond diversifying television. According to her, diversity "suggests something…other. As if it is something…special. Or rare. As if there is something unusual about telling stories involving women and people of color and LGBTQ characters on TV."
As much as we do praise diversity in Hollywood, Rhimes' nuanced definition is very well said and puts so much into perspective. What she's doing is so much more than just casting minorities in roles on television, but rather telling stories that are so much more realistic and honest. This is the way the world looks, and it's so refreshing to have amazing TV to reflect that now.