Dani Dyer Blow Dried Her Eyelashes & Twitter Lost It, But It Actually Makes Sense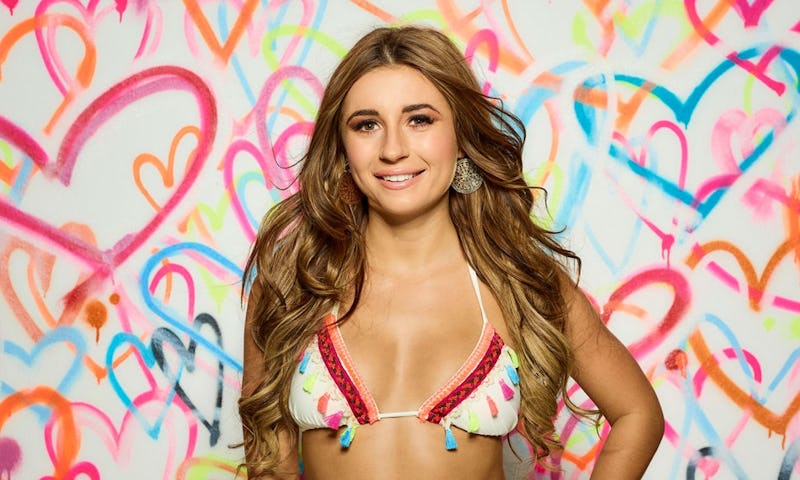 Love Island/ITV
Love Island often forces us to ask the big questions. Will the islanders find love? Where exactly is the show filmed? Am I even alive? But this week's question comes on behalf of Dani Dyer, actor Danny Dyer's progeny, who just engaged in the particularly perplexing task of carefully blow drying her eyelashes. And so we ask, can you and should you blow dry your eyelashes?
To get to the heart of this issue, I asked somebody surely in the know: esteemed hair and make-up artist Marcos Gurgel. Gurgel has been behind the hair and expertly made-up faces of the contestants of Strictly Come Dancing, The Voice, and many more — and so knows all about the hottest celeb beauty trends. When I asked him if blow drying lashes is set to become the latest beauty fad, he assures me it is not, but does understand why we might have witnesses Dyer pointing a £300 Dyson hairdryer into her face. And that reason is artificial eyelash extensions.
"The problem with these artificial eyelashes is when they get wet," he tells me. "You need to avoid rubbing them, because if you do, they'll be pulled out, taking your own natural eyelashes with them. You need to comb them through. You should always brush them. Which is what we saw Dani Dyer doing."
But it was the blow drying of the lashes that caught many people off guard. And Gurgel agrees that it is, but offers a reason for why Dyer might have done this.
"The thing about these lashes is that they are very heavy. It's like having an umbrella hanging from your eyelids. And when they get wet, they get even heavier. Dani Dyer was probably just trying to get them to dry quickly, to get them to feel less heavy, while also ensuring she didn't pull them out."
But Gurgel does caveat this blow drying method, saying that temperature control of the hairdryer is very important here.
"If she was using the blow dryer on a high termperature, that could be a really bad thing for the eyelashes, as they might melt the glue and then the lashes would fall out. But I imagine she's being sensible and using no heat."
Eyelash extensions are becoming big business. The false eyelash market is predicted to grow around 7 percent in the next five years, according to Market Research Future. But Gurgel is not convinced people opting to get eyelash extensions are armed with all of the facts of their maintenance and application.
"First of all it takes ages," he tells me. "Around two hours. When I got them I fell asleep in the chair. And they may be pretty but they can ruin your own actual eyelashes."
The reason behind this is that they're glued so closely to the root, with the glue inevitably attaching itself to your own lashes.
"And you can forget they're there," Gurgel adds. "In the evening you can start picking at your lashes, or rubbing your eyes, and you'll tear them out, taking your own lashes with them. Then you get gaps and sometimes those lashes don't grow back."
Gurgel also believes that like many celebrity make-up or beauty trends, ordinary people going in for those trends don't realise that celebrities have teams around them to assist with their maintenance.
"You need to get them redone once a month. Celebrities will have someone calling them up every month, reminding them to book in. So unless you're going to be very good at caring for them, or very committed to their upkeep, then I don't see the point," he tells me.
So there you have it: Dani Dyer was simply engaging in the demanding regimen necessary to the upkeep of her eyelash extensions, albeit in her own unique way. The struggle is real.