Here's How Your Work-While-On-Vacation Habits Stack Up To Everyone Else's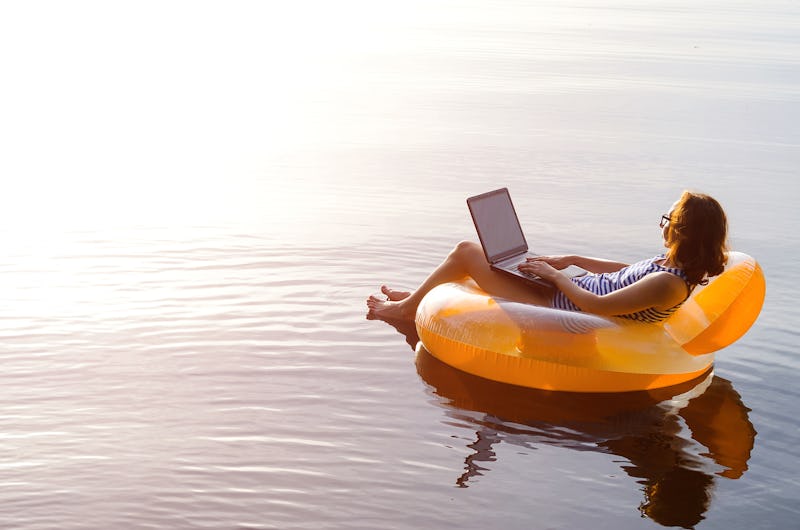 mihakonceptcorn/Fotolia
With summer in full swing, 'tis the season of time off and using vacation days to unplug and get away from it all… right? Is "vacation" really code for "workation," or is it better to disconnect while on the beach in Spain — or perhaps even while staycationing on the couch in your very own living room? A survey by Accountemps found that 54 percent of workers said they typically check in with the office at least once or twice a week during their vacation, up from 41 percent the year prior. Sound familiar? Fifteen percent of workers touch base at least once or twice a day, respondents said, versus 21 percent in 2016. And why? Their reasons included gaining peace of mind that things were under control (54 percent), keeping projects moving along (53 percent), avoiding coming back to extra work (47 percent), and preventing colleagues from feeling undue stress (34 percent).
"I remember meeting with a client once who told me he hadn't taken a vacation in over five years," Dr. Suzana Flores, psychologist and author of Facehooked: How Facebook Affects Our Emotions, Relationships, and Lives, tells Bustle. "One day, he finally decided to take his wife on a cruise... but he would not get off his iPad. 'I have to catch up with work,' he told her. Then, one day, she had enough and created, as he put it, 'The world's first unmanned flying iPad.' She grabbed his iPad and flung it over the ship's balcony. In hindsight, he said he was glad she did it, because otherwise he would've never allowed himself to disconnect completely." Though I bet you can relate, whether you're this guy or his wife.
Doing work, or even checking a work email, may be tempting while you're on vacation — after all, you're on your phone anyway, messaging friends or posting photos on Instagram, so what's the harm in checking one short email? But maybe it does more harm than good, i.e., you disconnect from the vacating part of your life. Because sometimes work needs to be left at the office instead of being brought with you on the beach in Ibiza. But what if you can't just ignore work altogether?
Here's what some experts think about whether or not you should completely unplug while you're on vacation, and how best to do so when work may seep in.