'I'm Dying Up Here' Shows The Dark Side Of The Comedy Biz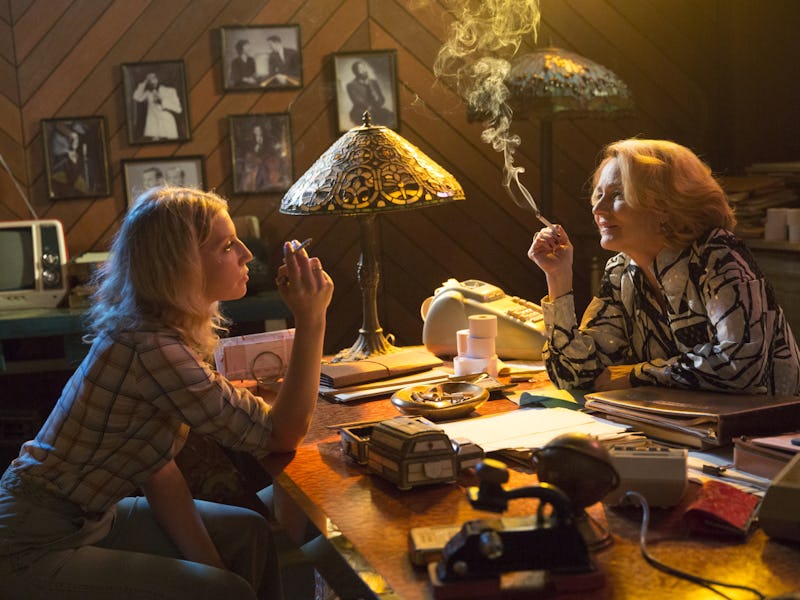 Justina Mintz/SHOWTIME
When I tuned in to watch the premiere of Showtime's new series I'm Dying Up Here, I expected that a show about standup comics would be, well, pretty funny. Although the episode definitely had a few laugh out loud moments, I was taken aback by the decidedly bleak depiction of the 1970s world of standup comedy. Case in point — I most definitely wasn't expecting a tragic suicide in the show's very first episode. But, although it doesn't deliver as many laughs as I expected, I'm Dying Up Here shows the dark side of comedy — and that's an important angle to cover, too.
Making a living as a comedian is a notoriously brutal business — especially for women. It requires a very specific type of courage and strength that can't be easy to conjure up. After all, most of us have had the awkward experience of making a joke at a party that doesn't exactly land. As I'm Dying Up Here shows, it's excruciating to be in front of an audience delivering joke after joke only to be met with deafening silence. Furthermore, many beloved comics make jokes at their own expense, which requires a rare form of vulnerability. As Clay's friend recalls, he often wondered how the comic was able to be more "open" in front of an audience of strangers than he was with his own family and friends.
There's a reason Goldie refers to comics as "tortured f*cking souls." Although these characters are, of course, fictional, the series is informed by the experiences of executive producer Jim Carrey and other comedians. As the cast members compete for any stage time they can secure, it quickly brings up a slew of negative emotions — insecurity, self-doubt, resentment, and jealousy.
We watch standup comedy and sitcoms as an escape and because there's nothing better than a good laugh — but I'm Dying Up Here shows what happens behind the scenes. It also dispels the myth that comedians simply happen to be hilarious, happy people when, in reality, many comics suffer from mental illnesses like depression. For example, Robin Williams, Sarah Silverman, Stephen Fry, Spike Jones, Woody Allen, Richard Pryor, and Ellen DeGeneres have all opened up about their mental health struggles.
"I despised myself from pretty much close to getting out of the womb," comedian Richard Lewis said in CNN's documentary series The History of Comedy. "I was always wrong. Let's start with that. When you are always wrong, you seek an audience to disprove that theory."
This is certainly not true of all comedians, but the sadder side of the comedy biz doesn't get a lot of attention. If the premiere is any indication, I'm Dying Up Here will bring an unexpected, but certainly not an unwelcome side of the genre to our screens.