Simone Biles Just Made History *Again* At The World Gymnastics Championships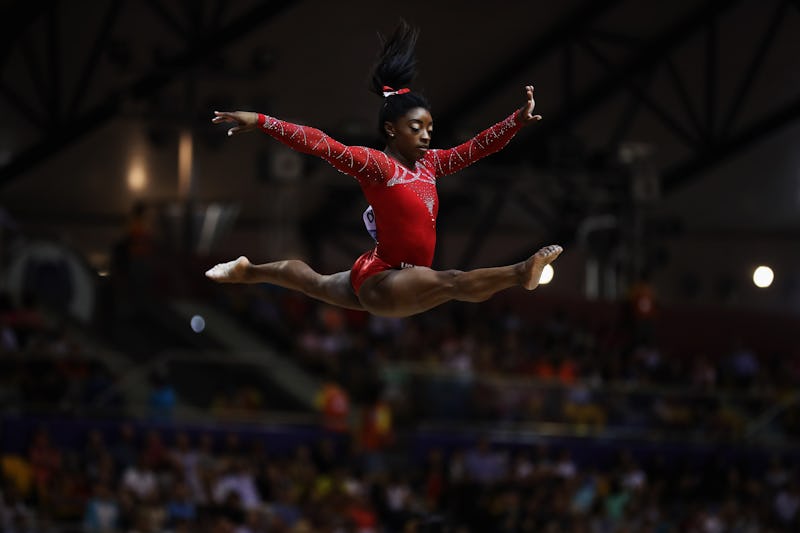 Francois Nel/Getty Images Sport/Getty Images
Two years ago, the world was consumed with debating whether or not Simone Biles was the GGOAT (that's greatest gymnast of all time, thank you very much) but nowadays the facts seem to speak for themselves. After taking a year off following her success at the 2016 Summer Olympics in Rio de Janeiro, Biles is back and making history to boot. On Saturday, Biles became the first American to medal in every single event at the world gymnastics championships.
Biles ended the 2018 World Gymnastics Championships in Doha, Qatar, on a high note Saturday, snagging a gold medal in the floor exercise event and a bronze medal in balance beam, the Associated Press reported. But those weren't the only medals 21-year-old Biles walked away from the championship with. Earlier in the competition, Biles took silver in the uneven bars event as well as gold in both the team final and individual all-around, for a total of six medals.
"I'm really pleased with my performances," Biles said in a post-championships interview. "Yes, I wish some of them could have gone better but you know the outcome was really good. All six finals, all medals in each one, so, I couldn't be happier." Biles went on to say her results felt "very rewarding" as it had "been a long world championships."
"To come back with just barely a year of training, it's really exciting," she said of her performance in Doha.
Along with being the first American to take home a medal from every event category at the world gymnastic championship, Biles is now also reportedly the first woman in 30 years to have medaled in all six gymnastic events at either the sport's world championship or the Olympics, according to USA Today.
"I am definitely very happy, especially to win a medal in every event," Biles was reported as having said Saturday after capturing the bronze medal in balance beam and a gold in floor exercise. "No matter what color the medal, I'm really proud of myself. It feels really rewarding because I've put a lot of hard work and dedication into this sport, so I couldn't be happier."
With 20 world championship medals, Biles is now tied with retired Russian gymnast Svetlana Khorkina for the title of most decorated female gymnast in world championship history.
"It feels absolutely crazy," Biles said in an interview at the world championships. "If you look at how many world medals I have and then Olympic [medals], it's just like, 'how old is this chick, she needs to leave!' But I'm really not that old yet, so..."
But while Biles had some struggles at the world championships — namely, some wobbles while on the beam and a painful kidney stone she was forced to battle without prescription pain medication due to doping regulations, according to ESPN — she said she felt there was a lot to be proud about. "There's a lot to be proud of," she said. "But I'm most proud that I'm here, made all of the event finals, medaled in all of the events and I survived."
Although Biles may be technically tied with Khorkina for the title of most decorated female gymnast in world championship history, Khorkina holds nine world championship gold medals while Biles holds 14. Can you say GGOAT?