Simone Biles Perfectly Responds To Not Smiling On 'DWTS'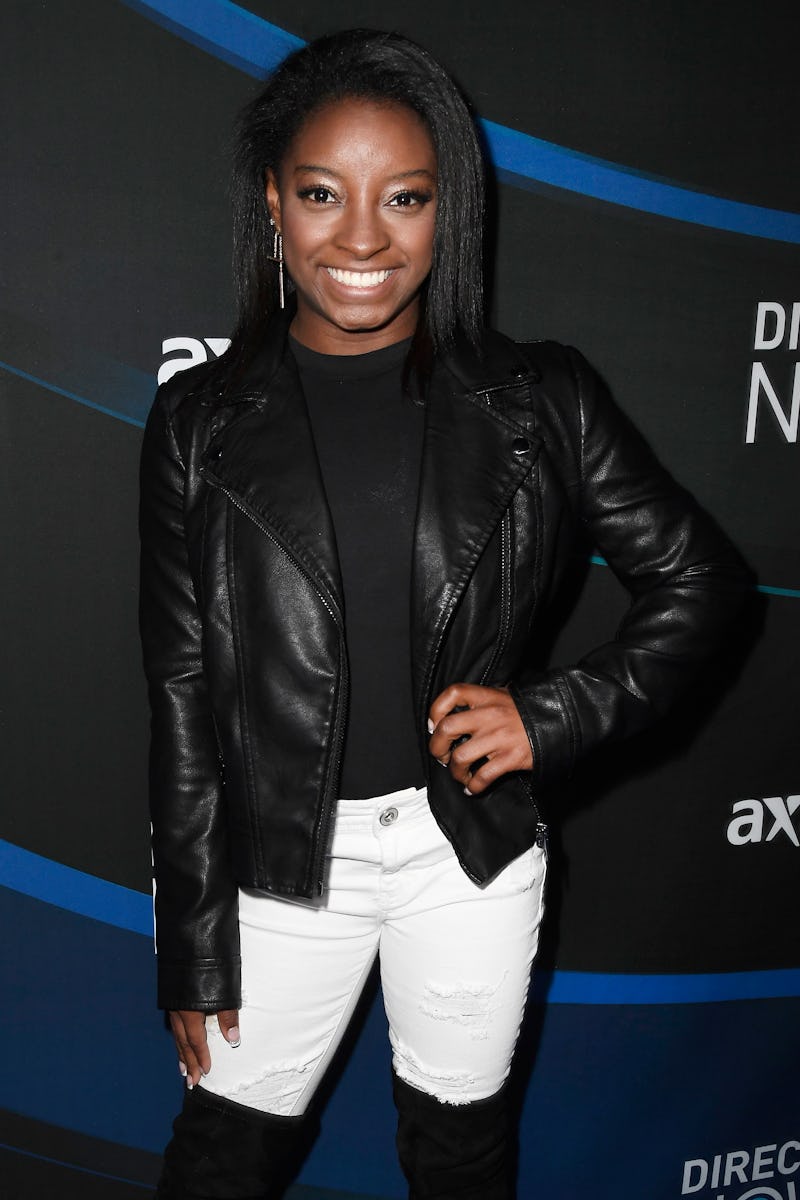 Frazer Harrison/Getty Images Entertainment/Getty Images
Here's a bit of advice: Don't tell anyone to smile. If a person wants to smile, they will. Let me just say the next time someone tells me to smile (reminder: don't ever do that), I'm going to refer to Simone Biles' response to not smiling that she delivered on Monday's Dancing With the Stars. After performing her trio paso doble, host Tom Bergeron asked the 20-year-old Olympian why she wasn't smiling after receiving some positive comments from the judges. To that, Biles responded, "Smiling doesn't win you gold medals."
Boom. Mic drop. Biles is officially queen of the dreaded "You need to smile" comment women hear far too often. It's important to note that throughout the entire night, the judges told the gold medal winner that she didn't have enough emotion during both of her routines. So why would she smile after getting negative feedback? Would that make anyone smile, regardless of whether there were some supportive words thrown into the mix?
Yes, Biles is known for a gorgeous smile and being a genuinely bubbly person, but guess what? Sometimes she doesn't want to smile, and there's nothing wrong with that. She also made a great point with her answer. Smiling isn't what won her five gold medals at the 2016 Olympics in Rio de Janeiro. You know what did? The fact that she is a beyond talented athlete, who trained really hard to become the current most decorated American gymnast of all time.
To be fair, it doesn't seem like Bergeron meant anything by his question except to try and get an understanding of how Biles was feeling at that moment. He took to Twitter Tuesday and wrote, "The question I should have asked (and have of many contestants) was 'What's your reaction to the judges comments?'" The DWTS host also added that he actually embraced Biles' response to his question. "Loved @Simone_Biles crisp response to my clumsy question. Curious how she felt about judges comments, I unwittingly added to the smile pile."
At least he owned up to his frustrating comment, right?
Granted, Biles' situation is different than what seems to be the norm of a man approaching a woman on a street and telling her to smile. But it definitely brings the infuriating situation to mind.
It's like women are supposed to be walking around with smiles plastered across their faces and should never feel anything other than blissfulness. Believe it or not, women aren't happy all the time, and sometimes we're having a bad day, so we don't want to smile.
When a woman is told to turn her frown upside-down, it can also be intrusive, not to mention creepy, especially if it's from a stranger. All I can think is, who are you and why do you care? Our faces are none of your business, so keep your comments to yourself. It even comes off as controlling at times, like women are supposed to oblige men by smiling all the time.
No one should ever be made to feel uncomfortable over not sporting a smile or ever be interrogated for it. Next time anyone questions why you aren't smiling, channel your inner Simone Biles and tell them what's up.