Simone Biles Comes Forward With Her Own Story Of Being Abused By Larry Nassar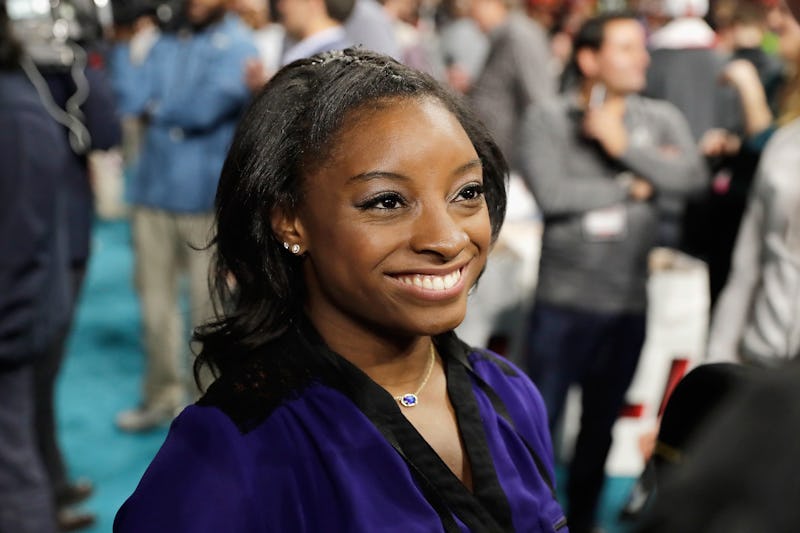 Tim Warner/Getty Images Sport/Getty Images
On Monday evening, Olympic gymnast Simone Biles accused Larry Nassar — Team America's gymnastics doctor — of sexually assaulting her. Nassar already faces life in prison for sexual assault crimes.
In a tweet that was widely shared on Twitter, Biles wrote of her harrowing experience and alleged that Nassar "sexually abused" her. Initially, according to the 20-year-old gymnast, she was hesitant to share her story but ultimately found the courage to come forward after reading the accounts of other victims. Biles said:
Most of you know me as a happy, giggly, and energetic girl. But lately, I've felt a bit broken and the more I try to shut off the voice in my head, the louder it screams. I am not afraid to tell my story anymore. I, too, am one of the many survivors that was sexually abused by Larry Nassar. Please believe when I say it was a lot harder to first speak those words out loud than it is not to put them on paper. There are many reasons that I have been reluctant to share my story, but I know now it is not my fault.
Nassar, who worked as the United States' gymnastic team's doctor, has been accused of sexual assault by over 125 women. He has pleaded guilty to 10 counts of sexual assault and also said that he was "so horribly sorry" for his actions. The first accusation of sexual abuse against the gymnastics doctor surfaced in September 2016, which led to the termination of his position at USA Gymnastics. He was also fired from Michigan State University's faculty. Now, after pleading guilty, Nassar could face 60 years in prison, according to Lansing State Journal.
Writing about her haunting experience, Biles said, "It is not normal to receive any type of treatment from a trusted team physician and refer to it horrifyingly as the 'special' treatment. This behavior is completely unacceptable, disgusting, and abusive, especially coming from someone whom I was TOLD to trust."
The young gymnast went on to say, "For too long, I've asked myself, 'Was I too naive? Was it my fault?' I now know the answer to those questions. No. No, it was not my fault. No, I will not and should not carry the guilt that belongs to Larry Nassar, USAG, and others."
Biles also wrote about the "impossibly difficult" situation for her to remember those experiences and how these memories would haunt and trigger her as she trains to compete in the 2020 Summer Olympics in Tokyo, Japan. "I will have to continually return to the same training facility where I was abused," Biles wrote.
Adding to her statement, Biles wrote that the bravery other survivors showed in sharing their stories compelled and inspired her to share her own. "After hearing the brave stories of my friends and other survivors, I know that this horrific experience does not define me. I am much more than this. I am unique, smart, talented, motivated, and passionate," Biles wrote.
The show will go on, according to her. Biles vowed not to give up and to compete with "all of my heart" when she trains. "I love this sport too much and I have never been a quitter. I won't let one man, and the others that enabled him, to steal my love and joy," she told her Twitter followers.
For the future, Biles wrote that there had to be accountability for why such alleged abuse took place "for so long and to so many of us." She said that society would need to take appropriate measures to stop such heinous abuse from taking place again. And as she processes her experiences, she said, privacy is the first thing she would need. "This is a process," Biles wrote, "and one that I need more time to work through."