Simone Biles Says Larry Nassar "Took A Part Of Me" & The Interview Will Shatter You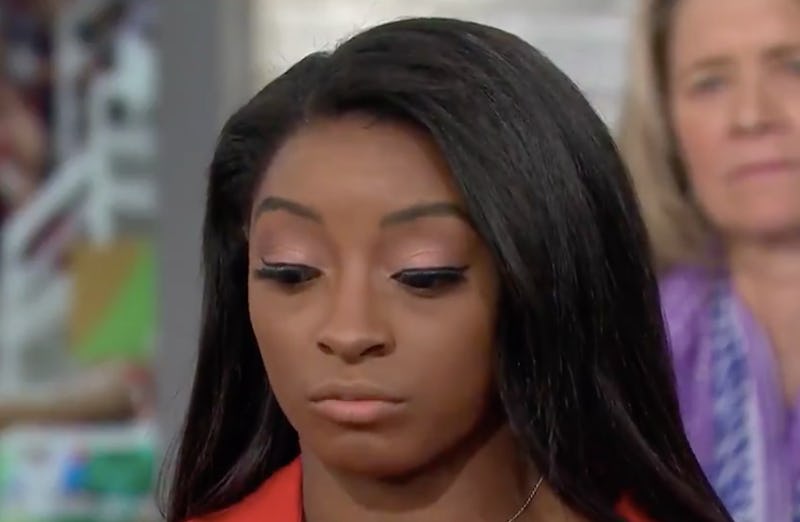 Megyn Kelly TODAY/NBC
Last week, Judge Rosemarie Aquilina passed down a 40-to-175-year prison sentence for former USA Gymnastics team physician Larry Nassar after more than 100 girls and women testified that he had sexually assaulted them. On Wednesday, Olympic gymnast Simone Biles discussed Nassar's sentence and her own experiences in an interview with Megyn Kelly. As one of the Olympic medalists who has publicly spoken out against the former doctor, Biles said she was happy with Nassar's sentence — even if she wishes that it had been "a crazy number like 3,000 years."
Biles told Kelly that she had not wanted to tell her parents about Nassar's abuse:
I would be angry and I didn't want to talk about it and say "No, it couldn't happen to me. There's just no way." And then you come to realize that it has happened and that's when I broke down about it. Nobody wants their daughter or any individual to have that happen to them. It feels like he took a part of me that I can't get back, so I'm still working on that part.
Aquilina used the sentencing hearing to center the voices of Nassar's accusers, saying that any survivor who wished to testify would be given the chance to do so. As a result, 156 people came forward during the sentencing hearing, and more women — including Biles — publicly stated that they had been abused by Nassar.
"It's very hard for someone to go through what I've gone through recently and it's very hard to talk about," Biles said, in an interview with TODAY's Hoda Kotb. "But other than that I think the judge is my hero just because she gave it to him straight and didn't let him get any power over any of the girls, and letting the girls go and speak was very powerful."
Although Biles issued a public statement about Nassar's abuse, she did not testify at his sentencing hearing. Speaking to Buzzfeed on Wednesday, Biles explained that such an experience would have been too stressful, and she was not ready for it.
I think for me that would be too much to handle, personally, especially before going to counseling and talking to anyone. And I was still training, so I couldn't take the time out and go, and I think it would just put too much stress on me.
Nonetheless, Biles was full of praise for Aquilina after the judge created space for so many survivors to testify. She was less pleased, however, with the U.S. Olympic Committee, which she said had not yet reached out.
"As one of the top athletes, advocating for gymnastics and Olympics, I think it's crazy," Biles said. "Hopefully they'll reach out."
Aly Raisman, Biles' fellow Olympic gymnast, has also criticized the USOC, and called for accountability not only for Nassar, but also for all the people who enabled his behavior.
In her conversation with Kelly, Biles explains that she is still contending with the longterm impact of Nassar's abuse. She told Kelly that she sometimes finds herself feeling afraid when she's walking down the street alone, and she's working to regain her sense of trust — "but I think it will all come back in time," Biles added.
Nassar's actions have taken their toll, but Biles has nevertheless persisted in her career. Biles is currently training for the 2020 Olympics in Tokyo, and a biopic about her life is premiering this weekend on Lifetime.
In a powerful moment on TODAY, Kotb reminded Biles that Nassar "can't hurt you anymore." With an emotional smile, Biles responded, "No, he cannot."