Simone Biles Fell Twice At The World All-Around Competition & Still Made History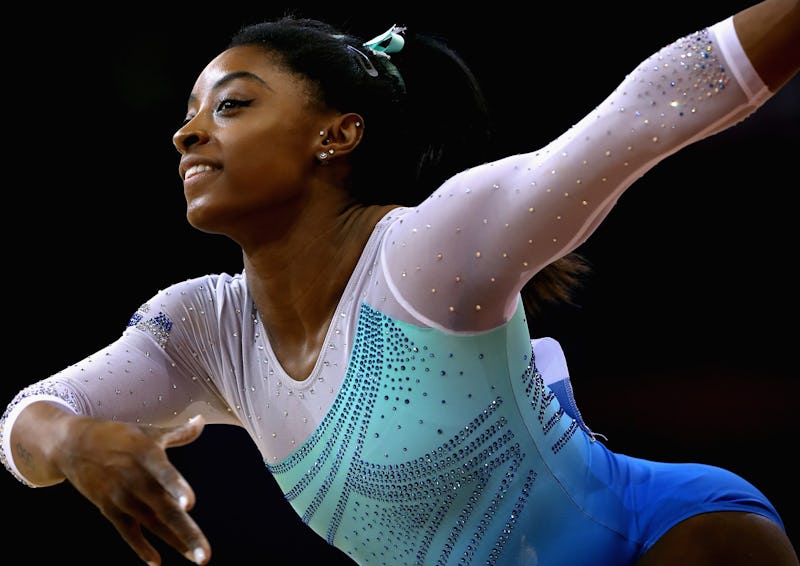 Francois Nel/Getty Images Sport/Getty Images
Falling during a gymnastics routine won't necessarily doom your score, but it often does. The norms don't really apply, though, when you're one of the best gymnasts of all time. Simone Biles' world championships all-around performance made history in Doha, Qatar, even though she took a spill not once, but twice.
The World Artistic Gymnastics Championships has three components: team finals, individual all-around finals, and apparatus finals (i.e. events focused on specific apparatuses, like vault and beam). Biles won in the second category on Thursday and became the first woman ever to win four world all-around titles.
That's not all. She now holds a dozen world titles, according to TeamUSA.org, which leaves her tied with male gymnast Vitaly Scherbo for the most ever. She could surpass him if things go well for her in the next couple of days. TeamUSA.org reports that she has four chances to win gold in the apparatus events and that she's favored in three of them.
But it wasn't a day of pure triumph for Biles. She fell twice — once on the balance beam and once on vault. In the latter, the mistake came while performing her signature move, "the Biles," an incredibly difficult series of twists with a somersault. It's based off of a roundoff entry called the "Cheng," according to Slate, which is so hard that it's rarely seen in women's competitions. But it wasn't hard enough for Biles. She recently added an extra half-twist to make it her own.
Because of the falls, Biles wasn't feeling particularly joyous after her win on Thursday. "I'm still pretty disappointed in myself because I know what I can do out there, despite the winning all-around gold," she told USA Gymnastics in an interview afterward. "It doesn't show who I am. And that's just kind of disappointing. But we have finals, so hopefully I'll redeem myself."
"I don't know, I guess it's good to be back on the podium, even with the falls, but it just sucks," she added in frustration. "It just sucks, man!"
Here's her performing "the Biles" with a bad landing on Thursday:
Slate notes that the sport's current scoring system rewards gymnasts for attempting extremely hard moves even if they don't successfully complete them. The old "perfect 10" system, which prioritized execution, was retired in 2006. Now gymnasts get two different scores out of 10: one for execution, yes, but also one for degree of difficulty. The fact that the two categories are weighted equally rewards gymnasts like Biles who are capable of extraordinarily challenging physical feats and keep pushing themselves to pull off even more.
Biles, who has won four Olympic gold medals, is already a legend at 21 years old. After an outstanding performance at the 2016 games in Rio de Janeiro, the New Yorker labeled her "the greatest gymnast of all time."
Here's the performance that earned her the most points on Thursday, the floor routine:
Biles told USA Gymnastics that her Thursday win was still "exciting," even if it didn't happen in the exact manner she'd hoped. She also hinted that she may attempt "the Biles" again in her vault event on Friday.