This Tiny Device Can Tell If Your Weird Skin Mole Is Dangerous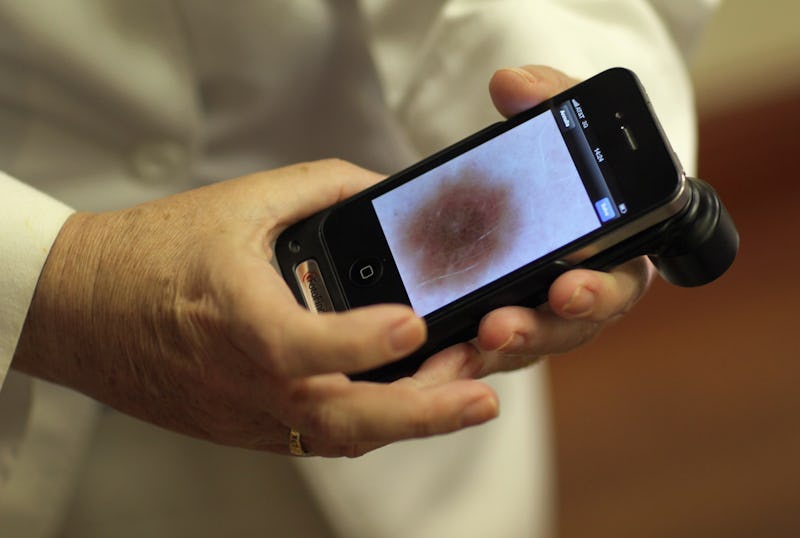 Joe Raedle/Getty Images News/Getty Images
Melanoma is a type of skin cancer that, if recognized and treated early, is almost always curable. But because melanoma has "one of the most inefficient, ineffective diagnosis methods," according to the Dyson Foundation, 80 percent of all skin cancer related deaths are due to melanoma. A group of four undergraduates from McMaster University in Canada have created a low-cost, easy to use melanoma detecting device called sKan that just won the James Dyson Award for its design — and it has the potential to totally change how we diagnose the disease.
Currently, physicians rely on visual inspections to diagnose patients with melanoma, or they use expensive medical devices. It was important to the students to "create something that could be sitting in just a general practitioner's office. We knew that cost was one of the driving factors of that reality," the team told the James Dyson Foundation. Currently, the sKan device is thought to cost around $1,000, while the current available technology can cost over $25,000, according to Tech Radar.
The creators of sKan found the statistic about melanoma related deaths unacceptable and got to work, turning their kitchen into a makeshift biomedical laboratory. "We found it quite unacceptable that so many lives are lost annually from something could have been easily avoided if detected earlier," the team said. "We'd hooked up the thermistors to the oven in the kitchen and when people came home they would ask us what we were doing. But they stopped asking after the second or third time," Rotimi Fadiya, 22, said.
Their hard work and ingenuity lead to them winning the James Dyson Award, an international design award that celebrates university student invention to inspire the next generation of design engineers. "The name 'Dyson' is synonymous with excellence in both engineering and design. We are humbled to be here," the team stated. The award came with a £30,000 prize that the team plans on using for prototypes and getting sKan into clinical trials.
So how does sKan work? It detects melanoma using temperature sensitive resistors. These cost-effective contact sensors are called thermistors. "We discovered some research that showed that cancerous tissue recovers faster from being cooled when compared to normal tissue," the team explained in a video, "That was unique to us. We said that is really interesting. Is there something we can do with this?"
The sensors the team uses go directly onto a portion of the skin to give a thermal map of the area being tested. sKan then creates a visual showing patients the temperature range as the skin heats back up to normal. Physicians can read the results of sKan and offer insightful information to their patients.
The team focused on functionality and practicality when designing sKan, as the device is portable, low-cost, and easy to use, unlike the tools currently on the market that are used to detect melanoma. Before the team decided to pursue skAn, they had several ideas for their James Dyson Award application, including a device that would "help people correct their posture using foot supports." Although they were confident in their ability to make this device, their advisor encouraged them to do something more challenging and with a potential bigger impact. "Knowing that this could lead to helping people and saving lives is a big motivator for sure," the team acknowledged in a recorded interview.
The team is looking forward to the next steps in their journey with sKan. They hope to get approval from the Food and Drug Administration, the agency that regulates medical devices, and get sKan into the hands of doctors and patients who will benefit from it the most. In the future, their device can touch the over 130,000 cases of melanoma per year.