Your Favorite '90s Childhood Sneaker Just Took Over The Runway At NYFW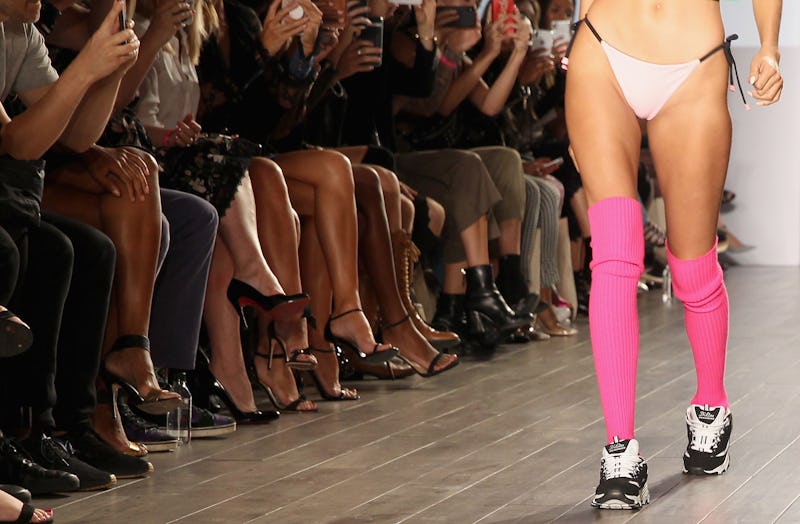 Courtesy of Getty Images
The runways of NYFW are usually loaded with high-end, bank-breaking, throwback, and fashion-forward couture looks. However, in recent years, street style and the actual streetwear of front row attendees has been equally as headline-grabbing. The '90s and '00s-loved sneaker brand Skechers invaded NYFW 2018 because chunky kicks still rule the school.
Besides, if streetwear brands can rock runway shows — see Fenty x Puma and Yeezy, among others — then affordable, athletic shoes can assert themselves in the same space.
The NYFW debut of pairs from the Skechers D'Lites Collection was nothing short of awesome, especially for '00s kids who wore Skechers with boot-cut jeans, leggings, crop tops, boxy Kate Spade bags, and loads of body glitter.
The shoes strutted their stuff down the runway at the Mery Playa by Sofia Resing and the Hardware LDN fashion shows, in addition to others. The Skechers D'Lites "Biggest Fan" style was the center of attention. They were paired with several looks each of the brands sent down the runway. The kicks were a snazzy way to finish outfits and served as periods at the end of the fashion sentences.
Other designers that featured Skechers on the feet of their models during NYFW were DFBK: Defend Brooklyn, Bonnie Bouche by Angela Simmons, Tumbler and Tipsy by Michael Kuluva, and #Unfiltered by Jessica Abo.
So, yeah, Skechers have gone high fashion. Check 'em out with hot pink, OTK socks and a bikini at the Mery Playa by Sofia Resing show. The shoes haven't fully graduated — they're not leaving the streets behind in favor of the runway. That's a good thing, since the brand and its aesthetic remain firmly planted in that realm.
But these dad shoes have definitely asserted themselves as sartorial sneakers. Models walking runways in Skechers is really further proof that street looks will continue to factor into fashion.
The brand is pretty much responsible for the chunky sneaker revolution that was so dominant well over a decade ago. But fashion is cyclical — what's old always becomes new and Skechers are once again highly coveted. Even Camila Cabello has been seen rocking a pair from the Skechers D'Lites collection.
The main takeaway here? Don't ever discount the accessories that the '90s and '00s you wore.
The Biggest Fans certainly finished off this comfy 'n' cozy outfit, which was comprised of a print joggers and an oversized, zip-up hoodie, at the Hardware LDN show.
What a sexy and unexpected combo of a sheer blazer and sneakers. It's the perfect execution of street, sleek, and chic.
This ensemble boasts a late '90s and early '00s, Britney Spears energy, thanks to the crop top and kicks. But the fabric and flow are super current, giving off the pajamas-as-outerwear vibe that has been a thing for the past few years.
The Instagram comment below says it best.
Skechers appear to tipped to enjoy a fashion Renaissance and resurgence.