Sliced Ketchup Exists, And It Will Either Be Your Godsend Or Make You SUPER Uncomfortable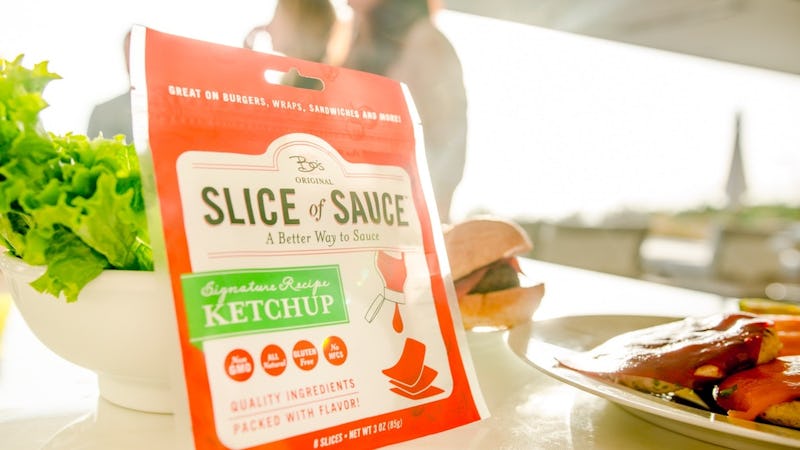 Slice Of Sauce
Ketchup is a universally satisfying condiment, adding a necessary oomph to everything from french fries to hot dogs to, um, salad, DON'T JUDGE ME. Of course, ketchup is also a pain in the butt. It takes forever to come out of bottles and tends to end up being too much or too little. (Don't even get me started on ketchup packets, which are useless, messy, and frequently manage to land on the nearest garment.) Some innovative souls have seen our ketchup woes and come up with a solution: slices of ketchup, which won't squirt or get your bread soggy. Genius.
As reported by NowThis, these inventive ketchup slices come courtesy of Bo's Fine Foods, and they're dubbed "Slice of Sauce." According to Bo's Fine Foods's website, the slice creator, Emily, was inspired to transform ketchup into a more manageable condiment while trying out some of her family's recipes, as handed down to her by her father, who was a restauranteur in Michigan's Upper Peninsula. Somehow, that experimentation led to Slice of Sauce, a "no-mess, portable condiment that adds a layer to flavor to anything from burgers and sandwiches to wraps and burritos," per the site.
According to NowThis, the Slice of Sauce creator was actually trying to make a BBQ sauce when this dried ketchup was birthed; after braising a bunch of veggies for that sauce, she ended up mixing, grounding, baking and drying them, hence the strip of condiment. And earlier this month, she launched a Kickstarter for Slice of Sauce in hopes of getting the product in stores nationwide.
"We set out to share our passion for healthy living and our love of food," the Kickstarter's mission statement reads. "We want to spread awareness that products with clean labels and ingredients with integrity can also be fun. Slice of Sauce™ began in our homes but we're excited to bring it to the shelves of grocery stores everywhere. In addition, we hope Slice of Sauce™ will address a need for healthier alternatives in schools, hospitals, and the military." Emily and her business partner, Thac, plan to use the Kickstarter funds to help finance a manufacturing spot in Brooklyn and the necessary labor to produce the product; they'll also go toward packaging, branding, and shipping, in addition to Kickstarter fees and processing.
"We've been working with a manufacturer in Brooklyn, NY to produce our hand made slices and we're ready to fulfill orders," the site reads. "We're confident that we can satisfy our backers, however, we encourage your early support in order to ensure timely deliveries."
Slice of Sauce isn't the first dried ketchup initiative of its kind, though it appears to be the first with a crowdfunding campaign. A Los Angeles-based restaurant, Plan Check Kitchen + Bar, started cooking up something called "ketchup leather" back in 2012, and it's pretty much the same thing as Slice of Sauce. Per LAist, chef Ernesto Uchimura invented the ketchup leather, dehydrating ketchup in an oven until the condiment has the consistency of a Fruit Roll-Up. Like Slice of Sauce, this innovation keeps bread from getting soggy.
Then again, as the Atlantic pointed out in 2015, we really don't need to improve burgers by jazzing them up with chewy ketchup. The piece notes that it is cool to add something new to a classic dish, which the ketchup leather succeeds in doing, but to claim that soggy buns are a problem is taking the whole thing a step too far. Per the Atlantic:
But to call ketchup leather a solution to the problem of burgers is to miss the point. When simple, deliberate technique becomes recast as innovative problem-solving, it seems to respect and even exalt cookery. Even here innovation can flourish, in the humble home of the hamburger! The same is true of our tendency to call any sort of clever idea a hack — "hack your burger with ketchup leather." In truth, these moves have a different effect: They reincorporate subjects like hamburgers into the domain (and therefore the values) of the contemporary technology industry, rather than allowing them to remain just what they are. In this case, foodstuffs. Burgers. Lunch.
Just some food for thought!