Slovenians In Melania Trump's Hometown Are PISSED About That Jimmy Kimmel Joke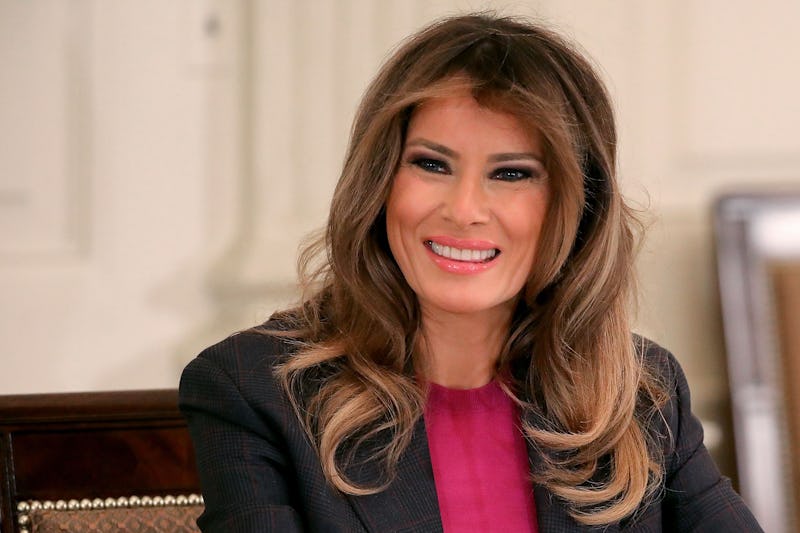 Chip Somodevilla/Getty Images News/Getty Images
Jimmy Kimmel and Sean Hannity's divergent political views went viral over the weekend, as the two media megastars traded barbs over Twitter. Their dispute started over Kimmel mocking Melania Trump's accent, and it turns out, Hannity's got company in his displeasure over the joke — Slovenians from Melania Trump's hometown also stood up for the first lady.
"Jimmy, you're a despicable disgrace," Sean Hannity said on his show on April 5, calling out Kimmel for "making fun of the first lady of the United States... even her accents." In the episode Hannity was referring to, Kimmel had included a clip of Melania reading an Easter story to children at the White House, and after she read a line about "this and that," Kimmel laughed and mimicked her, saying, "dees and dat."
Hannity was not happy, going on to call Kimmel an "*ss clown." That was just the start. On Twitter, the two went back and forth all weekend. Hannity dubbed Kimmel "Harvey Weinstein Jr.," apparently in reference to some clips from Kimmel's old gig on The Man Show that haven't aged well (at all). Kimmel needled Hannity over his ratings compared to those of MSNBC host Rachel Maddow. Kimmel also suggested Hannity and Trump's relationship was more than platonic, which led to charges that the late show host was using homosexuality as a punchline.
Such a public feud was bound to go international, and it did, with Slovenians in Melania's native Sevnica getting word of the Hannity-Kimmel brouhaha. And whether or not they really know or care much who Hannity or Kimmel aree, they're definitely on the side of their hometown hero Melania.
"Melania's been in the U.S. so long and she still has some problems, but Jimmy Kimmel should come to Slovenia and see how hard it is to speak another language," Helena Horjak told USA Today. Horjak is a 24-year-old employee at the local meat processing factory. They now offer "First Lady" sausages.
Maya Kantuzar, a fellow 24-year-old and friend of Horjak's, said jokes about Melania's accent are "just not fair." Kantuzar went on to tell USA Today that "Melania is trying to help everyone," citing specifically her work with children. (Melania has begun an anti-cyberbullying campaign.)
USA Today notes that Melania has not been back in Sevnica in over 10 years. But that hasn't stopped the locals from a full-on embrace of their most famous one-time resident.
One restaurant — Rondo — has started offering a "Presidential Burger," served with a slice of melted fried cheese on the top in honor of Trump's notorious coif. According to USA Today, the dish also comes with spicy pickles to commemorate Trump's "hot statements" about Mexico and various other topics. A waiter at Rondo, Blaz Klenovsek, told USA Today of Melania, "She's one of us."
Melania's certainly been good for business. Sevnica's tourism bureau reports a doubling of visitors to the small Slovenian town over the past few years that Melania's been in the spotlight.
Slovenia as a whole has largely celebrated Melania's rise to international renown. On the night of Trump's election, the Slovenian Tourist Board tweeted out a congratulations alongside pics of the country. And Sevnica specifically welcomed the rare bit of attention Melania's success tangentially handed to them and Slovenia as a whole.
"Maybe that one of us is so successful ... will help the nation, all people in our country," Nusha Vidmar told NBC News shortly after the 2016 election. Vidmar owns a cafe in Sevnica that serves a "Melanija cake," using the original spelling of the first lady's first name.
It seems safe to say that, should any future disputes arise about Melania among American celebrities, the people of Slovenia will be siding with the first lady.