Snapchat Is Launching Its Own Scripted Shows — Including A True Crime Drama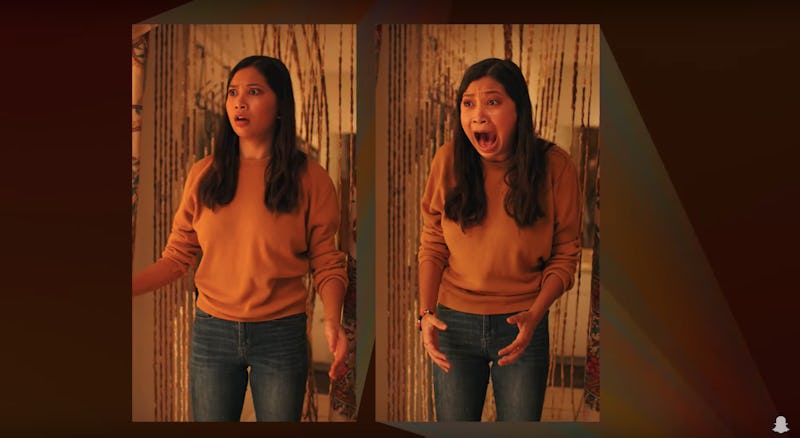 Snapchat/YouTube
Your eternal quest to answer the question "what show should I watch tonight?" just got even more difficult as Snapchat is launching "Snap Originals," featuring scripted shows and docuseries. Announced Oct. 10, the messaging app will be debuting 12 new scripted shows on its social platform. I, an old, will now never be able to fully be able to explain to my parents exactly what Snapchat is.
According to a press release, Snapchat tapped "some of the world's greatest storytellers" to launch their new slate of original content. The company collaborated producers and writers whose resumes are pretty impressive including the Duplass brothers, a writer from "Friday Night Lights," and a producer on "Keeping Up With the Kardashians." The shows will debut on a staggered schedule over the next few months.
The first show line-up of Snap Originals includes a range of content perfect that screams "Ah yes, this was made for the youth." There's Co-Ed, a new comedy show from the Duplass Brothers following college students' antics. If Jughead, Betty, Veronica, and Archie are more your thing, perhaps you'll be into the mystery-thriller Class of Lies, which is a show "from the minds of Riverdale." There's also Endless Summer, a docuseries about an influencer living in Laguna Beach, which was made by the creators of Keeping Up with the Kardashians.
This initial batch of Snap Originals is already up on Snapchat. I'll wait as you binge every available episode real quick.
New episodes for the Snap Originals will be released daily. The number of episodes varies per series, with most of the Originals lasting eight or 12 episodes. In very Snapchat fashion, the episodes will be short — averaging about five minutes each. However, "short" doesn't necessarily mean "ad free." Brands will be able to purchase advertising slots that will run within the Snap Original episode in Snapchapt's six second, non-skippable ad format.
You can find the show on Snapchat's Discover page or by using the search bar, according to the press release. Eventually, each show will have its own dedicated page. Snap Originals aren't planning on disappearing anytime soon as the Washington Post reports six additional shows have already been greenlighted, and media conglomerate Viacom is already in contract to make ten more shows.
"Over the last two years, our highly engaged and loyal audience has helped to define what mobile content should look like — vertical, hyper-visual and paced in a way that draws you in quickly and makes you want to return," Nick Bell, Snap's Vice President of Content, said in an Associated Press release. "We're proud to be working with some of the industry's most talented storytellers to bring new and innovative Shows to our community and are thankful to be extending our partnerships with NBCUniversal and Viacom to create even more content for Snapchatters worldwide."
The company is also hoping to engage users in its Snap Originals with the addition of "Lenses" for some of its shows. Users will be able to interact with an episode of the show by swiping up to "literally walk into a scene and interact with the objects and characters," per the press release. Snapchat is also developing "reaction Lenses for some of the shows' most riveting scenes" as an effort to encourage users to share the show with friends.
You can view the full list of new Snap Originals here and see when your next marathon-worthy obsession is debuting.