You Need To Hear Snoop Dogg's Message For Rising Hip-Hop Stars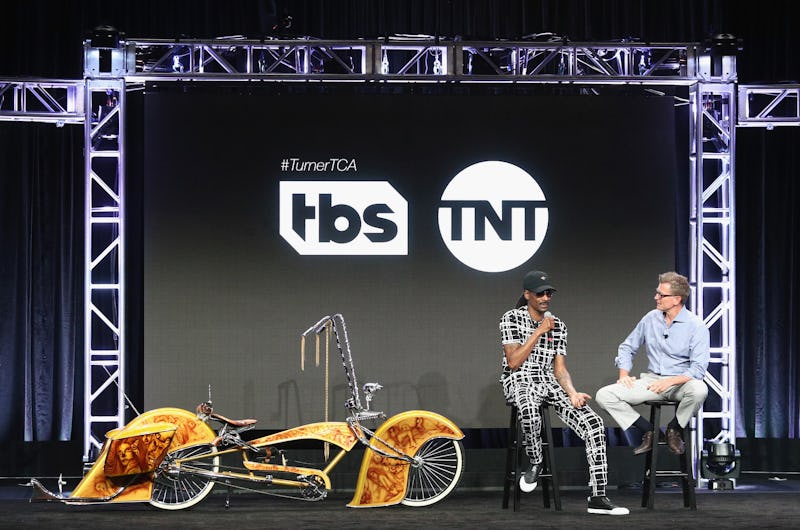 Frederick M. Brown/Getty Images Entertainment/Getty Images
Snoop Dogg is everywhere. No, really, he's literally everywhere. From onstage at his concerts, to the Democratic National Convention, to TV screens with his upcoming game show reboot Joker's Wild, even to the normally stuffy 2017 Television Critics Association Summer Press Tour panels. He's inescapable!
During Thursday's early morning TCA executive panel with TBS and TNT boss Kevin Reilly, Snoop Dogg surprised the room full of journalists gathered in the Beverly Hilton ballroom with a decked out low-rider bicycle before fielding questions, and he surprisingly turned the conversation into the most inspiring message for rising hip-hop stars.
"I love and I respect the hip-hop that's being made right now," Snoop says. "It's kicking open new doors. Hip-hop has always been a young man's game. When I came up, I was a young man, they didn't understand me. I got ridiculed, I got criticized. But I grew up to who I am. So I say that to all the young rappers that are being criticized or ridiculed: stand your ground, stay who you are. Keep doing what you do because we're always misunderstood until we give understanding."
This is so important for young voices to hear. The iconic rapper also took some time to give love to some hip-hop stars making waves in the industry right now.
"As far as the new artists that I love and respect and I feel are going to be here 20, 30 years from now, definitely Drake, definitely Kendrick Lamar, J. Cole," he says. "Those rappers right there, they stand for something and they won't fall for anything."
Over the past few years, Snoop has been turning his attention to TV, hosting a reality show with new, unlikely BFF friend Martha Stewart. Now, he's rebooting the classic game show Joker's Wild on TBS. The new version of the CBS game show will feature games including giant dice, playing cards, streetwise questions and problem solving, all with Snoop calling the shots. And according to the rapper, he was born to play host.
"This is what I do anyway as a rapper. I control the crowd," he says. "I do that anyway. So now you got money involved where you could possibly be a contestant and get you some money, some extra chips in your pocket, you understand me? Cuz you was on Snoop Dogg's Joker's Wild."
What Snoop is most excited to bring to his show is what he brings to his live concerts: connecting with the audience on a deeper level. He wants his audience to feel like you can just hang out with him after the show or concert ends.
"That's how it's supposed to be," Snoop says. "They're not fans, they respect your work so you should respect them for respecting your work. You look eye-to-eye. I will never treat the people who respect me and love me like they're less than that. I'll treat them like we're the same, and it becomes an understanding. You come to one of my concerts, I engage with the audience. They sing with me, I sing with them. Sometimes, I allow them to come onstage or backstage, so I feel like it's a family situation."
He continues, "I wrote these songs and you connected to these songs and that makes us connected to each other. That's what me and the audience represents and this television show will do the same thing, because it's putting back the old spirit with a new twist with a fly host."
But you know what's really fly? Getting to check "hearing Snoop Dogg say, 'Ya dig?' in person" off your bucket list. Which I now can. Check.