What Sofia Coppola's Cannes Win Means for Women Directors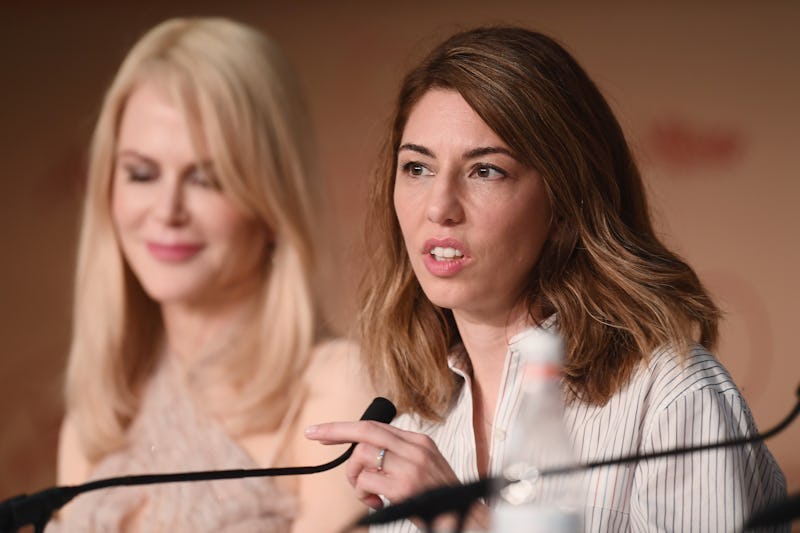 Matthias Nareyek/Getty Images Entertainment/Getty Images
On May 28, Sofia Coppola won the Best Director prize for her film The Beguiled at the Cannes Film Festival in France. It's a huge achievement — not only because Cannes is one of the most prestigious film festivals in the world, but because Sofia Coppola is only the second woman to win Best Director there. According to Entertainment Weekly, Coppola was not present at Cannes to accept the award and thanked the jury, led by director Pedro Almodóvar, via a written statement, read by jury member Marin Ade. It's sad Coppola couldn't be there in person to accept her prize, but it's nonetheless a big victory for women directors to be recognized at this highly regarded film event.
In the statement, Coppola thanked the jury, her parents (Oscar-winning director Francis Ford Coppola and filmmaker Eleanor Coppola), and director Jane Campion, for "being a role model and supporting women filmmakers," according to EW. In 1961, director Yuliya Solntseva was the first woman to win the Cannes Best Director prize for her film The Story of the Flaming Years and, for 56 years, she remained the only woman — until now. Coppola's film The Beguiled is set to be released in theaters on June 23 and it's a female-driven movie about how a women's boarding school is affected by the arrival of an injured Civil War soldier. The film stars Nicole Kidman, Elle Fanning, and Kirsten Dunst.
As I mentioned before, this is a huge achievement for women directors, because, as we all know, despite it being the year 2017, it's still hard for women to become successful Hollywood directors, let alone earn prestigious awards as recognition. According to a recent study by San Diego State University, women made up merely seven percent of directors in Hollywood's top 250 films in 2016 and 92 percent of films did not have a female director. In comparison, 13 percent of writers and 24 percent of producers were women. But if more women directors get recognized, it could help encourage Hollywood to embrace more female-helmed films and change those stats for the better.
Coppola is the progeny of two well-regarded filmmakers, but she has earned this honor through her own outstanding work. She was nominated for the Best Director Oscar for her 2003 drama Lost in Translation, becoming the third woman to ever be nominated in the male-dominated category. The movie was also nominated for Best Picture and Coppola won the Oscar for Best Original Screenplay for Lost in Translation. Her 2010 film Somewhere won the Golden Lion (awarded to the best picture) at the Venice Film Festival. It's clear that Coppola is an accomplished director in her own right, and her award recognizes this.
Even better? There was no shortage of female-led films being honored at Cannes this year. Diane Kruger won the Best Actress award for the German film In The Fade, which is about the aftermath of a terrorist bombing, and Kidman received the Special 70th Anniversary Prize for her very successful Hollywood career. You Were Never Really Here director Lynne Ramsay tied for the Best Screenplay prize, sharing the honor with Yorgos Lanthimos and Efthymis Filippou of The Killing Of A Sacred Deer, which also stars Kidman.
Coppola's award, as well as the other prizes won by women at Cannes, are such important wins for women in Hollywood right now, and they couldn't be more well-deserved.