Sofia Vergara Posed Naked On The Cover Of 'Women's Health' To Promote A Different Definition Of Nudity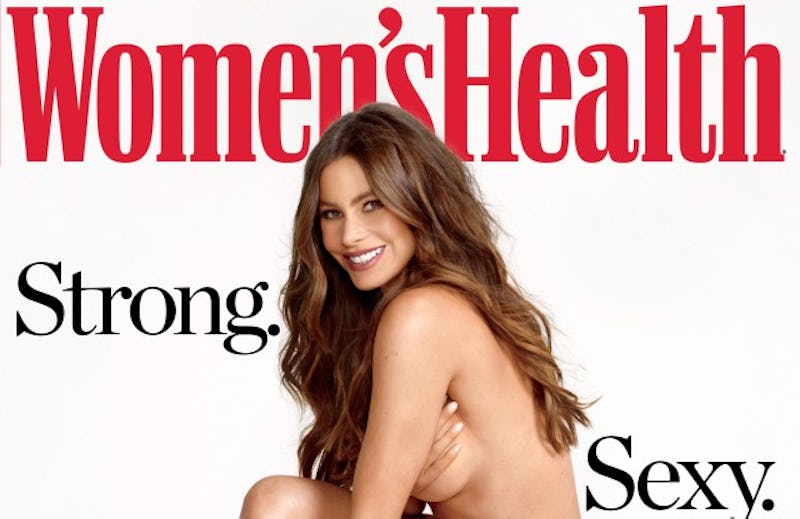 Courtesy of Women's Health
One might expect bombshell Sofia Vergara to promote EBY, her new panties subscription service, by posing in its (under) wares in the pages of magazines. However, Sofia Vergara is naked on the cover of the September 2017 issue of Women's Health. Celebs posing naked for mags is not a novel idea, but this one is important for reasons other than the actor feeling comfortable posing in her own skin.
According to Women's Wear Daily, the issue has a "naked" theme that extends beyond our bare bodies. It involves our mental states and more.
Editor in chief Amy Keller Laird, who poses topless from the shoulders up in the issue's editor's letter, told WWD that "the goal is to show really confident, strong women in their own skin" and to look at "nakedness not just literally and physically, but mentally, emotionally, metaphorically. We wanted to make sure to take the concept and not be utterly cheesy about it."
Here's how they avoid the Velveeta factor — the "naked" concept is applied to all of the issue's content and that includes details on properly peeling fruits and veggies, natural makeup and snacks, and climate change.
Of course Vergara looks breathtaking, covering her breast with her hand and flashing a gorgeous, toothy grin highlighted by a matte, berry lipstick and her face framed by flowing, chocolate waves.
It's a beautiful image and it's accompanied by essential editorial that strips everything back and down. It essentially gets down to basics.
The issue arrives on Aug. 8 and is the first in a long line of anticipated "September issues," which are the biggest of magazine's publishing calendars.
The "September issue season" starts off strong, with a naked Sofia Vergara nabbed one of the coveted covers. Who will take Vogue? We will find out soon enough.