Solange Writes A Stunning Letter To Her Teenage Self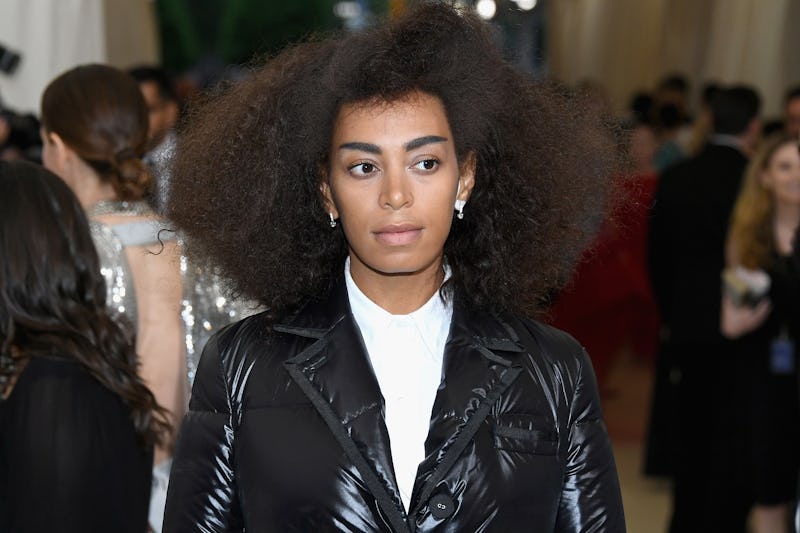 Dia Dipasupil/Getty Images Entertainment/Getty Images
Adolescence is one of the most confusing and enlightening times in a young person's life. Although that hypnotizing fascination with being an independent, confident grown up can make adulthood seem right at a young person's fingertips, Solange Knowles wrote in a poem for her teenage self about how there's no need to speed up the self-discovery process. In the piece written for Teen Vogue, Knowles wrote:
at the time, you are searching. seeking in every corner and pocket of the world for who you are. take your time, baby girl. there's no rush to get there. you will sow each of these chapters in the land that you become. you will see bits and pieces of them scattered into the skin you grow into. you don't have to figure everything out now. time will reveal itself. i promise you.
Knowles adds that her attempts to boldly rush into adulthood as a self-assured, young black woman with her own sense of style led to people of all ages calling her a "crazy, ugly, attention-seeking, weirdo." The 30-year-old's advice to trust the timing of her life may sound like a run-of-the-mill life tip. However, as her experimental music career has shown, there is a benefit to slowly and continuously growing into oneself both artistically and personally.
Knowles started off as a bright-eyed, 16-year-old with red braids crooning about crushes and young love in 2002 on her debut pop-R&B album Solo Star. A year later, she would be married, give birth to her son, Daniel "Juelz" Smith Jr., and wouldn't reemerge in music until 2007's Sol-Angel and the Hadley St. Dreams. The retro album reintroduced listeners to a Motown-inspired Knowles acknowledging her independence as a young and newly single mother.
This gradual unveiling of the true Knowles garnered not only more listeners but also deeper intrigue into the artist formerly known as Beyoncé's sister. Her 2012 new wave-inspired album True was a stark departure from her love-lorn days as a teenager. Knowles was now a woman singing about relationships not working out, but still being addicted to the idea of love. Yet without all of these explorations into musical genres from new wave to funk, and the articulation of her challenges as a woman, audiences would have never received an invitation to 2016's A Seat at the Table. Knowles' eclectic, neo-soul masterpiece established herself as a socially-conscious black feminist unabashedly declaring that she "had a lot to be mad about."
Knowles letter reflects on her adolescent years a various phases in which she was "certain" of who she was.
some of these stages include:
-the dance-is-life (aka "this leotard is my second skin") phase.
-the Bible-thumping-church-camp phase. (which coincided and contradicted with the Fiona-Apple-fan-club-president phase)
-the Nas aficionado-brown-lip-liner-and-Vaseline phase.
-the Rasta-vegan-thrifter-who-is-determined-to-marry-Brandon-Boyd phase.
-the football-player's-girlfriend-who-wears-braided-blond-highlights-and-swears-by-capri-pants phase.
Every chapter of Knowles' life brought forth a greater understanding of herself as a young woman. Had a teenage Knowles jumped from adolescence to adulthood, she would have missed the imperfections and unexpected moments that made her into the person she is today. Knowles utilized the power of her words and the scoffs of her critics to evolve into a more complete person with her own idea of what sounds and looks beautiful. And her opinion is all that matters.