Investigators Confirm Parts Of Trump Dossier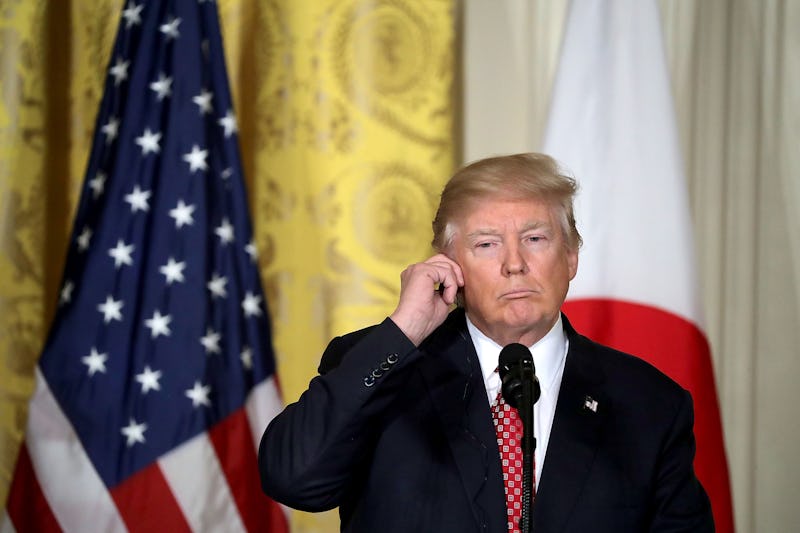 Chip Somodevilla/Getty Images News/Getty Images
Certain elements of the unverified, leaked dossier about Donald Trump's Russia connections have been corroborated by U.S. investigators, CNN reported Friday. BuzzFeed published the document in January, which famously alleged that Trump had hired prostitutes to "perform a golden showers (urination) show in front of him" while staying a Moscow hotel. According to CNN, investigators haven't confirmed that part of the dossier, nor the general allegation that the Russian government has incriminating evidence about Trump; rather, they've confirmed portions that describe conversations between Russian officials and other Russian nationals.
It is unclear whether or not any of those conversations related to Trump. When asked about Friday's report, White House Press Secretary Sean Spicer referred to it as "more fake news," adding that Trump "won the election because of his vision and message for the nation."
The document in question is a 35-page document compiled by a former member of British intelligence. Its existence was first reported by Mother Jones in November, then more extensively by CNN in January. Finally, BuzzFeed published the document in its entirety; however, this was a controversial decision, as the dossier was unverified and contained several errors. Nevertheless, both Trump and President Obama were briefed on the dossier's contents by U.S. intelligence officials, according to CNN.
The dossier contains allegations that Russian intelligence officials possess incriminating information about Trump. Most notably, the document claimed that Russia has evidence that Trump hired prostitutes to urinate on a bed that Obama had slept in during a business trip to Moscow. Trump's team has denied the allegations.
CNN did not confirm the golden showers part of the dossier. However, it reported on Friday that "some of the conversations described in the dossier took place between the same individuals on the same days and from the same locations as detailed in the dossier," citing "multiple current and former US law enforcement and intelligence officials." It is unclear from which agency, or agencies, the "investigators" that CNN refers to are from.
Spicer vehemently denied CNN's report on Friday, telling the outlet that "we continue to be disgusted by CNN's fake news reporting," then calling back to add that "this is more fake news."
"It is about time CNN focused on the success the President has had bringing back jobs, protecting the nation, and strengthening relationships with Japan and other nations," Spicer said. "The President won the election because of his vision and message for the nation."