Disney Stars Really Could Not Draw Mickey Ears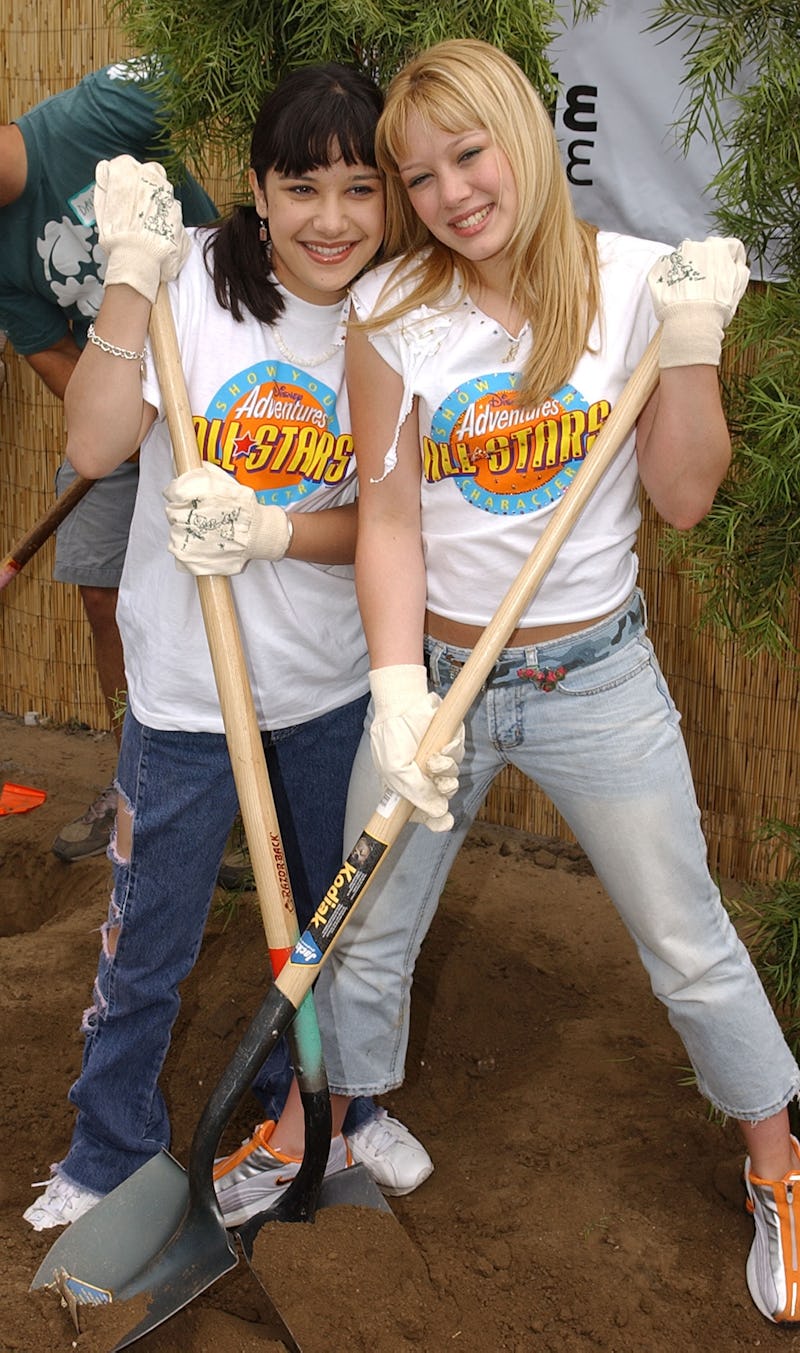 Robert Mora/Getty Images Entertainment/Getty Images
Here is some extremely awkward nostalgia for anyone who was obsessed with the Disney Channel back in the early 2000s. Back in November 2016, someone found footage of the making of those wand IDs by Disney Channel stars. Remember when you would tune into a show and said star of that series would pop up saying, "I'm Hilary Duff from Lizzie McGuire and you're watching Disney Channel"? Then, they would flawlessly make Mickey Mouse ears with a wand. Guess what? Those Disney Channel stars were really bad at drawing Mickey Mouse ears.
Thanks to someone out there everyone should thank immensely, graphics have been added to the already uncomfortable outtakes from the wand IDs. Now, you can see what exactly the stars, including Duff, Lalaine, Raven-Symoné, Tia and Tamera Mowry, among others were actually drawing. Spoiler: Their wand motions were nowhere near close to Mickey Mouse ears.
The following video was shared in December, but if you're like myself, then you are just now being introduce to the newly added graphics. Granted, it would be hard to "draw" Mickey Mouse's famous ears freestyle, in the air, and with a wand. I'm sure if I attempted it, my ears would look more like jumbled scribbles. That's what many of these Disney Channel stars' ears resemble.
Before you see just how bad these actors were at drawing with a wand, this is what an actual promo for the Disney Channel looked like.
As you can see above, Zendaya, who starred in Disney Channel's K.C. Undercover and Shake It Up, reacted to the wand IDs and said, "Been there." She even commented on her own promo and tweeted, "Ew [crying laughing face emoji]." So, yeah, some of the former Disney Channel stars are also uncomfortable watching the awkwardness unfold.
With that, enjoy watching them "draw Mickey Mouse ears."
Hilary Duff
It looks more like a heart.
Raven-Symoné
I'm pretty sure that's Stitch, not Mickey Mouse.
Tia & Tamera Mowry
Going slow doesn't make it look more like Mickey.
Jake Thomas
He's really good at curlicues.
Anneliese van der Pol
There are no words to describe whatever this is.
Orlando Brown
Nope, not even close.
Steven Anthony Lawrence
Oh, Beans. Nice try.
Lalaine
Well, that's one way to draw Mickey ears.
And to make it even better, here is the full video for your viewing pleasure.
Poor Mickey Mouse. His ears must be hurting real bad after this.