Someone Wanted To Know Which Party Was Playing Baseball Before Gunfire Erupted — REPORT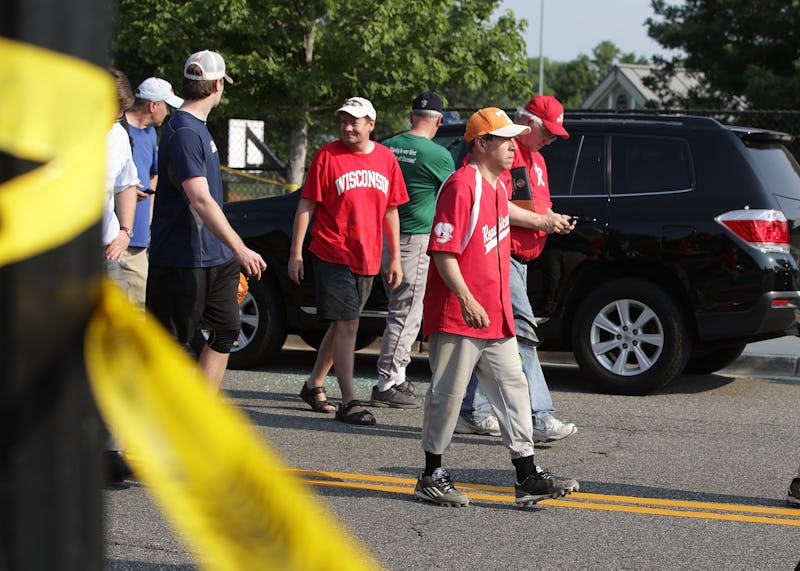 Alex Wong/Getty Images News/Getty Images
On Wednesday morning, a gunman fired shots on a baseball field in Alexandria, Virginia where Republican politicians were practicing for an annual charity baseball game intended to take place on Thursday. House Majority Whip Steve Scalise was among those injured in the gunfire, and according to his colleague, Rep. Ron DeSantis (R-Fla.), a man had asked if Republicans or Democrats were on the field.
Rep. DeSantis told Fox News he left the practice early, "a couple of minutes" before the shooting occurred. "As I was getting into the car with one of my colleagues," the congressman said, "there was a guy that walked up to us that was asking whether there was Republicans or Democrats out there."
It was just a little odd and then he kind of walked toward the area where all this happened. ... It was just a little odd that he kind of really walked up to us to ask and then went ahead and, probably — it was probably like three minutes, five minutes after we pulled out of the parking lot.
Alexandria Police Chief Michael Brown said five people were being treated for injuries at local hospitals. According to a spokeswoman for the Alexandria Police department, the gunman had been shot and was taken to a local hospital.
According to Sen. Rand Paul of Kentucky, who gave an eyewitness account of the incident, the shooting could have potentially been worse if more security hadn't been at the field because of the high-ranking elected officials who were there practicing.
"Everybody probably would have died except for the fact that the Capitol Hill police were there and the only reason they were there was because we had a member of [House] leadership on our team," Paul told MSNBC. "If Scalise wouldn't have been on the team — unfortunately he was hit and I hope he does well — but also by him being there probably saved everybody else's life because if you don't have a leadership person there, there would have been no security there."
The Whip's office said in a statement that the congressman sustained a shot to his hip and will undergo surgery for the injury. "Prior to entering surgery, the Whip was in good spirits and spoke to his wife by phone," his office stated. "He is grateful for the brave actions of U.S. Capitol Police, first responders, and colleagues. We ask that you keep the Whip and others harmed in this incident in your thoughts and prayers."